Sponsored Online Programs Available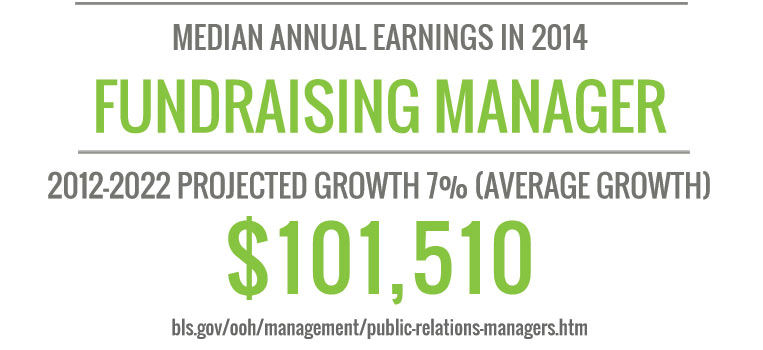 Earning a Non-Profit Management Degree Online
Earning your non-profit management degree online is about learning what it takes to run a non profit organization, including day-to-day responsibilities, employee management, and all! Some people choose to go into non profit management because non profit work tends to focus on championing causes that improve peoples' lives without the motivation of meeting profit goals.
According to the National Center for Charitable Statistics, there are over 1.5 million non profit organizationsi. And maybe you want to pursue a career path in leading one of these organizations! Keep reading for everything you need to know about earning your non-profit management degree online.
Did You Know?

Non profit employees make up 11.7% of all private sector workers in America—that's a lot of people to manage!ii
What draws many people to non profit work is the desire to help people directly and society as a whole. For example, working as a non profit manager, you may be in charge of fundraising for a type of cancer research. In turn, the money raised by the organization can be used to discover more about how the cancer can be treated and ultimately save lives. Just because a company isn't centered around making a profit, doesn't mean managing that company isn't difficult yet rewarding work!
What Makes a Company "Non Profit"?
Sometimes called "not-for-profit," a non profit organization exists to benefit public interest in some way and is not focused on earning profits. That may sound conflicting, but think of the organizations that serve to help those with disabilities or illnesses. The companies that run "5K for Breast Cancer Month" or "Autism Awareness Walk" type events are typically non profit companies. Unlike a for-profit company that may have a board of investors that need to be happy with the company's earnings, a nonprofit company does not have investors.iii Non profit organizations may serve to raise money for causes such as:
Research for a type of cancer or disease
Awareness of the realities of a cause or disability
Children or disenfranchised people in another country
Impoverished or homeless local communities
Religious sects
People and regions affected by natural disasters
Did You Know?

From 2013 to 2014, the total private giving (donated by individuals, foundations, and businesses) increased 5% for a total of over $358 billion!
If it's called a non profit, do employees still get paid? Yes, the 'non profit' only refers to the company making a profit, not the employees earning a wage. Most non profit organizations are tax exempt, so employee incomes and business overhead are paid as operations costs of running the organization.
Levels of a Non-Profit Management Degree Online
You can work towards earning a non profit management degree at the level that best suits your education goals. Students work towards earning a non-profit management degree online at different levels, including certificate, bachelor, master, and doctorate. Associates degrees for this subject are uncommon. You may want to go into a "helping people" profession and want to earn your bachelors degree in something in that field. Do you already have a bachelors degree, work in non profit, and want to pursue becoming a manager? Then it may be time to look into non profit management masters programs. Which level matches your goals?
Did you know?

1,822 Masters degrees in Non Profit Management Degrees were awarded in 2014—the most popular degree level for this degree!
If you earned your associates or bachelors degree in something different than non-profit management, you can still pursue your masters or doctorate in this subject.
Coursework for Non Profit Management Degree Programs
The type of coursework you encounter in a non-profit management degree online program will depend on the level you are at. No matter the level, the courses will mostly deal with what it takes to run an organization that centers around service. Some courses that are typically of a non-profit management online degree program at any level include:
Fundraising and Philanthropy: This type of course typically goes over the basics of how to raise money for a philanthropic organization. Students are taught about grants, philanthropic efforts, and contracts. Innovative ways to raise funds may also be explored.
Fiscal and Performance Management: Students are taught how to monitor and manage finances of a nongovernmental, non profit organization. Because non profits have special tax exemptions, it's crucial as a manager to understand how to run day-to-day finances and navigate tax laws so the company doesn't violate tax law.
Health and Human Service Policy: Courses like this are meant to teach the history and development of human services legislation. The history is important for how policy came to be, and the development is important for how to assess the current relationship between law and human services.
Leadership and Management: In this area of study for a non-profit management degree online, students will learn how to lead and manage other employees in a non profit setting. Sometimes responsibilities of non profit employees fall outside the realm of typical 9-to-5 workers, so this skill set is unique to non profit management.
These course examples are specific to the non profit major. If you're going for your degree, you'll likely need to take other courses to round out your degree requirements, like core and elective courses.
Potential Non Profit Management Careers
Like most students, your desire to earn this degree is likely because you want to pursue a non profit organization management career after graduating. Depending on the type of nonprofit work you wish to go into, titles associated with this type of work will vary. According to PayScale, some of the responsibilities associated with program managers at nonprofit organizations includev:
Make sure projects and endeavors follow the mission of the organization
Manage budget, activities, staff, and outcomes of projects
Communicate with everyone involved in a non profit organization, from staff to managers to volunteers
Supervise training of staff, volunteers, and/or management
If you have the desire to lead a team, oversee projects from start to finish, and want to make a positive impact in your community, this may be a great career path for you to pursue. Some careers associated with this type of work are:
Grant Writers: Perform research and draft a proposal to assist with an organization receiving grant funding.
Fundraisers: Create, organize, and oversee events or initiatives intended to raise money for a non profit organization.
Social and Community Service Managers: Manage and coordinate community organizations or social service programs (can be at non profit, private for profit companies, or government agencies).
Did You Know: People in America volunteered a total of 8.7 billion hours in 2014— over a 5% increase from 8.3 billion hours in 2013.iv
Getting Started with a Non-Profit Management Degree Online
Now that you have an overview of what a non-profit management degree online entails, you can start planning for your future. You can visit our pages on each degree level to find out what program type matches your education goals and career aspirations. Some examples of programs at different levels might appear as:
Post-Bachelor's Certificate in Nonprofit Management
BA/Service Management – Non-Profit Enterprise Specialization
Master of Public Administration – Non-Profit Leadership
PhD – Nonprofit Management and Leadership
No matter what your level and goals, be sure to learn as much as you can before making the big decision about earning your degree in nonprofit management online!
---
[i] nccs.urban.org/statistics/quickfacts.cfm [ii] bls.gov/opub/mlr/2016/article/nonprofit-pay-and-benefits.htm [iii] independentsector.org/nonprofit [iv] urban.org/research/publication/nonprofit-sector-brief-2015-public-charities-giving-and-volunteering [v] payscale.com/research/US/Job=Program_Manager,_Non-Profit_Organization/Salary