Sponsored Online Programs Available
Online Associates in Office Administration
Associates Degree in Office Management Online programs demonstrate a variety of useful business and clerical skills. Classes typically address communicating effectively, managing information, and using business software. In an online program, you might hone the skills and knowledge you need to enhance your career as an administrative professional.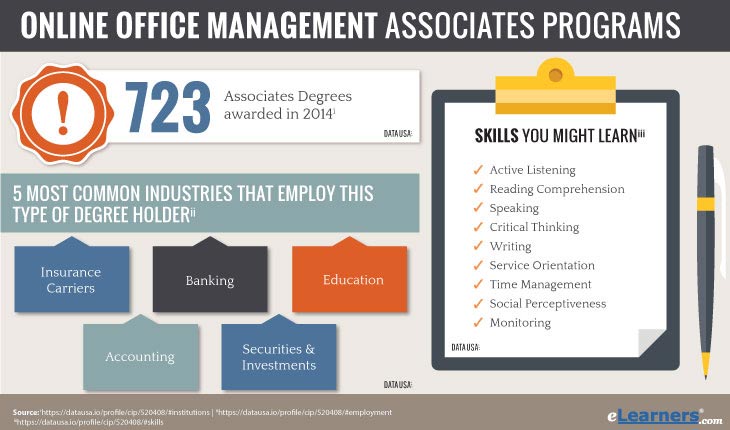 Why Study for an Associates Degree in Office Management Online?
And with the support and flexibility of an online program, you might even apply your new skills in the field right away! This could be through your current role, or even through internship placements if you go that route. Best of all, earning an associates degree in office administration could help demonstrate your expertise to potential employers!
Earning an Online Office Administration Associate's Degree
Earning your Associates Degree in Office Management Online could be one step on your path to a dynamic career. In addition to learning useful skills, a degree in office management and administration could help you set yourself apart from the competition. Earning your office management degree online, you could reinforce your current job skills and even learn new ones.
How Long to Get an Associates Degree in Office Management Online?
An Associates Degree in office management online might take about two years to complete. However, that could depend on your schedule, the weight of your course load, and the specifics of your selected program. Unique factors like work experience and prior education might also affect how long it takes you to finish. The specific details may vary by school, so if you have questions, reach out for more information.
Specialty Studies in an Online Associates in Office Administration
Some online associates degree in office management programs may also allow you to pursue a specialty, such as working as a legal secretary or medical secretary. The availability and form of these options may vary by program. If you're interested in pursuing something like this, contact your selected schools for additional information.
What Might You Learn in Office Management Associates Classes?
Earning your associates degree in office administration or office management could be an asset to your career. But the specific types of skills and knowledge you learn in a given program may vary. That could depend on the school you attend, your preferences, and other factors. As such, different programs might prepare you for your career in slightly different ways. Some examples of what you might learn in your associate degree in office management online courses include the following subjects.
Communication: Effective communication skills could an important part of your success in office management. In your online program, you might learn how to write a formal business letter, to build effective presentations, and even about executive communication.
Computer Skills: As an office manager, using in your computer could be crucial to your day to day responsibilities. In an associate degree program, you might learn things like using Microsoft office, creating and maintaining complex spreadsheets, document layout and publishing, and more.
Event Planning: When you're working in office administration, you might be responsible for some aspects of event planning and organization. As such, some online office management associates degree programs may help you learn how to make your office's events a success! This could involve organization strategies, communication, scheduling, time management, budgeting, and any number of unique skills for your tool kit.
Customer Service: No matter what type of organization you work in, top notch customer service skills could be a plus. Honing your customer service expertise in an associates degree program could help you help your company's customers more effectively.
Business Ethics: Familiarizing yourself with ethical business practices—both on an individual and organizational level—could be helpful in almost any position. Not only might this help you make better decisions when it comes to your own responsibilities, but it could also help you provide better assistance to your office as a whole.
Other Requirements to Consider
It's possible that your online associates degree in office administration program may have additional requirements beyond the classroom. In particular, some associates degree in Office Management online programs may incorporate field experience through an internship or practicum element. If this is the case, your school may assist you in organizing these opportunities. However, not all programs may require field experience, and the ones that do might vary. If you have concerns about this, reach out to your selected program.
Online Associates Degree in Office Administration: What Could I Do Next?
OK, so now what?
After you complete your online associates degree in office administration programs, you may have several options what to do next. Some students opt to go straight into the work force in an administrative or clerical role. However, you may also want to earn your bachelor's in office management. If that's the case, you might be able to apply some of the credits you have earned toward the completion of your bachelors program, if the programs in question are compatible.
Especially if you aspire to a leadership position, earning a relevant bachelor's degree could be a good idea. For more information about this, follow up with the schools in question.
Get Certified
Another option is to earn a certification from a professional organization. This is not generally a requirement for employment. However, it could help show your skills to potential employers. One such certification may be the Certified Administrative Professional (CAP) certification, offered by the International Association of Administrative Professionals.i
Potential Business Office Management Careers
Office management means using your skills in organization, logistics, planning, and creative problem solving to help your office function efficiently every day. Earning your associates degree in office administration online could support you as you embark upon an exciting career. While you might hold a variety of administrative positions, each one may work to improve the day to day functioning of your organization. In many cases, the minimum entry level requirements could be a high school diploma or GED, meaning an associates degree could help separate you from the competition.ii
Entry-Level
With an associates degree in office administration, one career you might pursue is as an administrative assistant. In this position, you could be responsible for a variety of clerical and organization-related tasks. The median annual salary in 2015 for administrative assistants was $36,500.iii
Career Advancement
Potential career advancement might include positions such as office management or administrative services management. The 2015 median salary for office managers was $86,110.iv
However, this total may vary significantly by state, organization, industry, and other factors. To pursue a career as an office manager, you might need to earn a relevant bachelors degree, in addition to having prior administrative experience. Other career options may include being an executive assistant, or with additional training, a medical secretary, legal secretary, or paralegal.
Fun Fact

Medical secretary employment is projected to grow 21% before 2024! This is due in part to changes in the health insurance industry.v
Start Applying to Online Associates Degree in Office Administration Programs
Position yourself for a great career by earning your Associates Degree in office management online! A variety of fascinating administrative and clerical opportunities could be available when you graduate. Start your search by browsing the sponsored program listings. Click the Request Info button to get in touch for more details and to ask any additional questions. Also, remember to keep track of any application deadlines.
Don't let this chance to get ahead pass you by! Take the first step toward earning your office management degree today.
---
[i] bls.gov/ooh/office-and-administrative-support/secretaries-and-administrative-assistants.htm#tab-4 [ii] bls.gov/ooh/office-and-administrative-support/home.htm [iii] bls.gov/ooh/office-and-administrative-support/secretaries-and-administrative-assistants.htm#tab-1 [iv] bls.gov/ooh/management/administrative-services-managers.htm#tab-1 [v] bls.gov/ooh/office-and-administrative-support/secretaries-and-administrative-assistants.htm#tab-6