Sponsored Online Programs Available
Online Bachelors Degree in Office Management
Online bachelors in office management programs may address how to use your creativity and organizational skills. You could develop your business acumen. Best of all, you may even cultivate those leadership skills. With a flexible online format, you may even be able to balance that education with your flourishing career. That means you could take your new skills from the classroom right to the office. Earn an online bachelors in office management degree, and jumpstart an exciting career in administration.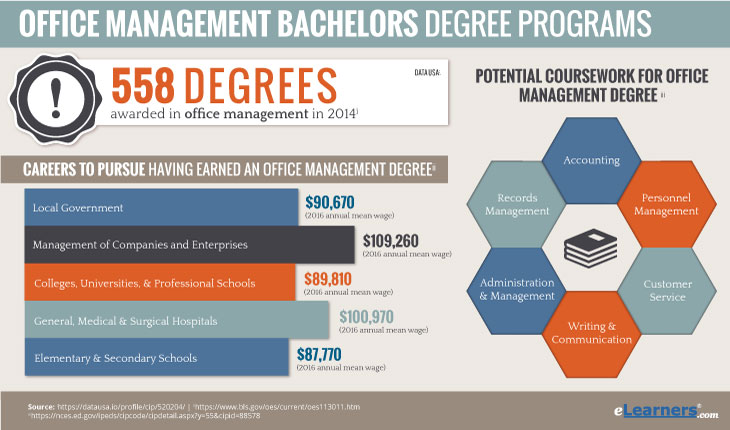 About an Online Bachelors in Office Management Degree
Online bachelors in office management degree programs could help you set yourself apart from the competition. In your program, you might develop the office administration skills you already learned on the job or in an associates program. You might even take those skills to the next level by learning to strategize and lead your team to success.
Specifically, online bachelors in office management programs focus on building leadership and organizational skills. A bachelors program might focus on things like planning and coordination of essential clerical services throughout an organization. That could involve studying budgeting, setting goals, overseeing a team, and maintaining policies and procedures. Some bachelors in office management programs may even be specialized to certain work areas, such as facilities management or record keeping.i
How Long Does It Take to Earn An Online Bachelors in Office Management Degree?
Earning your bachelors degree in office management online could take approximately four years. This might vary depending on the program, previous education, experience, and your preferred course load. For more information about program length, requirements, and other related options, reach out to your selected schools for additional details.
Potential Office Management Online Courses & Topics
Online bachelors in office management degree programs might focus on building a variety of business and career skills. These could range from finance-related to creative and clerical. You could even learn about leading and managing teams. Some examples of what you might study include the following.
Supervision and Management: Programs may focus on strategies to be a more effective leader and team member. Leadership and cooperative skills could be important factors in your potential success working with diverse groups, and potentially as a leader in roles like Administrative Service Managers.
Business Law and Ethics: Some programs may help you become fluent in the legal and ethical aspects of business practices. That knowledge could support you in making effective and ethical decisions every day. This could be especially valuable if you hold or aspire to leadership and decision-making positions in your organization.
Workforce Management: Learn more about the hiring, management, and training of personnel. This might include studying labor law and learning more about how to manage employee benefits.
Office Accounting: Study business and office accounting to help your department stay on top of its finances! This might include topics like payroll and bookkeeping.
Communication: Hone your communication skills in a variety of contexts! Learn about business writing, internal communications, creating business presentations, document design, and more. You could even learn about effective interpersonal communication in various contexts!
Office Technology: Learn more about using and administering software in your office. This could include Microsoft office, building spreadsheets, content management, internal communications systems, and more.
Additional Requirements to an Online Bachelors in Office Management Degree
In addition, some online bachelors in office management degree programs might incorporate requirements you may need to complete in person. In particular, this could be in the form of a practicum or internship in office management. Field experiences like this could offer an opportunity to practice the office management skills you learned about in the classroom, in a controlled real-world environment. Plus, you could make some professional contacts while you do so! Not every online bachelors in office management degree program may have a requirement like this, so if you are interested, reach out to your selected schools for more information
Online Bachelors in Office Management Degree: The Next Stepsii
A bachelors degree is typically required to work as an administrative services manager. One way to enhance your credentials, on top of having earned your bachelors, may be to earn a professional certification. For example, people seeking employment as an administrative services manager or office manager might choose to complete a Facilities Management Professional (FMP) certification, or a Certified Facilities Manager (CFM) certification. Specific certifications may be available that are more closely related to your primary responsibilities or work area, such as in records management.
Specializations and Certifications
Some people may also choose to pursue degrees or certificates in areas of specialization, such as facility management, information management, or paralegal or medical administration training. Programs like this may support a variety of specific industries or work areas.
Further Education
Other options for continuing education may include earning a masters degree, such as an MBA. This, combined with relevant experience on the job, may be helpful in enhancing your career, especially beyond the level of an administrative services manager. Relevant masters programs tend to focus on specific areas of responsibility or tailor toward specific career paths. For example, someone with experience in facilities management might seek a masters in facilities management. Someone else experienced in records management might seek a masters degree specific to that experience.
Bachelors Degree in Office Management Careers
Students who have completed online bachelors in office management degree programs may look for a variety of administrative and clerical positions. While many positions may have elements in common—ordering office materials, scheduling, bookkeeping, and general organizational tasks to name a few—the specifics of each position may vary by industry and the needs of that particular organization.
In particular, earning your bachelors degree may be a requirement to hold more advanced positions like Administrative Services Manager. The specific responsibilities of an administrative services manager may vary by organization and individual position. Having earned a bachelors degree is typically a requirement. Overall, professionals in these positions may have a combination of bachelors education, professional certification, and experience in relevant areas of responsibility.
Did You Know?

Contract administrators, facility managers, and records and information managers are all different types of administrative services managers.
Potential Office Manager Salary & Career Detailsiii
Administrative service managers earned a median salary of $86,110 in 2015. Employment of administrative services managers is projected to grow 8 percent from 2014 to 2024, about as fast as the average for all occupations.
However, this rate of growth could be affected by changing organizational needs. For example, facilities managers could be essential to ensuring building remain efficient and meet evolving environmental standards. They might also be needed to plan for, mitigate, and handle natural disasters as they affect facilities, and even to keep abreast of smart technology in the workplace.
Further career advancement beyond administrative service manager might require graduate education, such as an MBA or a masters of facility management. This may vary by employer and the unique qualifications of each employee.
Find Online Bachelors in Office Management Degree Programs Here!
Start your search for great programs to earn your bachelors degree in office management with eLearners.com. You can browse the sponsored listings to start learning more about potential programs. Then, once you identify which programs you think you might be interested in, click on the Request Info button beside the school name to get in touch. Make sure to ask any questions you might have. Then start your application and take the first step toward earning your office management degree online today.
---
[i] bls.gov/ooh/management/administrative-services-managers.htm#tab-2
[ii] bls.gov/ooh/management/administrative-services-managers.htm#tab-4
[iii] bls.gov/ooh/management/administrative-services-managers.htm#tab-6