Sponsored Online Programs Available
Online PhD Programs in Project Management
PhD in Project Management Online programs strive to develop you as an expert in the field of project management through courses focused on research, writing, and critical analysis. This type of rigorous coursework enhances your ability to propose, create, implement, and successfully complete projects on schedule.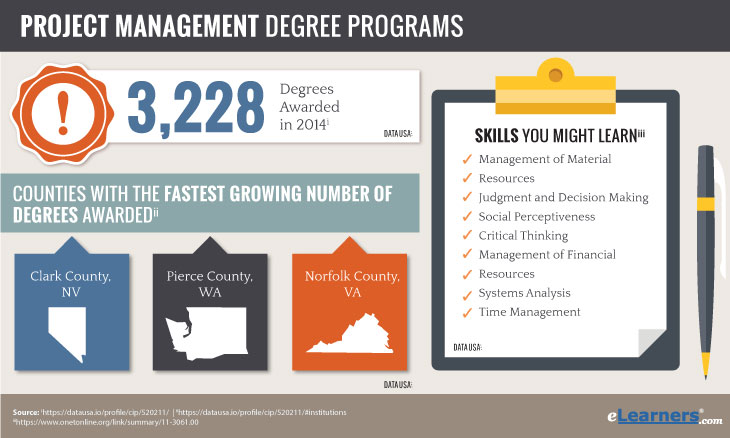 Plus, choosing to pursue your doctorates degree online provides you with the freedom and flexibility to perform coursework around your busy schedule. Continue reading to learn all about online PhD programs in project management, then click on any of the sponsored listings on this page to request more information directly from schools.
PhD in Project Management Online: Basics
Online doctorate degree programs in project management are typically designed for students who have full-time jobs and attend school on a part-time basis. However, some online PhD programs are designed for full-time students.
Program Requirements
Programs require that applicants have earned a masters degree from an accredited program and maintained a minimum GPA, normally 3.0 or higher.
Upon completing required coursework, most online PhD programs in project management require students to propose, write, present, and defend a dissertation in front of a board of faculty. This provides students the opportunity to contribute to the project management field. While every program is different, most students earn their doctorate degree in three to four years.
Did You Know?

For chief executives, those with an advanced degree and extensive managerial experience will have the best job prospects.i
Different Online Doctorate Degree Types in Project Management
There are three main types of online doctorate degrees. All are academically equivalent and are the terminal degree in the field, which means they are the highest degree available. The three doctorate degrees available are:
Doctor of Management (DM)
Doctor of Philosophy (PhD)
Doctor of Business Administration (DBA)
The overall goals are the only difference between these degree types. For instance, a PhD typically prepares students for a career in research and education. A DM degree may focus more on advanced research skills to confront complex problems in your industry. These are compared to a DBA, which is focused on specific business problems and how to apply project management techniques.
Common Courses While Pursuing Doctorate Degree in Project Management
While pursuing your PhD in Project Management Online, courses are typically focused on preparing you for the many challenges in project management through critical analysis and the application of research to develop strategies. Some of the common courses to achieve these goals include the following.
Leadership Theory and Development
Risk and Quality Management
Portfolio and Project Management
Advanced Concepts of Project Management Methodologies
Projects as Complex Adaptive Systems
While pursuing a phd in project management distance learning requires more research, writing, and critical analysis so that students may acquire a deeper understanding of project management principles.
Find the Perfect Project Management PhD Online Program
Earning your online doctorate in project management can help you develop the business expertise you need to enhance your career. Plus, pursuing your degree online may provide you with the opportunity to perform coursework around your busy schedule.
Take the Next Step
There are many online PhD programs in project management for you to choose from. Click on any of the sponsored listings on this page to learn more about individual programs. Then, you can contact the schools directly to request more information.
---
[i] bls.gov/ooh/management/top-executives.htm