Sponsored Online Programs Available
Masters Degrees in Project Management Online
Pursuing your Masters in Project Management Online prepares you to lead projects in many different fields, from contracts and scheduling all the way through completion. The different degree types and coursework focus on providing the skills and knowledge necessary for a number of different career paths. This includes courses such as risk management, organizational leadership, and project communications management.
Fun Fact

Fewer than a third of all projects were successfully completed on time and on budget in 2016.
What to Expect When Pursuing Your Masters in Project Management Online
Students pursuing a masters degree in project management constantly ask, "How is work executed in a complex business environment?" While pursuing your online masters in project management, the courses you take and the degree you pursue will provide you with the skills and knowledge to answer that question.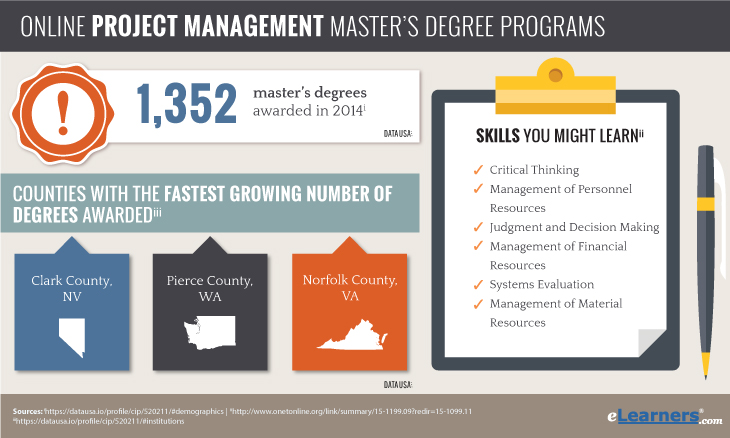 Different Masters in Project Management Degree Names
When beginning your research to pursue a masters degree in project management, you'll likely encounter many different degree names. There are similarities between each of the different degree names and the schools that offer them, but there also may be some big differences. Be sure to research individual schools to find your perfect match for your masters degree in project management online.
M.S. in Project Management
M.B.A. with an Emphasis in Project Management
M.S. in Organizational Leadership – Project Management
M.A. in Organizational Management – Project Management
M.S. in Operations and Project Management
M.S. in Information Technology – Project Management
Master of Science in Management: Project Management
M.B.A. of Business Administration: Project Management
Different Online Masters in Project Management Degree Options
As the list above shows, when deciding to pursue a project management masters degree, you have many options. This doesn't only include the different names of the degrees, but also the different degree types. It's important to understand these differences while researching schools.
Masters of Business Administration (MBA) in Project Management: Generally, MBA degrees focus more on the business strategy at the C-Level. This includes developing decision-making into the overall strategy of an organization. This degree is more business oriented, and may include classes focused on finance, marketing, and human resources.
Masters of Science (MS) in Project Management: This is the most common masters degree earned because most of the fields project managers enter are science-based. Typically, the main advantage to earning your MS in project management is that all of the courses are focused on becoming a project manager, but not tied to any specific field. This may allow you the option to switch between industries if your career goals change.
Masters of Arts (MA) in Project Management: Typically, an MA is Project Management is extremely similar to an MS. However, an MA is more appropriate for humanities-related fields. A good way to decide is to use your bachelors degree as guidance. Most often, if you earned an bachelors of arts (BA) in your respected field, then an MA may make more senses. Otherwise, the programs are very similar.
Common Coursework While Pursuing Your Masters Degree in Project Management
While there may be slight differences between the MA, MBA, or MS in project management, many of the courses may be similar. These courses may include:
Quantitative Analysis for Decision Making: This course analyzes the mathematical, probabilistic, and statistical tools available in the management of organizations.
Operations Management: Students are taught the various concepts and methods in the management of production and operations.
Project Planning and Scheduling: Typically, this course covers project-scheduling methods such as critical path systems, critical chain scheduling, statistical analysis, linear resource leveling, and others.
Project Quality Management: During this course, students examine basic quality concepts and explore the three sub-processes of quality management. These are quality planning, quality assurance, and quality control.
Project Estimation and Cost Management: Students are taught the financial and economic principles involved in product and system development. This course provides students with a foundation in project accounting, budgeting, cost estimation, and financial management.
Project Risk Management: This course uses both qualitative and quantitative risk analysis to proactively manage issues that may adversely impact organizations and projects. This includes using modern techniques and tools for identifying, ranking, and monitoring various risks.
Project Procurement Management: This course analyzes all the of the different elements of project procurement management, which is focused on determining what needs to be purchased or acquired and how and when to acquire it. The different steps include planning contracting efforts, requesting sellers' responses, selecting the seller, administering contracts, and closing contracts.
Project Communications Management: Students are taught the methods and capabilities needed to manage the human elements within project management. This includes topics such conflict resolution processes, critical communication, and innovative approaches to negotiating and resolving conflicts between peers, managers, and stakeholders.
Mastering Project Management: This course is a common one in a masters in project management online degree and is focused on building upon the fundamentals students are taught in earlier classes. These advanced topics include leadership, project performance, and the core competencies of project management.
Agile Project Management: During this course, students are taught how new Agile principles and practices are continuing to change the landscape of project management. Lessons are focused on providing project managers new insights into how to successfully blend traditional project management techniques with Agile techniques and methods.
Common Accreditations for Project Management Degree Programs
When choosing a school to pursue your online masters in project management degree, choosing an accredited school should be one of the aspects that you consider. While there are many different accreditations available, some are more widely recognized. Attending a school with a recognized accreditation means that the program is held to a certain standard of education and your degree may carry more weight after you've earned your degree.
Accreditations are committed to encouraging programs and institutions focused on continuously improving their techniques and strategies. When it comes to a Masters in Project Management Online, the most widely recognized accreditation comes from the Project Management Institute. It offers schools that meet its standards an accreditation from the Global Accreditation Center for Project Management Education Programs.
After Earning Your Online Masters in Project Management
After earning your online masters in project management degree, you may have a few different options to enhance your career. This may include pursuing certificates to strengthen your resume and beef up your qualifications for potential employers. This may also include a number of different career paths.
Available Project Management Certificates
The Project Management Institute offers a variety of certificates that are recognized for meeting the real world needs of various organizations. The certification process includes meeting or exceeding the eligibility for any of the different certificates, applying, application review, scheduling your exam at a Prometric testing site, and passing the test.
The "gold standard of project management certification" is the Project Management Professional (PMP). But that's not the only option. Others include, but aren't limited to:
Project Management Professional (PgMP)
Certified Associate in Project Management (CAPM)
PMI Risk Management Professional (PMI-RMP)
PMI Professional in Business Analysis (PMI-PBA)
Possible Project Management Career Paths
The most common industries for graduates with project management degrees are Insurance Carriers, Banking, Elementary and Secondary Schools, and Accounting. This may also include Information Technology Project Managers. IT Project Managers typically lead and guide the technical staff and act as liaison between the technical staff and the business side of projects. [i]
The United States Bureau of Labor Statistics expects these fields to have an increase in the percentage of employment for the years 2014 to 2024. These increases include:
Accountants and Auditors: 11% Increase [ii
Elementary, Middle, and High School Principals: 6% Increase [iii
Information Technology Project Managers: 15% Increase [iv
Overall Management Occupations: 6% Increase v]
Fun Fact

High-performing organizations successfully complete 89% of their projects, while low performers complete only 36%.
So What's the Next Step to Earning a Masters in Project Management Online?
Take the next step to earning your online masters in project management degree. Click on any of the sponsored listings on this page to learn about the different schools, programs, and specific courses. Then, request more information from a few schools to find your perfect match.