0 Sponsored Online Programs Available
Adult Educations Associates Degree Online
Earn an online associates in adult education and you might be able to ease the transition of today's adult learners who are returning to further education in droves! Online associates in adult education programs teach how to overcome the obstacles of adult learners.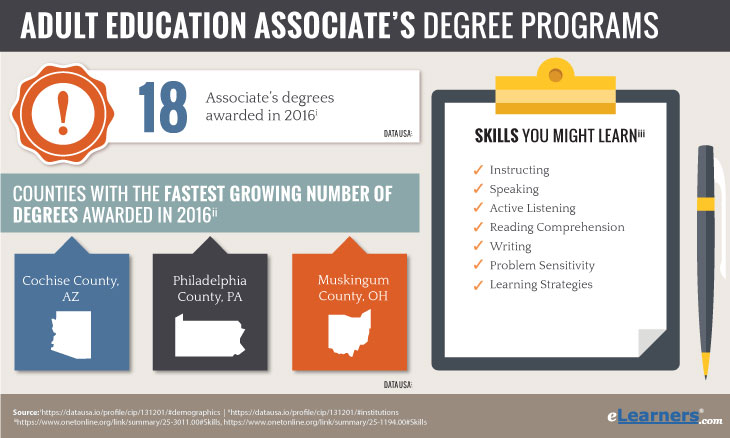 Adults could present challenges that typical education systems are unable to address. Whether it's work schedules, priorities at home, or even a language barrier, they may find academics less than welcoming. But, many careers require a GED or postsecondary degree. That could make earning a diploma a great decision for these new students.
Even if you've just graduated high school yourself, you could help adults pursue the exact same thing!
Fun Fact!

More than one-third of students currently earning a postsecondary degree are over 25 years old.
About an Online Associates in Adult Education
Online continuing education associates degree programs may be a great starting point for your academic career. During these programs, you could develop methods and techniques to potentially address adults' needs in the classroom. Not only that, but you might also start to work with education fundamentals. But these programs aren't just for adults! The skills and knowledge you could learn from these programs might be applicable to any classroom!
Curriculum for an Adult Education Associates Degree Online
Curriculum in an online continuing education associates programs is often two-fold. That means you could work with basic teaching strategies as well as specialized coursework. Some education fundamentals you could engage with might be:
Human development
Written communication
Fundamentals of teaching
Not to mention, those general courses could be applied to many academic settings! That means, you could step into an elementary or high school classroom. You might not be limited to just teaching adults! The other half of the curriculum may address adult education theory and nontraditional students' learning challenges. Topics could include:
Life span learning communication
Facilitation of post compulsory education
Adult learning theory
The combination of adult and general education courses might help you create a welcoming teaching environment for your students. Curriculum may vary by program. Check with schools for more info!
Course Length
Earning an online associates in adult education typically doesn't take too long! Compared to a bachelor's degree, it might seem relatively short. Students could potentially complete an online associates degree in adult education in 2 years. Completion time might vary by program.
Admission Requirements
An online associates in adult education could act like your first taste of undergraduate work. It might even prepare you to earn a bachelor's after! But, to prepare you for that, admissions requirements are typically accessible to high school students. Students may be required to submit a 2.5 to 3.0 high school GPA. SAT or ACT exam scores may also be requested. Talk to your intended program for more info on admissions details.
Further Studies
Ready for your next academic step? Great! The obvious jump after earning an online continuing education associates degree could be to pursue a bachelor's degree. Thanks to your associates in adult education, you could potentially pursue some of the following bachelor's programs:
Bachelor of Science Interdisciplinary Studies: Adult Education Concentration
Bachelor of Arts (BA) in Adult & Organization Development
Bachelor of Science in Education Studies, Adult Education Concentration
Picking a Perfect Online Associates Degree in Adult Education
With this information, you might be ready to begin your search for a perfect online associates degree in adult education! The skills and knowledge you could engage with in this program might make a huge difference to struggling adult students reentering education. Continue on this page to view a list of potential programs. To read more information about a program, click its associated link. While there, click the "request info" button to receive more information regarding course materials, admissions requirements, and graduation criteria. Good luck finding a perfect associates in adult education program for you!