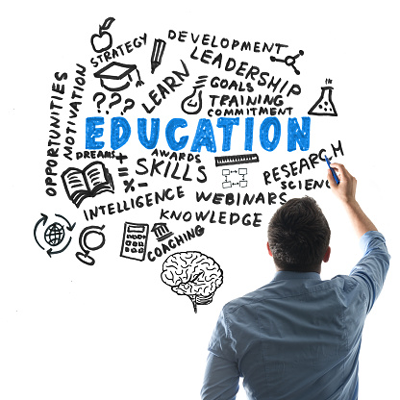 Those wondering how to become a curriculum developer, instructional coordinator, or curriculum and instruction specialist may want to start at square one: education. Typically, curriculum pros and subject matter experts need to earn at least a master's degree, generally in Education or Curriculum and Instruction. [i]
We've put together a list of graduate curriculum and instruction design degree programs you may wish to consider. Already have Step One figured out? Scroll down for more info on preparing for a new career path as a curriculum and instruction specialist, plus what to potentially expect in this role.
Step 1: Online Curriculum Specialist Degree Programs That Might Help You Launch Your Goals
Instructional coordinator master's degree programs (known as curriculum and instruction programs) typically cover curriculum design, top instructional theory, and collecting and analyzing data. You need to have earned a bachelor's degree, generally in education, before pursuing a master's program. Below, we've listed some (mostly) online masters in curriculum and instruction programs worth exploring further.
Note: You may find doctorate-level programs in curriculum and instruction, too.
1. Southern New Hampshire University
A private, nonprofit university, Southern New Hampshire University (SNHU) has been helping students prepare for new career paths since 1932. They offer over 200 programs, including graduate education programs for current and future teaching professionals. Southern New Hampshire University has locations in Manchester, New Hampshire; and Brunswick, Maine, in addition to online learning. They are accredited by the New England Association of Schools and Colleges.
Program Spotlight: Online MEd in Curriculum and Instruction. This program is designed to help education professionals prepare for new goals in learning experience design, with an eye on cultural inclusivity and diversity across age groups, education levels, and academic settings.
Concentrations include Special Education, Technology Integration, Dyslexia Studied & Language-based Learning Disabilities, Reading, and Education Leadership.
2. California Southern University
California Southern University (CalSouthern) is a regionally accredited university offering programs entirely online. CalSouthern's goal is to help busy learners, such as nontraditional students and working adults, to pursue their degrees in a flexible format. The university is regionally accredited by the Western Association of Schools and Colleges (WASC) Senior College and University Commission.
Program Spotlight: Online Master in Education (M. Ed) with a concentration in Curriculum and Instructional Design. This 36-credit online program features core education courses in subjects like Assessment and Evaluation, Research in Education, etc., with a focus on four key areas: educational theory, current research, best educational practices, and service for the public good.
Students who choose the Curriculum and Instructional Design concentration may pursue additional courses reflecting that emphasis.
Walden University has a 45-year history of educating adult students. They offer online bachelor's, master's, and doctoral degrees, plus certificates, in a range of fields including education. Walden places emphasis on positive social change, information literacy, lifelong learning, and other key values. The university is accredited by The Higher Learning Commission (HLC).
Program Spotlight: Online MS in Education with a concentration in Curriculum, Instruction, and Assessment (Grades K-12). This 30-credit Master of Science in Education program is designed to help education professionals understand students' diverse learning needs and help them develop 21st-century skills.
Candidates in the Curriculum, Instruction, and Assessment track may study how to make curriculum decisions across various subject areas, how to identify and address students' skills gaps, and more.
The first public institution of higher education in Kansas, Emporia State University has been serving students since 1863. They have a history of helping teachers prepare for new goals in their acclaimed teacher education programs. Besides the main campus in Emporia, Kansas, and several other locations, Emporia State offers a variety of online programs.
Program Spotlight: Master's Degree in Curriculum & Instruction. This 34-credit program is aimed at teachers or education leaders in either public or private schools. Focusing on all education levels, the program offers a core program of study that includes subjects like Cultural Awareness for Educators and Restructuring Classrooms with Technology.
In addition, degree candidates may choose from three concentrations: (1) Curriculum Leadership (for those pursuing roles in curriculum design, implementation, management, and evaluation), (2) Effective Practitioner (for teachers interested in building new skill areas), and (3) National Board Certification (for those pursuing certification).
5. Colorado Christian University
Colorado Christian University (CCU) is an interdenominational Christian college serving Colorado, the Rocky Mountain region, and beyond. Founded in 1914 with just two students, CCU now has more than 8,000 undergraduate, graduate, and adult students! They offer over 100 degree programs for both traditional and adult learners.
Program Spotlight: Master of Arts in Curriculum and Instruction (MACI). In this 36-credit degree program, candidates may choose between a general curriculum and instruction program or one of three concentrations: Biblical Studies; Culturally and Linguistically Diverse; or Alternative Teacher Licensing. If an emphasis is chosen, students take 18 credits in core professional subjects, and then pursue courses related to their track.
Courses are held in five-week blocks.
6. Pennsylvania State University
Penn State is a public research university serving Pennsylvania and the world. The university system includes 24 campuses throughout Pennsylvania, including the online Penn State World Campus. With nearly 18,000 online students, Penn State World Campus is the second-largest campus in the Penn State University system! Over 150 online degree and certificate programs are on offer.
Program Spotlight: Online Master of Education (M.Ed.) in Curriculum and Instruction. This 30-credit degree program is offered by Penn State's College of Education, and students pursue their studies online through Penn State World Campus.
Choose from five emphasis areas: (1) Children's Literature; (2) STEM Education; (3) Elementary Education; (4) Curriculum and Supervision; and (5) Theory and Practice in English, Social Studies, and World Languages.
Or, you could potentially work with an advisor to tailor your degree path to your interests and goals.
7. Concordia University – Portland
Concordia University is a private, non-profit Christian liberal arts university, based in Portland, Oregon. Welcoming students of any faith, Concordia helps students prepare for diverse professional paths, including in the field of education.
Concordia Online offers fully online M.Ed programs.
Program Spotlight: Online MEd in Curriculum & Instruction. Concordia's Master of Education in Curriculum & Instruction degree program features a staggering 14 concentrations to choose from, so students can pursue the path that suits their professional interests. These include Adolescent Literacy, Educational Technology Leadership, ESOL, Reading Interventionist, and many others. Candidates could also potentially pursue a dual concentration.
And, instead of online learning, students might opt to study on campus in Portland, Oregon, or pursue a hybrid program—part online, part campus.
Northcentral University is an online university serving students from around the world. They were founded in 1996 with the goal of offering accessible, career-relevant educational paths. NCU offers graduate education programs at the master's and doctoral levels, as well as certificate programs.
They are accredited by WASC Senior College and University Commission (WSCUC).
Program Spotlight: Online Master's in Curriculum and Teaching. Northcentral's online, 30-credit M.Ed. program offers a specialization in Curriculum and Teaching that covers areas like curriculum review, analysis, development, design, evaluation, and more.
NCU also features a one-to-one mentoring approach to help guide students on their paths.
Step 2: Pursuing Curriculum Specialist Certification
According to the Bureau of Labor Statistics, instructional coordinators for public schools may require certification, such as a teaching license or an education administrator license.i Check with your state's Board of Education to be sure, since requirements may vary by area.
Step 3: Understanding (and Searching For) A Curriculum Specialist's Role
First of all, let's clear up any confusion: a curriculum specialist by any other name is just as sweet! This role may have titles that include: Curriculum and Instruction Director, Curriculum Coordinator, Education Specialist, Instructional Coordinator, and others.ii
So, what does an instructional coordinator do?
What Is Curriculum and Instruction?
While there may be some variation among the roles listed above, generally these titles come with similar duties, like:
Developing and coordinating curriculums
Conducting teacher trainings
Assessing and implementing curriculum standards
Analyzing student test data
Incorporate technology into curriculums
Reviewing textbooks and educational materials
Within the role of instructional coordinator, there may be additional specializations. For example, some coordinators may focus on particular grade levels, specific subjects, or areas like special education and English as a second language.
Keep in mind that in addition to educational requirements, instructional coordinators tend to need several years of professional experience. Often, that means working as a teacher before pursuing a new role as an instructional coordinator. And for some roles, you may need to have experience teaching a specific subject or grade level.
Needless to say, it's important to understand both your state's requirements for pursuing this career path (see certification, above) and the requirements for each of the curriculum specialist roles you plan to apply to.
Search for Curriculum and Instruction Degree Programs That May Teach You How to Become a Curriculum Developer
Whether you're searching for an instructional coordinator masters degree, a doctoral program, or something else, you may find the perfect higher education path among our sponsored listings. Click a school to learn more about its program offerings. Or, fill out our form to get matched with curriculum specialist degree programs that may be ideal for your professional goals.
---
[i] https://www.bls.gov/ooh/education-training-and-library/instructional-coordinators.htm#tab-4 | [ii] https://www.onetonline.org/link/summary/25-9031.00