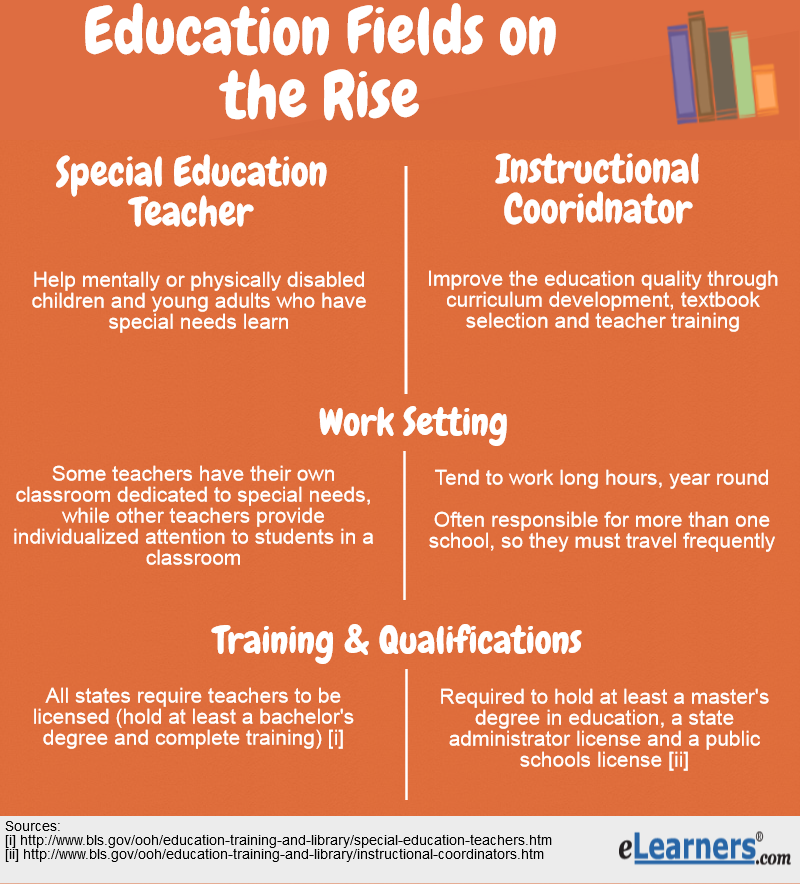 As challenging as choosing a career can be, sometimes choosing a track within that career can be even tougher. Education is certainly no exception. Many education majors have found limited job opportunities as classroom teachers, or have tried being a classroom teacher and found they aren't suited for the daily rigors, want to earn more money, or simply need a new challenge. If you long to do something else with your education degree, here are two jobs you may want to consider: special education teacher and instructional coordinator.
Special Education Teacher
As a special education teacher, you have the opportunity to help mentally or physically disabled children and young adults who have special needs. According to the Bureau of Labor Statistics, the amount of special education teachers will grow by 6 percent from 2012 to 2022. [1]
The Job
Though students under the special education umbrella can have severe cognitive, emotional, or physical disabilities, the majority of children in such programs have disabilities of a mild to moderate nature. Disabilities can include but are not limited to speech or language impairments, hearing or visual impairments, autism, and specific learning disabilities. Primarily, special education teachers follow a general, if somewhat modified education curriculum and in the most severe of situations teach basic literacy and life skills. Special education jobs can be found in schools on the K through 12 level and, to a lesser degree, with infants and toddlers.
The teaching methods in special education can include intensive, one-on-one instruction, problem-solving work, and small-group assignments. Teachers are also required under the Individuals with Disabilities Act to make sure proper accommodations are met including open-ended timing on tests and the use of assistive technology. Each student is entitled to an Individualized Education Program (IEP), in which the teacher, along with a child study team, develops personalized goals for the student that are tailored to his specific needs. Such programs can also include a transition plan that provides steps to prepare teachers, administration, and staff as students move on to new schools.
Work Setting
The work environment of a special education teacher depends on the school. Some teachers have their own classroom dedicated solely to special needs and some teachers provide individualized attention to students in a classroom. In other situations, special education teachers work with a smaller group of children in a resource room. Teachers can also work at individual homes or hospitals, though this happens less frequently.
Training and Qualifications
All 50 states require special education teachers to be licensed, which means they must have at least a bachelor's if not a master's degree, as well as additional training in an approved special education teaching program. For those without a B.A. in education, most states offer alternate route initiatives. Many colleges offer programs specific to special education teachers; increasingly, colleges are requiring a fifth year or graduate-level work. Similar to general education teachers, those in special education programs usually spend their final year of school student teaching, under the supervision of a certified special education teacher.
Instructional Coordinators
The primary duty of an instructional coordinator, or curriculum specialist, is to improve the quality of education. According to the Bureau of Labor Statistics, the amount of instructional coordinators is expected to grow by 13 percent from 2012 to 2022. [2]
The Job
Through curriculum development, textbook selection, teacher training, and ensuring that all regulations and standards are met, instructional coordinators provide quality control for education in their schools. Often, coordinators specialize in a subject, such as math, science, reading, or language arts. Instructional coordinators suggest improvements based on classroom observations and instructional practice. In addition, they research teaching methods and implement procedures to help teachers meet goals.
An important part of the instructional coordinator's job is to keep up with the latest technology for teachers to use in the classroom. Coordinators can suggest software, interactive books, and programs that develop reading and math skills, for example.
As new teachers begin their careers in education, instructional coordinators act as mentors to them, providing on-site training in instructional methods. When a district introduces new programs, requirements, or standardized tests, coordinators are often responsible for guiding teachers through the ins and outs on how to best introduce them to the class.
Work Setting
Instructional coordinators usually report directly to the building principal. Being responsible for curriculum and large groups of teachers, instructional coordinators tend to work long hours, year round. In many cases, coordinators are responsible for more than one school. Due to this fact, coordinators often have to travel from building to building.
Training and Qualifications
Instructional coordinators are required to possess at least a master's degree in education, as well as a state administrator license and a public schools license. Training in curriculum development and instruction as well as in the field they're in charge of is also required. Coordinators take courses in research design to learn how to use studies to determine how effective current instruction and curriculum is in relation to student performance.
In order to stay current, instructional coordinators are required to take continuing education courses on topics including teacher evaluation, teacher orientation and support, and technique evaluation. A good coordinator will have a strong comprehension of how different groups of students learn and how to develop materials for them. Most coordinators spend several years of their career as teachers first and many also work in an administrative role such as principal, vice principal, or department head.
---
[1] bls.gov/ooh/education-training-and-library/special-education-teachers.htm  |  [2] bls.gov/ooh/education-training-and-library/instructional-coordinators.htm