63 Sponsored Online Programs Available
EducationDynamics maintains business relationships with the schools it features
All About an Elementary Education Degree Online
If you're intrigued at the idea of pursuing an elementary education degree online, and are interested working in a profession that could have a significant impact on shaping
the minds of young children, pursuing a career in elementary education may be an ideal choice for you. There are several career path options in this field of study, ranging from roles that interact with students on a daily basis to those that handle more administrative tasks in a school.
Pursuing an online elementary education degree may be a great way to help prepare for an occupation in this setting, as individuals along this path of study could be exposed to topics, courses and industry leaders who may be able to shape their educational careers. Additionally, if your interests lie with teaching, it's possible to pursue a master's or doctorate in this field without having studied education in the past, as certain professions may benefit from a great deal of knowledge in one particular subject area.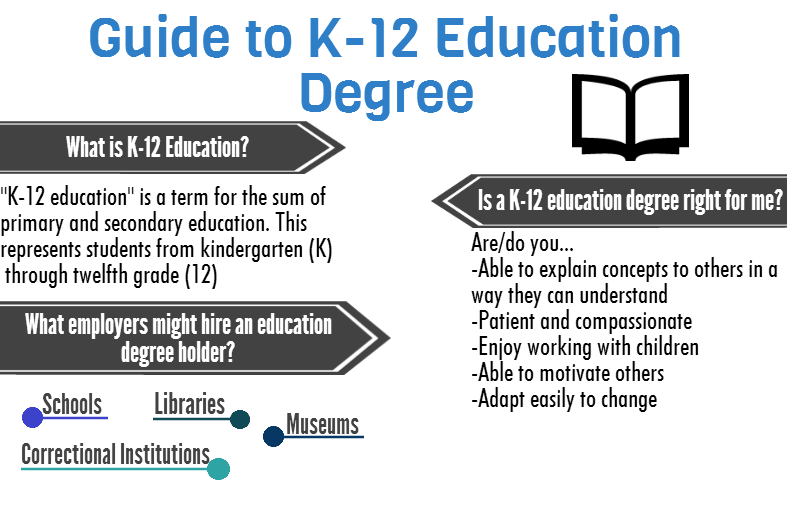 What are some of the courses while pursuing an elementary education degree online?
While the exact curriculum will vary from school to school, here are some of the courses you might take while pursing an elementary education degree online:
Communication

Academic writing

Psychology

Foundations of Education

English Language Teaching

Classroom Methods

Curriculum and Management

Student Teaching

Human Development and Learning

General Education courses, including Social Sciences, Science (Biology, Chemistry, Physics), Mathematics.

Reasoning and Problem-solving

Student Assessment
A glimpse into the realm of elementary education
Those working in the variety of professions found in elementary education generally study materials that may best suit their chosen careers. Since these individuals will likely be surrounded by school children on a daily basis, there is a handful of courses all people on this career path will take. These may include child development, diversity, instructional technology and educational psychology. Those who already have a specialized career path in mind may choose to take classes that will better serve their interests. If you want to pursue a career as an elementary, middle or high school teacher, you may opt for online teaching degrees specific to your discipline and age range - such as those that instruct how to teach elementary math or high school biology.
Students could pursue online teaching degrees such as a bachelor's, master's or a a doctorate in education. Frequently, those who earn their upper level degrees studied the subject they hope to teach, such as English or history, when they were undergraduates. You can narrow your specified field of study down even further if you wish to an early childhood education degree.
What are the educational requirements to become a teacher?
Teachers must complete a bachelor's degree program consisting of courses centered on education, followed by obtaining a license to teach in the state in which they want to work. The degree program may consist of courses designed to prepare future educators to teach, as well as courses in math, science, music, art and literature. Educators may also be required to take courses in working with students from diverse cultures, teaching English as a second language and psychology. Future educators may also need to meet certain technical requirements by taking courses in using computers to teach in the classroom.
Public school teachers are required to be licensed in all 50 states and the District of Columbia. Private school teachers are not required to be license, but they do need to hold at least a bachelor's degree. Many states, experiencing a shortage of teachers, have programs which offer alternative routes to licensure for those who have bachelor's degrees in fields other than education. This usually involves undergoing additional courses or a training program to prepare them for the classroom. Prospective teachers entering the field under one of these alternative routes to teaching may be granted a provisional license until they complete all of the requirements for full licensure.
Educators may be required to obtain a certain number of continuing education credits in order to renew their teaching license with the state. They may also be expected to earn a master's degree after they have taught for a certain number of years. Educators wishing to become school principals or superintendents will need to hold a master's degree or doctorate.
What responsibilities do all teachers share?
Responsibilities will vary by the age group you teach.
At the elementary school level:
Elementary school helps lay the educational foundation which will set up the students for future success in their studies at the middle and high school level. The early grades introduce students to language skills, science, social studies and mathematics. Elementary school teachers impart these skills to students through art, games, music and books. Teachers are typically responsible for teaching several different subjects to one group of students.
At the middle school level:
Teachers in Middle School, also known as "junior high school," help prepare students in grades 6 through 8 for the rigors and responsibilities of high school studies. While students in Elementary School are guided through very structured classes in sheltered environments, students in Middle School must be taught to study independently and turn in assignments by a set deadline. Middle school teachers may specialize in teaching one specific subject. They may also be responsible for teaching some courses which are career-related through vocational studies.
At the high school level:
High school teachers are responsible for guiding students in grades 9-12 through more in-depth studies and preparing students for further studies in college or in vocational/technical trades. Teachers in high school may also prepare students for employment after high school through career planning or job placement through on-the-job training courses. Some high schools offer programs which give high school students dual credit for both high school and college, so educators must have the training and knowledge to teach courses at a higher education level.
High school teachers typically specialize in one subject area, and may teach several different classes in the same subject each day. They may also be assigned a home room class for the purpose of taking attendance and performing other school administrative duties, and supervise study halls where students can work on their coursework from their other classes. High school teachers develop study plans, assign homework and proctor and grade exams. By the time students graduate high school with their diploma, they are expected to be fully prepared for college or for entry-level jobs in the workforce.
What is the work environment like for elementary school teachers?
Teaching can be a very rewarding experience, particularly for those who enjoy seeing a student grow and obtain new knowledge. However, it can also be a stressful and frustrating experience for a number of different reasons. Teachers may be faced with disruptive, disrespectful or unmotivated students. They are expected to help each student make satisfactory progress in their studies and master certain core subjects, which are measured in standardized exams.
Educators may also face a heavy workload with a minimum of resources at their disposal. Depending upon the school district, the school may have a shortage of computers, text books or other materials considered necessary for teaching a classroom full of students. The school facilities themselves may be old or rundown. Some teachers may have very little say in the kind of material they are expected to teach.
One misconception is that teachers have shorter work days compared to those in other professions. Teachers typically work more than 40 hours a week, including regular classroom time, participation in extracurricular activities within the school, and time spent grading papers and preparing lesson and homework assignments for students. In elementary schools, teachers may be responsible for teaching a number of different subjects. In middle and high school settings, teachers may teach more in-depth topics in one subject. While some school districts have adopted all-day kindergarten, some teachers still teach two different kindergarten classes per day.
Many teachers work the traditional 9 or 10 month school year, with time off during the summer. However, many teachers spend this time teaching summer sessions of school classes or furthering their own education by taking additional college courses in education. Some school districts have adopted a year-round schedule, in which classes take place for several weeks at time, followed by a week or two off until the next round of classes.
Teachers are afforded a certain level of job security once they become tenured educators. This usually happens following a probationary period of teaching at a school, usually about three years. This does not mean educators are immune from cost-cutting or layoffs. Instead, they are protected from dismissal without just cause and due process afforded by their union's contract with the school district.
---
[i] bls.gov/ooh/education-training-and-library/high-school-teachers.htm | [ii] bls.gov/ooh/education-training-and-library/special-education-teachers.htm | [iii] bls.gov/ooh/education-training-and-library/instructional-coordinators.htm