Sponsored Online Programs Available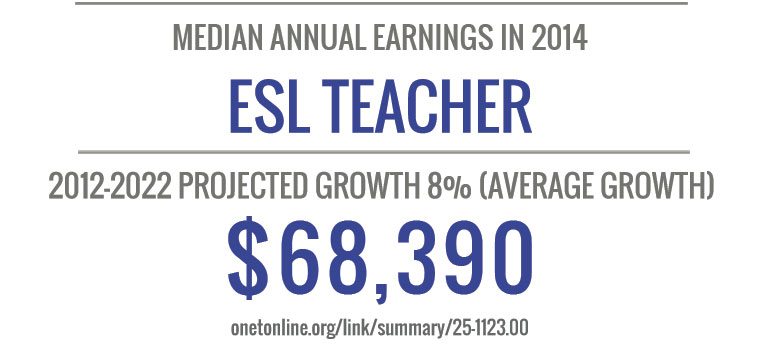 Earning an Online TESOL Bachelor's Degree
Do you enjoy working with students across language and cultural barriers? Are you interested in helping others get ahead in life by learning skills critical to get a job or pass a citizenship exam? Do you consider a skilled communicator and a patient person?i If so, you might want to consider a job teaching ESL (English as a Second Language, also known as ESOL, or English for Speakers of Other Languages).ii Earning an Online Tesol Bachelor Degree might help you pursue a career as an ESL teacher. If this sounds like something you might be interested in, keep reading!
Basics of a Bachelor's Degreeiii
Considered a cornerstone of the higher education system in the United States, the bachelor's degree is the most common degree for students to earn first after completing their high school-level education.
Generally, earning a bachelor's degree might take between four and five years of coursework. This coursework might cover topics both broad and deep, as many schools may have general education requirements but might also allow students to focus narrowly on their major.
Bachelor's degree programs may go by a number of different titles, but the most common, awarded in many disciplines, might be the Bachelor of Arts or the Bachelor of Science.
Coursework for an Online TESOL Bachelor Degree Program
Your coursework as a participant in a TESOL bachelor degree program may vary depending on your educational institution and any concentrations you may choose to pursue. However, topics covered in this field may include:
Program developmenti
Linguisticsi
Instructional methodsi
Keep in mind that programs might be quite different. If there are any specific courses you'd like to take while earning an online tesol bachelor degree, be sure to look into the curriculum of every program you consider.
What Skills may be Beneficial for TESOL Degree Students?
When working with children trying to overcome a language barrier, it takes a special set of skills to forge those all-important connections and tailor the learning experience to the child's needs. Some key characteristics that may help you enhance your career in this field are:
Active listening – being able to commit your attention to others as they communicate.iv
Oral expression and oral comprehensions – speaking so that others understand clearly, and the ability to understand others.v
Knowledge of English language – to teach it, you have to know it! Teachers may benefit from being experts at grammar, spelling and composition.vi
What are the joys of becoming an ESL teacher?
The intangible advantages include an enormous satisfaction in knowing that you have helped someone reach their fluency goal… and perhaps done your part in bringing a little peace to the world through meaningful dialogue!

Click To Tweet!


- Jennifer England, ESL Teacher
Details of Pursuing an ESL Career
Earning an online tesol bachelor degree does not lead to or guarantee licensing on its own. Graduates should consult with their state's guidelines regarding teaching certification.i Many employers may even prefer candidates with graduate degrees, as 57% of those polled by O*Net reported a master's degree as the entry-level education, compared to 43% reporting bachelor's degrees.vii If you are qualified, though, you may be able to pursue a career in a field that had a median annual salary of $50,280 in 2015, and 20,100 projected job openings between 2014 and 2024.viii You may even be able to pursue a career as an ESL teacher abroad!ix
Getting Started
If you're ready to start looking into your options for earning an online TESOL bachelor degree, feel free to start right here on eLearners.com. You can take a look at our sponsored listings and pick out any programs that might fit you well. Then, if you'd like to learn more, be sure to reach out to the school itself to request additional information. Good luck!
---
[i]bls.gov/ooh/education-training-and-library/adult-literacy-and-ged-teachers.htm#tab-4 [ii]bls.gov/ooh/education-training-and-library/adult-literacy-and-ged-teachers.htm#tab-2 [iii]ed.gov/about/offices/list/ous/international/usnei/us/bachelor.doc [iv]onetonline.org/link/summary/25-3011.00#Skills [v]onetonline.org/link/summary/25-3011.00#Abilities [vi]onetonline.org/link/summary/25-3011.00#Knowledge [vii]onetonline.org/link/summary/25-3011.00#Education [viii]onetonline.org/link/summary/25-2022.00 [ix]bls.gov/careeroutlook/2006/fall/art01.pdf