Sponsored Online Programs Available
Doctoral Fine Arts Graduate Programs Online
At the doctorate level, Fine arts PhD programs online enable students to engage with an artistic and intellectual community. As they do so, they develop their leadership skills and capacities to act as educators while also honing their artistic craft.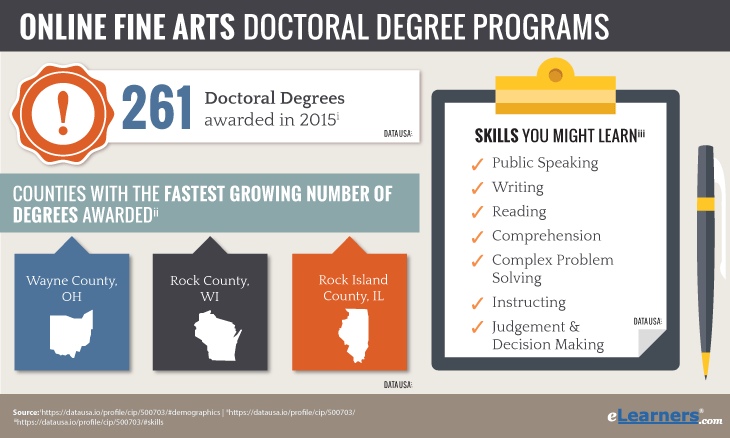 Devoted to inspiring in students a desire for lifelong learning and creative thinking, doctorate degrees in fine arts and design make rigorous demands of students: to complete an array of interdisciplinary core, elective, and specialized courses; to take multiple exams, including a comprehensive one at the end of the program; to do a dissertation; and to pass a candidacy exam and dissertation defense. While some programs might have slightly different requirements, most have dynamic requirements like these.
Options for Specialization, Core, and Elective Work in Fine Arts PhD Programs Online
Within doctorate-level fine arts graduate programs, there are sometimes multiple options for specialization. Some include:
Fine arts
Design
Music
Theater
Dance
Within these areas, there may be core and elective areas of focus. In the fine arts, for example, schools might offer opportunities to study subjects like these:
Art and design education
Art history
Ceramics
Drawing
Sculpture
Fibers
Metals
Painting
Photography
Printmaking
Time arts (animation, video art, interactive art, etc.)
Some examples of courses students might take as part of their core and elective curriculum include:
Leadership in art education
Critical theories of art, design, and culture
Philosophies of arts and aesthetics
Research methods in art
Curriculum theory and evaluation of visual arts programs
Art histories
Contemporary contexts
Within their studies, students will likely look at subjects through philosophical, theoretical, cultural, and practical lenses. All in all, students may learn how to influence art regionally, nationally, or internationally and use their research and creative skills to add new knowledge to the discipline and industry.
What Is Special About Online Doctorate-Level Fine Arts Graduate Programs?
In many cases, the faculty in fine arts doctorate programs have published research extensively and assumed leadership and educational roles in regional, national, and international professional organizations. They have often worked across areas of the fine arts and could bring an immense field of knowledge into the digital classroom. In addition, they might tap into the expertise of visiting artists and scholars to deliver a diverse experience to students.
In addition, students might have opportunities to develop their skills and knowledge by working as graduate assistants to their teachers. In online capacities, students may be able to assist with grading, putting together curricula, or conducting research.
Take the Next Step in Your Career
Browse our sponsored programs listed on this page to find fine arts graduate programs online that might be a match for you. Or use the form on the page to get matched for free with programs you might like.