0 Sponsored Online Programs Available
Pursue Speech Language Pathology Masters Programs Online
Speech language pathology masters programs teach ways to potentially overcome communication disorders. Within this program, students could study methods to address the specific needs associated with several types of language disorders. In addition, they could study methods for health speech production that includes aural, oral, and cognitive techniques.
As part of communication disorders masters programs, students generally begin their studies by tackling theoretical speech knowledge. After completing this section, they may move on to practically applying that knowledge in real-world scenarios and field work practicums.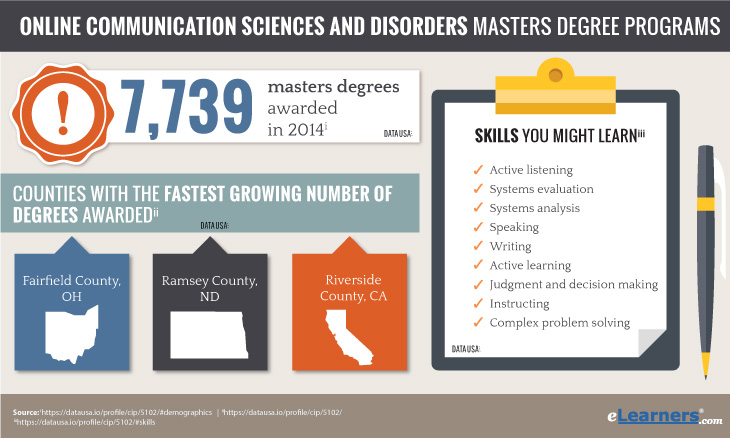 What Is Speech Pathology?
Speech pathology, also known as speech language pathology (SLP), is the evaluation, diagnosis, and treatment of communication disorders. Applications could range from assisting those with pronunciation difficulties to rehabilitating patients with severe brain damage.
What Conditions Does SLP Address?
Here are 6 disorders that could be treated with the aid of speech pathology.
Articulation Difficulties
Prosody (Volume Control)
Auditory Processing Disorder (APD)
Aphasia (Loss of Language)
Oral Cancer
Brain Injury or Trauma
As opposed to concentrating solely on speech, SLP takes a holistic look at the functions that surround speech. This could include things such as cognitive language, swallowing, and vocal production.
What's the Difference Between Speech Pathology and Speech Therapy?
There is no difference between speech pathology and speech therapy. These terms are interchangeable with one another. The only difference between these two positions is who uses the terms.
Professionals within the field tend to call themselves speech pathologists. But, people seeking medical treatment may instead call those same professionals speech therapists.
Communication Sciences and Disorders Masters Degree Online: Professional Insight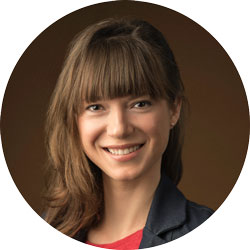 "I am a speech-language pathologist with a M.S.Ed degree. This has given me the opportunity to change peoples' lives every day. Losing your ability to communicate or swallow is scary, and I have the privilege of guiding families through the process of healing and participating again. This profession opens doors to work in clinics, hospitals, nursing facilities and schools. I highly recommend this career for people who enjoy challenges, critical thinking, and making a difference."
- Sierra Corbin, M.S., Ed, CCC-SLP Eugene Speech-Language Therapy LLC
Click To Tweet!

Potential Speech Therapy Masters Curriculum
The speech language pathology masters program curriculum is divided into two parts, theory and practical application. This might create a safe environment for students to study and become comfortable with the concepts behind speech therapy before working with patients.
Typically, the SLP curriculum is made up of 48 to 63 credit hours' worth of classes. The timeline to complete these credits varies from school to school and depends on factors such as:
Research options
Capstone thesis
Fieldwork opportunities
Core Curriculum
The core speech therapy curriculum covers both foundational basics like anatomy and specific disorders. Some programs may also offer electives for students to further concentrate their studies. As part of speech pathology masters programs, you could have the opportunity to take some of the following courses.
Please note that the following are only a few examples of potential courses you could take. Curriculum may differ from program to program. Admissions advisers may be able to provide a detailed course guide for your perusal.
Anatomy & Physiology
Anatomy and physiology courses are a fairly common component of speech language pathology masters programs. In these courses, students could study the anatomical structures that support speech development.
Topics could include respiration, phonation, and articulation. Other bodily processes related to language capabilities might also be addressed in these courses. For example, swallowing is a common topic of discussion.
Neurological Bases of Cognition, Behavior, and Communication
Neurological courses focus on cerebral functions and how they could affect a person's ability to speak. This course often works hand in hand with the anatomy and physiology courses also mentioned on this page. Subject could include studying the mental processes that control the natural functions discussed in the other course.
Audiology and Aural Rehabilitation
You may not think about hearing and your ears when you think about speech pathology. But, audiology courses study how language perception could affect and alter speech production. Classes may focus on the common auditory characteristics of hearing and speech impairments. In addition, these courses may also offer techniques for patients with permanent hearing loss to manage their speech throughout their lifetime.
Phonetics
Phonetics courses teach about sound production. Here, you could study how to classify, produce, and describe sounds. These classes cover how English sounds are relayed, which syllables are stressed, and common intonations. In addition, the following topics may be discussed.
Phonemes & Allophones
Ear Training
Phonetic and Phonemic Transcription
Speech Development and Disorders
Speech development and disorder courses offer an opportunity for students to delve into what causes speech impediments. Courses in this topic could study how children develop communication disorders or how adults could form one later in life.
Be aware that this course often builds upon the coursework of the others described on this page. You may have to complete prerequisite courses in anatomy and physiology prior to studying specific disorders.
Practicum & Field Experience
After completing the theory-based portion of the curriculum, students may then be tasked with applying that knowledge in a real-world scenario. This generally takes shape as a practicum semester or a field-work experience.
For many students, this may translate to a clinical practicum. Under the supervision of an SLP professional, students could have the chance to immerse themselves in a hospital or similar position.
While there, students may shadow their advisor as they work with their patients. As the semesters continue, though, you could even take on your own patients. With them, you could construct rehabilitation plans to address their specific language challenges.
Also, as part of this, you may be able to have interactions outside of your textbook knowledge. For instance, you could possibly have the chance to:
Practice clinical report writing
Manage your own caseload
Work on group therapy tactics
Not to mention, on-the-job training could be a great place to put your theoretical knowledge into action.
Other students may take part in a field-work opportunity that is related to their concentration or interest in SLP. For example, students may want to work directly with a specific population like children, geriatrics, or trauma victims. For these semesters, students could be placed in SLP positions within schools, nursing homes, and other rehabilitation centers.
Please note that online students may still be required to take part in field placement semesters. Schools may try to pair you with placements near your location. But, this is not guaranteed. Field work may differ from school to school.
Research Thesis
As a culmination to your speech language pathology masters program, you may be required to complete a research thesis. As part of this project, you could be required to collect data to better analyze a facet of SLP. As this is a masters program, data collection might be relegated to citing other studies that have been completed by professionals and doctoral students. But, in some cases, faculty advisers may be able to supervise student-driven research projects.
Theses are not required for all communication disorders masters programs. In some cases, you may have the option of completing one or taking more credits. Thesis options differ from school to school. For more information, speak to department faculty.
Speech Pathology Masters Program Applications
Applying to speech language pathology masters programs might be a multi-step process that demonstrates your previous academic ability and future research goals.
For starters, you may be asked to supply a 3.0 undergraduate GPA. Generally, it is requested that you have already earned an undergrad degree in a field related to speech pathology. In other instances, you may also be required to submit a 3.2 undergraduate GPA in your concentration.
As the next part of this process, you may then be asked to provide supplemental materials. This could include materials like the following.
Letters of Recommendation
Personal Essays
Letters of Intent
In addition, many programs may ask students to write a research-based essay on a provided topic. Generally, these essays could be written using the knowledge you may have gained during your undergraduate SLP program. In some cases, you may even have the opportunity to choose to write about a particular aspect of SLP that interests you.
In a similar vein, some programs may ask that your research essay touches on a topic you would like to analyze during your time there. For these types of assignments, you could outline potential experiments you would like to conduct or populations you would want to work with.
By doing this, schools may be able to identify possible academic advisors for you prior to matriculation. These advisors may guide you in your research, so ensuring that these advisors have the necessary expertise to do so could be a major step in your search for a perfect program.
Admissions requirements may differ from program to program. For a complete list of admissions requirements, and application materials, contact potential schools you're interested in.
What Could You Do with a Masters in Speech Pathology?
Many students who pursue speech language pathology masters programs go on to pursue careers as speech pathologists. Speech pathologists, or speech therapists, work with patients to diagnose and treat their specific communication issues.
Oftentimes, they work with patients who have undergone trauma that has affected their language capabilities. For instance, many patients seeking speech therapy have previously suffered from a brain injury or a stroke. In other cases, patients may need assistance due to a developmental challenge like a cleft palate, Parkinson's disease, or autism.i
Employers may require applicants to hold a masters degree in speech pathology before applying. In addition, the majority of the United States requires speech therapists to be licensed prior to working in the field. Therapists could work towards earning a Certificate of Clinical Competence in Speech-Language Pathology (CCC-SLP) to meet this requirement. Some states may have additional requirements for licensure.ii
In 2016, speech-language pathologists earned a median salary of $74,680 annually. The number of available positions is also on the rise. The total of open speech therapist positions is projected to grow by 21% from 2014 to 2024. This is much faster than the national average for other job titles.iii
Accredited Speech Language Pathology Masters Programs
The Council on Academic Accreditation (CAA), part of the American Speech-Language-Hearing Association (ASHA), accredits SLP programs.iv The agency promotes speech language pathology masters programs constantly evaluating their core curriculum. In doing so, they hope that schools continually update their coursework to reflect new discoveries and practices in the field.
In addition, schools that offer speech pathology programs may be accredited as a whole. Accreditation could be broken down to the state and regional level. Also, some schools' online programs may be individually accredited. While their SLP program may not be accredited, being recognized by these other agencies may demonstrate that they're still working towards keep their programs at the forefront of their industry.
Reach out to schools' admissions teams for more information about specific accreditation statues.
Searching for Speech Language Pathology Masters Programs
Using this information as a guide, you could take your first steps to finding a perfect speck language pathology masters program for you. For your next step, browse the programs on this page. To find out more about a program, click its link. Doing so provides you with more information about that particular program and the school it is associated with.
While you're there, you could also request more information from the schools themselves. This could provide you with details like admissions deadlines, curriculum outlines, and tuition information. And, you could also begin talking with an admissions counselor. They may be able to help walk you through the admissions process as you begin to work towards your speech language pathology masters degree!
---
[i] bls.gov/ooh/healthcare/speech-language-pathologists.htm#tab-2 | [ii] bls.gov/ooh/healthcare/speech-language-pathologists.htm#tab-4 | [iii] bls.gov/ooh/healthcare/speech-language-pathologists.htm#tab-1 | [iv] bls.gov/ooh/healthcare/speech-language-pathologists.htm#tab-4