Interview with Dan Rubin, Chief Medical Officer of LogicStream Health 
Dan Rubin is a proven leader in healthcare information systems – particularly in the areas of clinical documentation, decision support, data analytics, structured clinical information and medical terminologies. Currently, he serves as Chief Medical Officer of LogicStream Health, a market-leading clinical optimization company.

Board-certified in pediatrics, Rubin earned his B.S. in Biomedical Engineering from Duke University, his M.D. from State University of New York at Brooklyn and his Master's degree of Health Informatics from the University of Minnesota.
Rubin has a broad range of experience in both health informatics and healthcare. Prior to his position at LogicStream Health, he worked as an urgent care physician for 15 years at Park Nicollet Health Services in Minnesota. His previous positions in healthcare also include roles as Medical Director, Director of Clinical Development and Staff Physician.
Rubin's awards in the field include fellowships from the International Partnership in Health Informatics Education (IPHIE) and the National Library of Medicine.
eLearners: In your own words, how would you describe the field of healthcare information systems to someone who is not familiar?
There are two key disciplines – clinical medicine and computer/data science. Where the two come together is health informatics. What's really exciting about this crossover area is how powerful it is for improving health outcomes and reducing healthcare costs on a large scale.
eLearners: Why do you think it's an interesting time to enter health informatics?
We are seeing the early steps in a data revolution in healthcare, which is exciting. In some industries like agriculture and manufacturing the use of real time data to modify and inform process is light-years ahead of where our healthcare system currently is. The widespread adoption of electronic health records is the first step in bridging that gap – generating the data that can be leveraged for scalable, widespread improvements to how we deliver care. It's really exciting to see movement in that direction and be a part of that shift.
eLearners: How is health informatics changing healthcare operations and patient care?
There are some obvious changes occurring – many of us see our healthcare providers interacting with computers much more when we go to the doctor, a lot of us now can get to some portion of our medical record via computer. Some other large changes are happening behind the scenes – in how hospitals and clinics operate. These changes are driven in part by the large volumes of data that can now be collected because of electronic health record adoption. This data collection is foundational for changes to our healthcare system. The actual use of the data to improve outcomes and reduce costs is just in its infancy but that's where the most exciting potential is.
eLearners: Given the growing concern about hackers and security breaches, what types of protocols are in place to help ensure that patient information is safe?
Great question – the federal government has put some pretty strong regulation around this through the "HIPAA Privacy and Security Rules" which pertain to the protection of an individuals' personally identifiable health information (PHI). All health care organizations and any company or individual doing work on the part of such an organization is subject to these rules and there are significant penalties for non-compliance. This has led to increased scrutiny and vigilance around policies and practices for PHI. Beyond this I think that there is in general a lot of respect by those working in the field for the sensitive nature of this information.
eLearners: Are there any particular technologies that you are excited about?
There are a lot of areas with exciting developments – from improved medication safety through more accurate tracking of patients and medications through RFID technology, to advances in telemedicine that provide better access to specialists for those in rural areas. Probably the most exciting advances, and those with the largest potential near term impact, revolve around the use of clinical decision support systems. We are on the cusp of a revolution in this area and a revolution is what's needed.
Today you could go into two different hospitals for the same condition and have an incredible variance in the care that's provided. In some cases that variance doesn't matter, but in many cases the differences lead to very different outcomes and costs. With technology we're beginning the process of narrowing that gap which is incredibly exciting. The company I work with, LogicStream Health, is playing a part in that work.
eLearners: How has the Affordable Care Act's mandate for electronic medical records affected the field of healthcare information systems?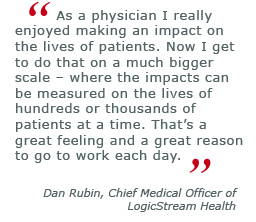 The incentive payments for electronic heath record adoption have led to a lot of growth in the field. Thirty billion dollars of government incentives carries a significant weight and can drive large economic shifts – which it has. The government is clearly trying to promote much more than adoption of EHRs though. The way "Meaningful Use" has been structured is that it forces organizations to prove that they are using their EHR in a meaningful way. That means that healthcare organizations need to reach certain milestones that show incrementally more advanced use of the EHR over time.
This has been a significant challenge for many health systems – and it has also been a challenge for the government in terms of selecting milestones that drive the right priorities and lead to improved quality and reduced cost. Overall, I think the program has been a good thing for our nation's health care system, but there is much more work to do, particularly around greater standardization of care. That work will require more advanced use of the EHR than is currently part of meaningful use incentives but I think we will get there.
eLearners: In your opinion, what does the future hold for health informatics?
It's a field with a really bright future in my opinion. I think a lot about the U.S. commercial aviation industry and how it relates to the potential we have in healthcare. Until the last 15 years or so we used to see a much higher rate of airline crashes and fatalities in the U.S. – hundreds of deaths on an annual basis. Now, we haven't had a crash of a large jetliner with significant fatalities within the U.S. in the last 13 years. It's really incredible when you think of it – and it's not a coincidence. Someone, some group of people in the NTSB and in the industry, got together and worked out a system for process improvement and standardization that drove all the previous errors (human and mechanical) out of existence.
That's the kind of transformation that needs to happen in healthcare. The scale of the problem in healthcare is actually much larger, with 100,000 people dying every year due to preventable medical errors. The systems are harder to standardize. But electronic health records are a step in the right direction. The work my company does around standardizing and measuring healthcare processes is also an important step in that direction.
eLearners: What types of qualities and skills may be beneficial to a career in health informatics?
First off I would offer general advice that we've all probably heard a thousand times but I happen to believe it's true. You should work in a field that you love. If you love computers, love data, love medicine – then health informatics may be a great area to build a gratifying career.
In terms of skills or qualities – I'd say that some knowledge of clinical medicine or healthcare may be helpful but not required. It helps people to connect the dots faster on their own when they have that type of experience. Having a background in databases and computers  also may be beneficial. Curiosity and a love of problem solving can be assets in many fields but I'd argue that they are of greater benefit in health informatics than many other careers. Attention to detail could be pretty important – as it would be for anyone working in healthcare or data analysis.
eLearners: What are the most challenging and gratifying aspects of your work, and why?
The most challenging aspect is probably that hospitals tend to be slower-moving and more risk-averse than some other business entities. While there are some good reasons for that, it does tend to slow down the pace of innovation and the rate at which system level improvements can happen. I think there is some movement in that area with evolution in the leadership structure and new positions being created in the area of clinical transformation.
The most gratifying aspect is that the work I do has a direct impact on the health outcomes of people, sometimes on quite a large scale. It's great to work in an area that you really love – which for me is clinical medicine and computers.
eLearners: Do you have any advice for students who are thinking of pursuing their degrees in health informatics or a related field?
It's an exciting field with a lot of potential – both as a career but also in terms of how much you can help people with your work. As a physician I really enjoyed making an impact on the lives of patients. Now I get to do that on a much bigger scale – where the impacts can be measured on the lives of hundreds or thousands of patients at a time. That's a great feeling and a great reason to go to work each day.

The expert interviewed for this article may be compensated to provide opinions on products, services, websites and various other topics. Even though the expert may receive compensation for this interview, the views, opinions, and positions expressed by the expert are his or hers alone, are not endorsed by, and do not necessarily reflect the views, opinions, and positions of [eLearners.com] or EducationDynamics, LLC. [eLearners.com] and EducationDynamics, LLC make no representations as to the accuracy, completeness, timeliness, suitability, or validity of any information in this article and will not be liable for any errors, omissions, or delays in or resulting from this information or any losses or damages arising from its display or use.