1 Sponsored Online Programs Available
Physical Therapy Degree Online
If you're interested in physical therapy but don't want to be confined to the set schedule of an on-campus program, you may like the idea of earning your physical therapy degree online. An online physical therapy degree could be a good choice for an individual who is already employed as a physical therapist and seeking continuing education as well as one who is intrigued at the idea of acting as an assistant to a physical therapist.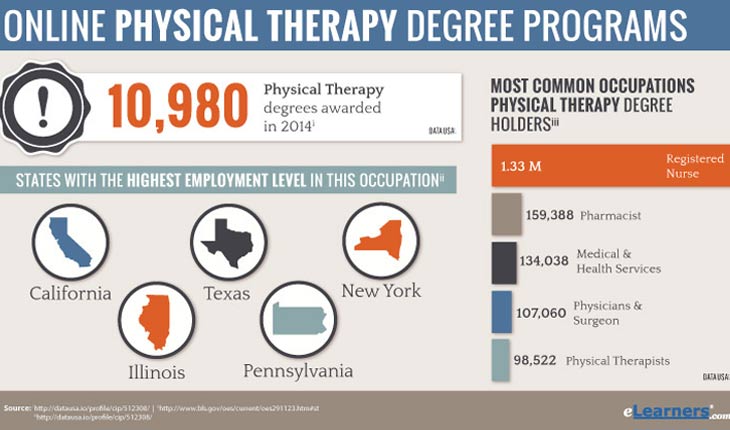 Undergraduate physical therapy degree programs at the associate's[i] and bachelor's levels are often aimed at individuals who desire to become assistants while those at the graduate level are usually aimed professional physical therapists seeking to supplement their skills and education[ii].
Physical Therapy Degree Online: Professional Insight
"Physical Therapists have one of the best jobs out there. Because of my physical therapy degree, I know how to properly fulfill goals, return clients to a prior level of living, evaluate and treat many conditions and restore the health, mobility, strength and stability of clients. It is a gratifying profession and rewarding for both the client and therapist in that they both work together as a team to get back enjoying life. "

-
Physical therapist
Dr. Karena Wu
,
owner of
ActiveCare Physical Therapy
in NYC and Mumbai
Click To Tweet!

Common Coursework while taking a Physical Therapy Degree Online
While learning the basics of becoming a physical therapy assistant in an physical therapy degree online at the associate's level, some of the coursework you're likely to encounter includes helping patients to maintain their physical health and working alongside a physical therapist. Depending on the program, you might be required to complete some of your classes in a lab or clinical setting, so it's a good idea for you to check for this requirement before enrolling in an online program[iii].
Online physical therapy degree programs at the bachelor's level could be aimed at students who have earned associate's degrees in physical therapy and desire to build on their skills in improving patient physical function, pain relief and maintaining proper health.
Graduate degrees aimed at licensed physical therapists may offer classes focused on issues in global health, prevention, wellness, diagnostic imaging and pathophysiology. Depending on the program, applicants might have to be licensed physical therapists in order to qualify for admittance[iv].
Qualities and Skills for Physical Therapists and Physical Therapist Assistants
If you want to pursue a career in physical therapy, it's a good idea to learn more about the common qualities and skills possessed by professionals already employed in the industry. Before applying for a physical therapy degree online aimed at potential future physical therapist assistants, some of the attributes you might want to cultivate include[v]:
Active listening – Giving full attention to what other people are saying, taking time to understand the points being made, asking questions as appropriate, and not interrupting at inappropriate times.
Social perceptiveness –Being aware of others' reactions and understanding why they react as they do.
Service orientation – Actively looking for ways to help people.
If you're more interested in pursuing a career as a licensed physical therapist, examples of abilities that may serve you well during your career include[vi]:
Deductive reasoning – The ability to apply general rules to specific problems to produce answers that make sense.
Oral expression – The ability to listen to and understand information and ideas presented through spoken words and sentences.
Problem Sensitivity — The ability to tell when something is wrong or is likely to go wrong.
What Industries May Employ People Who Earn a Degree in Physical Therapy?
While you may already be aware you have the option of either becoming a physical therapist or physical therapy assistant with the help of online physical therapy degree programs, you may not be aware of how much people in this field may earn. According to the U.S. Bureau of Labor Statistics, physical therapy assistants earned a median yearly salary of $54,410 in 2014[vii]. In regards to job outlook, it's expected that assistants are likely to experience a job growth rate of 41 percent between 2014 and 2024, which is much faster than the average for all other occupations[viii].
If you're interested in jump-starting your career as a licensed physical therapist, know that their median yearly earnings were $82,390 in 2014[ix]. The job outlook for the occupation from 2014 to 2024 is 34 percent, which is much faster than average[x].
Consider enrolling in a physical therapy degree online if you aspire to help people improve their range of physical movement and better manage their pain. Online degree options could be a great, more flexible way to take classes and learn around your own unique schedule.
[i]bls.gov/ooh/healthcare/physical-therapist-assistants-and-aides.htm#tab-4 | [ii]bls.gov/ooh/healthcare/physical-therapists.htm#tab-4 | [iii]kaplancollege.com/programs/physical-therapist-assistant-degree/ | [iv]programs.online.utica.edu/programs/doctorate-physical-therapy.asp | [v]onetonline.org/link/summary/31-2021.00 | [vi]onetonline.org/link/summary/29-1123.00 | [vii]bls.gov/ooh/healthcare/physical-therapist-assistants-and-aides.htm#tab-5 | [viii]bls.gov/ooh/healthcare/physical-therapist-assistants-and-aides.htm#tab-6 | [ix]bls.gov/ooh/healthcare/physical-therapists.htm#tab-5 | [x]bls.gov/ooh/healthcare/physical-therapists.htm#tab-6