What is a public health degree, and how does it differ from a social work or human services degree?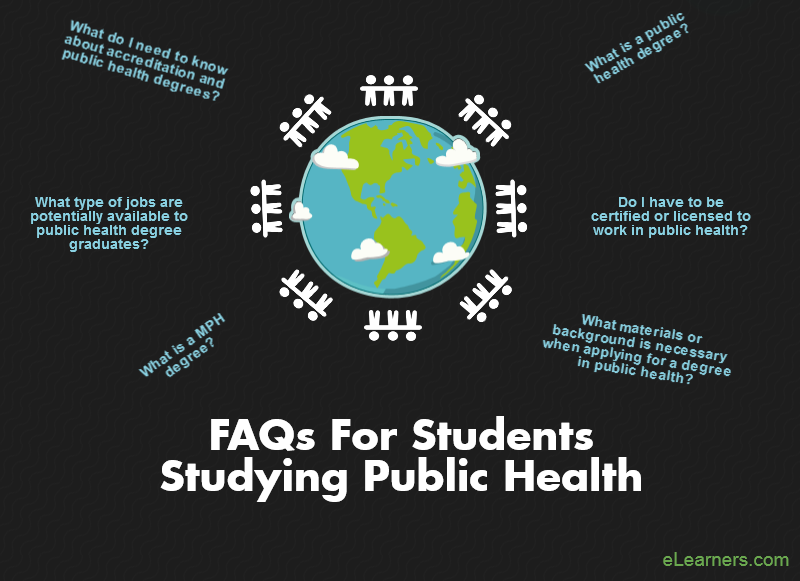 Public health is like a branch of social work or human services that focuses specifically on community health issues.  Like social workers, some public health professionals work with special populations.  They may be employed by agencies that represent inner city teens or non-English speaking communities.  Other public health professionals work for government agencies that represent the entire population. If you're interested in working with a special population, you should ask enrollment advisors about options for choosing an academic minor or elective courses that address that population.  Many public health programs offer studies in diversity issues, child psychology, sociology and other relevant topics.
What are some of the jobs available to public health degree graduates?
Students who study public health at an advanced level (earning a master's or doctoral degree in pubic health) may work as epidemiologists, or as researchers and policy makers for state and local health bureaus.  These public health professionals institute preventative health care laws and public programs – like flu shots and vaccinations, or mandates related to the removal of lead paint and asbestos in apartments and residences.  They report on health trends – for example, the rising rates of childhood obesity or cancer clusters in specific communities.  They also propose solutions along with awareness campaigns.
Some advanced-level public health professionals also work in disaster management roles.  They may be employed by organizations like FEMA or the Red Cross.  They study crisis scenarios associated with severe weather, manmade disasters and industrial accidents, in order to plan and execute wide-scale relief efforts.  Their knowledge of medical concerns and population demographics helps them provide effective solutions for clean drinking water, secure shelter, food supplies and public safety.
Public health professionals who specialize in nutrition science can work as community dieticians, management dieticians or industry nutritionists.  Community dieticians work in group homes or assisted living facilities, where they help residents learn how to shop, cook and eat for a healthy lifestyle.  Management dieticians oversee food supplies and meal plans for major institutions – like schools, hospitals or prisons.  They use their nutrition knowledge and their public health training to balance the needs of a quality diet (e.g. healthier school lunches) with logistical and budgetary demands.  Meanwhile, industry nutritionists may work for private companies or for government organizations like the Food and Drug Administration.  They ensure that packaging labels meet necessary standards, and act as consultants in matters of product development or marketing.
Most of the jobs noted above mention "advanced-level" credentials.  Are there any job opportunities for public health graduates with associate's degrees or bachelor's degrees? 
Yes. Students who study public health at the associate's or bachelor's degree levels have several options, too.  They can land entry-level positions at one of the agencies noted above – sometimes working in a support role or as a junior staff member.  Graduates with bachelor's degree in public health may also qualify to work as health education teachers, after the additional completion of a state-approved educator program.  Organizations in smaller or rural communities may be more flexible about hiring public health professionals with undergraduate degrees.
As with the fields of psychology and sociology, it has become somewhat difficult to advance in the public health profession without significant experience or a master's level degree.  If you're committed to the field, and your highest level of education is a high school diploma or an associate's degree, you may wish to explore an accelerated B.S. to master's of public health program (MPH).  These accelerated programs combine some master's level course work with the bachelor's degree curriculum.  Successful graduates can transition into the MPH program in less time, and with fewer courses to complete.
What is the MPH degree, and how does it differ from an MBA in health management?
The MPH degree stands for Masters in Public Health.  Although all MPH degrees are structured differently – and, in fact, many of them isolate focused specialties in the public health field (e.g. environmental health or disaster management) – MPH degrees usually differ from health-related MBAs in that more scientific course work is involved.  MPH students learn epidemiology, biostatistics, public health biology, plus certain elements of sociology and psychology.   MBA students, by contrast, focus mainly on management and finance studies, as they pertain to health-related organizations.  Both degrees are good primers for management-level careers, but the MPH is a stronger credential for targeted public health employment – especially if the MPH is accredited by the Council on Education for Public Health (CEPH).
What materials or background is necessary when applying for an online degree in public health?
At the associate's or bachelor's degree level, most schools won't require more than a high school diploma or a GED, and possibly SAT scores and a personal statement.  At the graduate level, public health programs will require official undergraduate transcripts, which demonstrate that you completed a bachelor's degree.  Some will additionally require a minimum G.P.A., letters of reference from teachers or employers, a statement of purpose and possibly some professional or volunteer experience in public health.
For master's candidates: it's not absolutely necessary that your undergraduate degree be in public health, or even in a closely related field – like sociology.  However, if your undergraduate degree is completely removed from the public health field, you may need to complete some prerequisite courses – in science or social science – before you can begin your master's curriculum.
What do I need to know about accreditation and public health degrees? 
As with any type of college degree, it's very important that your public health degree comes from an accredited school or college.  Colleges receive institutional accreditation in one of two forms: regional or national.  You may have heard that regional accreditation is more prestigious than national accreditation; this isn't always true.
It is true however that credits from regionally accredited colleges are easier to transfer than credits from nationally accredited colleges.  And some advanced degree programs will only accept students who completed undergraduate studies at regionally accredited colleges.  So if you think you might want to build on your college education at some point – advancing from an associate's degree to a bachelor's degree, or from a bachelor's degree to a master's degree – you may want to limit your search to regionally accredited schools.
Also, specific degree programs within a given college can earn something called "specialized accreditation."  The Council on Education for Public Health (CEPH) offers specialized accreditation to highly selective public health programs – including, for example, New York Medical College's online MPH degrees in Health Policy & Management and Environmental Science.
Although graduation from a CEPH-accredited program is not required for all careers in public health, there are several reasons why it may be advisable to select a degree program that has CEPH approval.  Firstly, some public health jobs offered through state and local governments or the U.S. military are only open to graduates of CEPH-accredited programs.  Similarly, some fellowships and internships are only open to students who are enrolled in CEPH-accredited programs.  (And quality internships are often viable gateways to good job offers after graduation.)
Finally, many public health professionals seek to be nationally certified by the National Board of Public Health Examiners (NBPHE).  Although the CEPH is not involved in creating the NBPHE's exam guidelines, the NBPHE only allows graduates of CEPH-accredited, master's-level programs to sit for their exam.  More information on national certification for public health professionals is available at the NBPHE website.
Do I have to be certified or licensed to work in public health?
No.  As is noted by the National Board of Public Health Examiners, "the U.S. does not currently require any license to be hired in public health, or to deliver an essential service of public health."  And although the NBPHE does offer a national certification (the CPH title), the CPH is not a "license" to practice public health in the United States.  Instead, the CPH is a voluntary credential that demonstrates mastery of the core knowledge of public health.  According to the NBPHE, "more and more employers are preferentially hiring and promoting CPH professionals or those who are eligible for CPH credentialing."