26 Sponsored Online Programs Available
EducationDynamics maintains business relationships with the schools it features
Associates Degree in Criminal Justice Online Programs
If you've earned a high school diploma or GED, and want to continue your education in a field that blends critical thinking, decision-making, and leadership
skills, you might want to look into earning an Associates Degree in Criminal Justice. Dealing with crime from all angles, including law enforcement, courts, and correctional facilities, criminal justice is a broad field that brings together a wide range of skills and understandings. Read more to find out if it might be a field for you to investigate.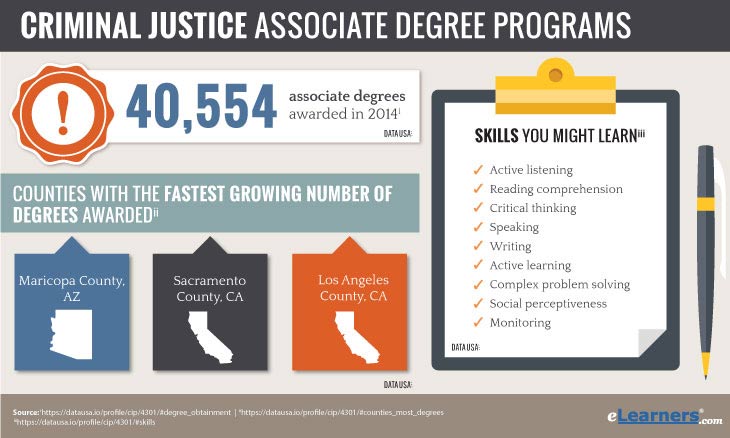 Essentials of Earning an Associates Degree in Criminal Justice
There are certain things you may need to know before applying to online associates degree programs in criminal justice. First, you'll want to know want type of commitment you would be making. Offering coursework at the undergraduate level, associate's degree programs are typically introductory, helping to prepare students to earn more advanced degrees, or terminal, providing the education necessary to pursue an entry level career in a technical field. [viii] Typically, associate's degree programs take around 2 years to complete, which might encompass anywhere from 60 to 120 credits. [iii]
Degree Types
Another thing to pay attention to is what kind of degree you may earn from certain programs; not every associate's degree is the same. As mentioned above, there are two main types of programs: transfer degree programs, which are generally designed so that credits can be applied toward a higher degree, and technical degree programs, sometimes known as terminal degree programs,iii which are typically designed to help prepare students to pursue certain careers after graduation.[v]
Transfer degree programs are normally recognized by their two-letter acronyms: AA and AS, standing for Associate of Arts and Associate of Science, respectively. Though both have the same goal of helping to prepare students for bachelor degree programs, [v] they differ in that AS degrees tend to focus on technical and scientific aspects of a subject, while AA degrees may be more grounded in the humanities and social sciences. Transfer degrees, in addition to providing instruction in criminal justice, tend to also address some common educational core requirements, such as math and science.[v]
Technical degrees, meanwhile, generally have three-letter acronyms like AAS (Associate of Applied Science), and may jump right into the subject matter of criminal justice to help prepare to jumpstart careers in criminal justice after graduation. [v]
Criminal Justice Coursework
Depending on the program and school, the coursework needed to earn a criminal justice degree online can vary greatly. Some common threads you'll notice among programs are that most have general education requirements beyond criminal justice, even if it's a technical degree. This could include math, communications, critical thinking, English, or writing classes, [i]
Beyond that, though, the coursework may be determined by the focus of the degree. While some programs focus broadly on the field of criminal justice [xiv], others look at a specific area within the field, like homeland security [xv]. Some course topics that might be offered in a broadly focused program could include:
Criminology
Sociology
Forensic psychologyi
Ethics of criminal justice
Criminal lawviii
Court systems [ix]
Accreditation
When researching where to earn an associate's in criminal justice, make sure you pay attention to the accreditation of each school and program. Being accredited means that the academic quality of a specific school or program is meets the standards of an accreditation body. Depending on the school and program, accreditation can be proved by regional, national, or specialized accreditors.
Job Outlook in Criminal Justice
After earning an aAssociates Degree in Criminal Justice, and depending on the focus of the program you completed, you may be able to pursue a number of different careers. Remember, though, that many of these career paths have other requirements besides a degree [xvii], and some may require more advanced studies [xviii]. When looking into any of these careers, make sure you research everything that may be necessary to pursue a career.
One career criminal justice graduates may choose to pursue is as a police patrol officer.[i] Of those polled by O*Net, 24% of patrol officers have earned an associate's degree, although, according to the Bureau of Labor Statistics, many federal agencies and some police departments require some college coursework or a college degree.[iii] In 2015, the median salary for a patrol officer was $58,320. [xx]
If you'd rather not work in the public sector, you may also be able to pursue a career as a private investigator with an Associates Degree in Criminal Justice. According to O*Net, 16% of private detectives and investigators (also called private eyes or PIs) have earned an Associates Degree in Criminal Justice, and the position reported median annual wages of $45,610 in 2015 [xx]. Some PIs, such as corporate investigators, may even need to earn a bachelor's degree. [xix]
Getting Started
If you're ready to begin the process of researching which online associates degree in criminal justice program may be ideal for you, it's easy to get started. Just check out the sponsored listings for criminal justice schools and programs here on eLearners.com. If any program catches your eye, you can request additional information from the school to help you decide. Good luck!
---
[i]bls.gov/ooh/life-physical-and-social-science/forensic-science-technicians.htm#tab-4 [ii]bls.gov/ooh/community-and-social-service/probation-officers-and-correctional-treatment-specialists.htm#tab-4 [iii]bls.gov/ooh/protective-service/police-and-detectives.htm#tab-4 [iv]bls.gov/ooh/protective-service/police-and-detectives.htm#tab-2 [v]bls.gov/ooh/community-and-social-service/probation-officers-and-correctional-treatment-specialists.htm#tab-2 [vi]bls.gov/ooh/protective-service/correctional-officers.htm#tab-2 [vii]aiuniv.edu/degrees/criminal-justice/bachelors-criminal-justice [viii]ed.gov/about/offices/list/ous/international/usnei/us/associate.doc [ix].kaplanuniversity.edu/programs/associates-degrees.aspx [x]blog.frontrange.edu/2012/09/26/a-a-vs-a-s-vs-a-a-s-what-associate-degree-should-i-get/ [xi]isac.org/counselors/processes/finding-applying/types-of-degrees.html#Associate's [xii] file:///C:/Users/blinard/Downloads/Homeland-Security-General-Education-Courses.pdf [xiii]daymarcollege.edu/programs/criminal-justice/curriculum [xiv].aiuniv.edu/degrees/criminal-justice/associates-criminal-justice [xv]keiseruniversity.edu/homeland-security-aa/ [xvi]ed.gov/admins/finaid/accred/accreditation.html#Overview [xvii]bls.gov/ooh/protective-service/correctional-officers.htm#tab-4 [xix]bls.gov/ooh/Protective-Service/Private-detectives-and-investigators.htm#tab-4 [xx]onetonline.org/link/summary/33-3051.01 [xxi]onetonline.org/link/summary/33-9021.00