22 Sponsored Online Programs Available
EducationDynamics maintains business relationships with the schools it features
Online PhD in Criminal Justice & Legal Studies Programs
Are you a working professional in the criminal justice field? Are you looking at enhancing your career prospects, and possibly pursuing a career in leadership? You may be
interested in investigating in an
Online PhD in Criminal Justice
. Keep reading if you think that sounds like something that might be useful to you when pursuing advanced careers!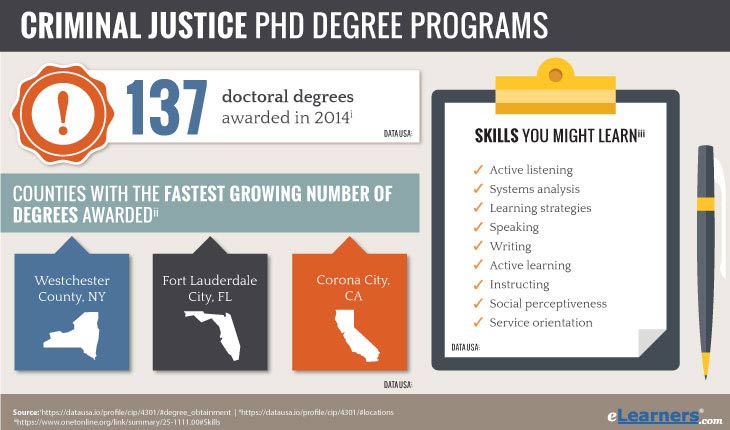 Essentials of Online PhD in Criminal Justice & Legal Studies

Typically the highest level degree program available in a specific discipline, doctoral courses of study tend to be quite advanced. Though the time needed to earn a degree can vary depending on school, program or coursework, you might expect some doctoral degrees, such as a Doctor of Philosophy, or PhD, to require 5 to 6 years of study.
Types of Online PhD in Criminal Justice Degrees
One thing you may notice when researching what doctoral degrees you might be able to earn in criminal justice and legal studies is that not every degree may have the same title. In fact, it might be common for a doctorate-level degree focusing on criminal justice to have a title indicating a different field, such as business or management. Many criminal justice occupations, such as police officers, don't require such a high-level degree. Students looking to advance their education to the doctoral level may be interested in becoming leaders in their field, requiring a blend of criminal justice topics and other topics.
You may find that these degrees are conferred as a doctor of management, a doctor of business administration, or a doctor of psychology. To determine exactly what these degree titles might mean, you should contact each school that interests you for more information on their criminal justice phd online programs.
Concentrations in Criminal Justice & Legal Studies
If you're already working in criminal justice, you might be aware that it can be a fairly wide field. Similarly, it may be possible to study a number of different concentrations when earning a doctorate degree in criminal justice and legal studies. Depending on the school and program, these options may differ, but some topics that might provide an area of focus could include:
Homeland security
Leadership and policy
Criminology
When comparing different programs and schools, be sure to reach out to each school for details on what their concentrations might entail.
Coursework
As you read above, an online PhD in Criminal Justice may have a wide variety of focuses and concentrations, so it should come as no surprise that the potential coursework might vary as well. Depending on the type of degree and its subject matter, you might expect class topics ranging from theories of management to psychopathology. If you're interested in what classes might be offered or required in a program, you should contact the school for exact details. Some types of classes you might see when comparing and contrasting programs could include:
Research methods
Statistics
Theories of criminology
Juvenile crime
Leadership
Policy
Public health
Offline Requirements
Although online doctorate in criminal justice programs typically take place mostly over the Internet, they may also have some requirements that need to be met in person. This might take the form of a symposium or residency. Always remember to contact the school or program of your interest to see what their offline requirements might be, and determine whether or not that might affect your ability to enroll in the program.
Getting Started
If you've read enough and you want to start comparing and contrasting different online doctorate degree programs in criminal justice and legal studies, then we have good news! You can get started by checking out our sponsored listings right here on eLearners.com. Don't forget to request additional information from each school to help you with your decision. And good luck!
---
[i]ed.gov/about/offices/list/ous/international/usnei/us/doctorate.doc [ii]bls.gov/careeroutlook/2002/winter/art03.pdf [iii]onetonline.org/link/summary/33-3021.01#Education