Sponsored Online Programs Available
Earning a PhD in Law Online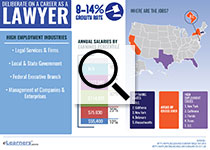 A PhD in Law online is the highest degree and honors you can have and contrary to common belief, not all upper-level law-related career tracks involve becoming an attorney or a judge. With a PhD in Law online, candidates may be eligible for advanced career tracks in a variety of areas both directly and indirectly related to law. If you are hoping to take your career pursuits to a new level, doctorate-level credentials may help you to increase the value of your contributions to your professional field.
A PhD in Law online is typically an intensive course of study that elevates the participant's understanding and knowledge of areas related to the legal system, criminal justice, conflict resolution, and others pertinent topics. Candidates may explore legal decisions and precedents, public policy, and the application of law to management, directorship, and administration in a variety of fields in the course of their doctorate in law.
Legal research and methodology commonly play a key role in doctorate-level learning, and self-directed study is often a primary component of the program. The typical candidate completes a doctoral dissertation on a topic that he or she is personally and professionally invested in.
How might earning a PhD in Law online ultimately lead to a rewarding career track?
Having an online PhD in law, you may pursue professional opportunities in many areas, including business, government, policy, advocacy, and social justice. In addition, graduates from a doctoral program may opt to pursue a career in academia, a field that encompasses university-level teaching and research opportunities. During the typical doctorate program in law, students benefit from enhanced learning in professional areas such as fact-finding research, expository and persuasive writing, and the synthesis, analysis, and presentation of ideas. Candidates often graduate from a doctorate of law with practicable professional goals in mind and the transferable knowledge necessary for pursuing a variety of paths.
What are the courses in a PhD in Law Online like?
In order to enroll in this advanced degree program, it is necessary to have a master degree in law or another field. Many candidates already possess law-related experience, earning a doctorate degree to progress in a preexisting career track. Experience in the field of law could be beneficial as it may inform a candidate's doctoral work and provide first-hand knowledge that may illuminate more advanced study. Other candidates may not have prior experience in law, but may pursue doctoral studies to launch new professional goals. It is up to the individual to determine how a doctorate degree in law may be the puzzle piece that, with prior education and experience, allows for the pursuit of newly rewarding opportunities.
Where can I get started on my Doctorate in Law Online?
Because many doctoral-level candidates are employed and must handle a variety of responsibilities in addition to higher education, online degree programs in this field are often popular. Doctoral students in particular may be good candidates for online learning, since higher education at this level is typically self-driven. Students may enjoy the many resources of Internet learning while pursuing individualized study at their own pace.
While earning a doctorate of law may be a demanding undertaking, many students experience both personal and professional growth as the result of this achievement. If you are hoping to pursue advanced goals with an emphasis on law, a doctorate program may be the most important component of your professional journey.