4 Sponsored Online Programs Available
Earn an Online Paralegal Degree
An Online Paralegal Degree may be able to prepare you for a career in the legal field. The legal field offers both challenges and rewards in great measure. It is serious work that requires time, commitment and often more specific degree qualifications than other fields, but experienced and hard-working professionals are always in demand—and their salaries reflect that. Paralegals are indispensable in a field that continues to shape the economy, politics, and society at large.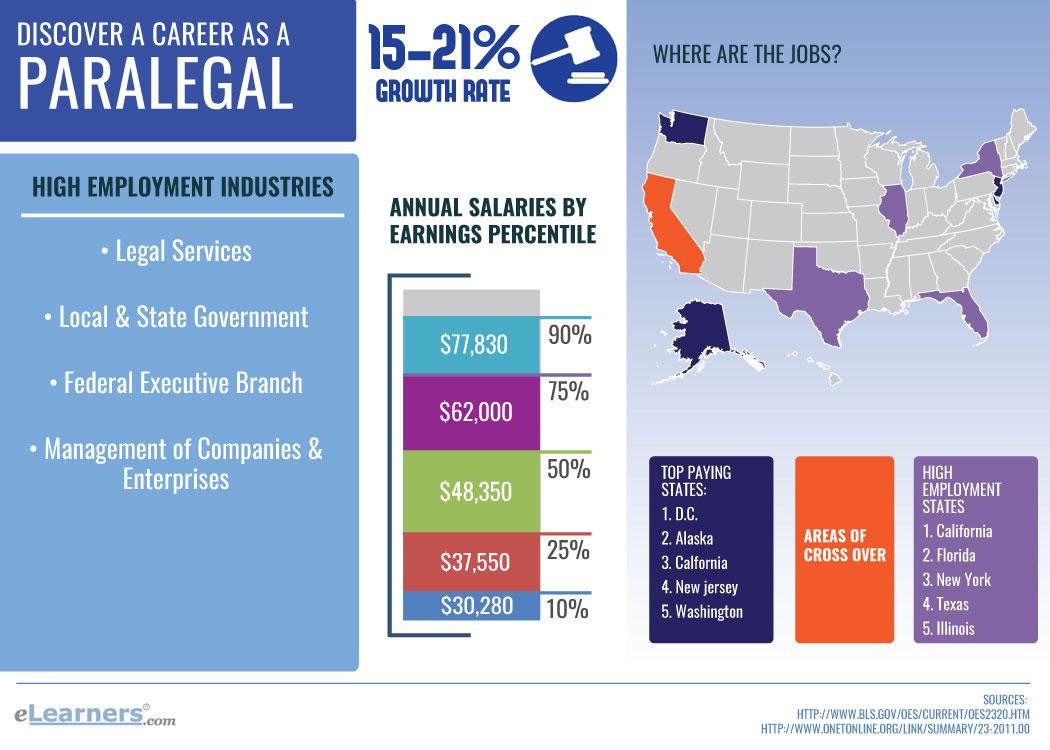 Is an online paralegal degree right for me?
In general, individuals looking to pursue an online paralegal degree should be organized, have strong attention to detail and have a distinct ability to multi-task.
Additionally, those that are earning an online paralegal degree should be team players. Paralegals are part of a larger legal team within their organization that may include associates, partners, fellow paralegals, legal secretaries and others.
Additionally there are a number of other traits and skills that law firms and legal teams look for when evaluating potential employees and job candidates. Some of these traits and skills may include:
Grace under pressure and keeping a cool head in a tense situation
Knowledge of the American legal system
Excellent communication skills and the ability to work with clients
Strong computer skills and comfortable using specialized legal software
Self-motivated and able to focus on long-term and short-term projects
Ability to stay organized and multi-task
If you posess or are interested in acquiring these skills, then an online Paralegal degree may be a great fit for you.
What are the options for a Paralegal Degree Online?
According to O*Net's 2011 survey, 44 percent of responding paralegals with an online paralegal degree hold a bachelor's.[ii] Bachelor degrees in paralegal studies may be great options for those who hope to work in mainstream office environments and/or advance to roles where general education is valued. Completing a bachelor degree in paralegal studies is also a requirement for anyone who hopes to pursue graduate school, law school, or advanced paralegal studies.
However, most commonly, paralegals hold either an associates degree in paralegal studies or a bachelor's degree with a paralegal certification. Another kind of certification includes the Certified Legal Assistant (CLA) or Certified Paralegal (CP) credentials, for which a qualifying candidate must pass a two-day exam. Though such certification is not required by some employers, who are often willing to train unlicensed paralegals on the job, it may increase an applicant's job opportunities.
For those interested in earning an associate's paralegal degree online, you can expect to earn your degree in 3 to 4 years if you take 1 or 2 courses at a time. Full time students, who take 3 to 4 courses at once, can expect to earn their associate's degree online in about 2 years time.
Not all programs are wholly online. It is important to talk with your college or university and find out if they require you to take any courses in a traditional campus setting.
A glimpse into the life of a Paralegal
Two professions designed to support the legal process, such as paralegal professionals, legal secretaries, and court reporters, are vital to the field and well-paid, especially in corporate environments or for the federal government. Though these jobs require less formal training than that of attorneys.
The duties of paralegals are wide and various, but mostly they provide direct support to attorneys. This includes helping to prepare legal cases by researching and compiling relevant documents and data, after which paralegals are often asked to write reports analyzing the material they have collected. At the end of a case, it is the paralegal who organizes all the legal documents for permanent archiving. This is usually done in electronic databases. It is the paralegal's job to make sure that everything on file is available to and accessible by the attorneys.
Some of the typical duties of paralegals and legal assistants include:
Drafting reports
Researching laws or case facts
Preparing contracts and formal documents
Overseeing client communications (in addition to some administrative tasks).
Though an entry-level paralegal's work may involve a lot of paper-pushing, an experienced and/or talented paralegal may be given more serious responsibilities.Such responsibilities include tasks such as drafting legal arguments, managing motions to be filed, or even handling plans for estates and trust funds. They may also prepare tax returns.
Depending on the size and culture of the office, paralegals may work in an administrative capacity, organizing company events or maintaining the office's financial records. At large law firms and corporations, it is more common for paralegals to do less administrative work, and focus more on specific or specialized tasks.
Possible salaries for a career in project management
Salaries and wages for paralegals vary widely and depend mostly on individual experience and level of responsibility. According to the Bureau of Labor Statistics, paralegals and legal assistants earned a median pay of $48,350 per year in 2014. [i]
The difference in salary depends on many factors, such as:
Number of years you have worked in the legal field, or as a paralegal
Area where you live
Size of the law firm or corporation
Your educational attainment level
You could be earning your degree now!
Take a look at the sponsored programs on this page and get matched to a perfect program for you.
---
[i] bls.gov/ooh/Legal/Paralegals-and-legal-assistants.htm#tab-1 | [ii] onetonline.org/link/summary/23-2011.00