2 Sponsored Online Programs Available
Online Associates Degree in Paralegal Studies
Starting your studies with an Online Paralegal Associate Degree can lead to a fun career in paralegal work. Have you always wanted to interview witnesses, research cases, and prepare legal briefs without committing to the arduous process of becoming a lawyer? Law could be an exciting field that may have many opportunities for professionals who don't necessarily wish to become attorneys or judges. An Online Associate Degree in Paralegal Studies may help interested students to prepare for possibilities in a career area that is both interesting and rewarding.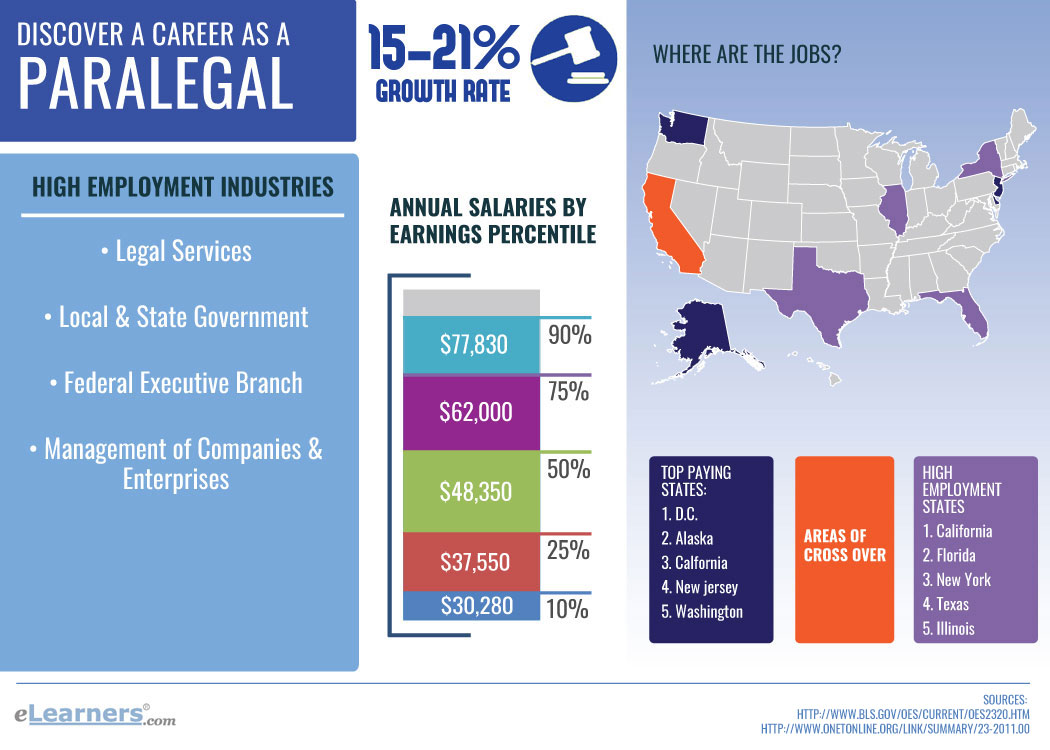 Often, a paralegal's preparatory work is just as important to the outcome of a case as the lawyer's starring role. Paralegals, legal assistants, and other professionals who provide administrative support to law firms or other employers are often needed to facilitate legal proceedings from the smallest details to the big picture. Paralegals and other assistants may function at various levels of responsibility. While some may simply perform light office work, others may be instrumental in organizing information, researching precedents, and drafting briefs. Often, an individual's education and experience play a role in the opportunities he or she is qualified to pursue.
Where could you work?
An Online Associate Degree in Paralegal Studies may prepare candidates for possible entry-level career paths that often vary in nature. Degree holders may pursue opportunities with law firms, government agencies, insurance companies, corporate compliance offices, and a variety of other employers that may seek out paralegals with a strong background in this career area. Many employers of paralegals require candidates to have an associates degree, and it may prove difficult to locate opportunities with a high-school level education. Even for students with prior paralegal experience under their belts, an associates degree in paralegal studies online may enhance their career prospects and help them to become stronger candidates.
What courses do I take with an Online Paralegal Associate Degree?
During an associate program, students typically gain knowledge of many aspects of paralegal work, such as drafting documents, researching cases, and other duties. Depending on the program, they may examine case studies, utilize legal software, and study legal terminology. They may learn about different areas of law that they might encounter during a career search, such as family law, criminal law, and real estate law. Finally, students often take general education courses to improve their general knowledge, writing, critical reading abilities, and other areas that may be important in a paralegal career path.
For many students, attending college courses in addition to other responsibilities related to work, home, and family may be difficult. If you are worried about balancing your associate degree program with your other duties, perhaps pursuing an Online Paralegal Associate Degree is the choice for you. By opting to earn your associate degree online, you may be able to work towards an exciting future at your own pace and from home. Online learners typically enjoy interacting with other students online and making good use of technology as an educational resource.
If you are hoping to pursue a paralegal career path, why not earn a degree that is directly tailored for your professional needs? Becoming a highly qualified paralegal doesn't happen overnight, but an associate degree in paralegal studies online could help you to gain the knowledge you need to reach for your goals.