Sponsored Online Programs Available
Why Pursue a Masters Degree in Paralegal Studies Online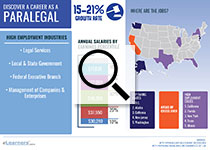 Earning a Masters in Paralegal Studies Online is important for your future in paralegal work. Enhanced career opportunities for paralegals and legal assistants often call for an advanced degree. Earning amasters degree in paralegal studies online may not be a necessary step for professionals who wish to pursue entry-level career options, but for more ambitious candidates, an extensive education in a complex subject might be incredibly valuable. As paralegals take on more and more of the duties that attorneys were once responsible for, the demand for highly educated candidates often increases. Master-level students may be well-prepared for opportunities that require more than an undergraduate-level understanding of topics in the field of law.
Some students pursuing a Masters in Paralegal Studies Online may do so in order to implement a career change. If you are currently looking to change fields, or you are in a field where knowledge of legal administration and support services may be helpful, a master degree may assist you in achieving your particular goals. Many students also pursue a master-level paralegal degree already possessing a foundation of knowledge and experience in this career area. Whatever your reasons for pursuing graduate studies, a masters degree may help you to approach your professional goals from a more informed standpoint.
What might you expect from a Masters in Paralegal Studies Online?
Students typically take a variety of challenging courses in a masters in paralegal studies online that allow them to enhance their career preparedness and explore different areas of law. Some topics may include civil litigation, criminal law, intellectual property rights, and other knowledge areas. Some candidates may wish to pursue an area of particular focus, depending on their goals. For example, a student hoping to seek opportunities as a paralegal for a corporation or compliance department might opt to concentrate on business law. Students may also expect to spend time conducting independent legal research, which may be in line with a paralegal career track. Strong reading comprehension and writing abilities are often an important part of a masters degree in paralegal studies online, as candidates learn to interact more effectively with legal information and materials.
While prerequisites for a master degree in paralegal may vary depending on the program, students must have a bachelor degree prior to enrolling. Having previous education in paralegal or saw is usually useful but not required of students. While graduate school can be competitive, many students are now turning to a more accessible option: online learning. Masters degree in paralegal studies online programs may be more widely available than campus-based options, though they typically require a similar workload and time commitment. Students often enjoy the convenience of online courses that might be completed from home, as well as the flexibility of working on the degree at any time of the day or night. If you lack the spare time to commute to a campus-based program, an online paralegal degree may be for you.
For many candidates, advanced education may be a key step to personal and career-related fulfillment. If you are hoping to enhance a current paralegal career or reach for new professional goals, earning your master degree may help you to strive for a more accomplished future.