5 Sponsored Online Programs Available
Online Communications Degree Programs
Communicating is key to every profession, but what's up with Online Communications Bachelor Degree majors? They don't all end up working in Advertising, Marketing, and Public Relations, do they?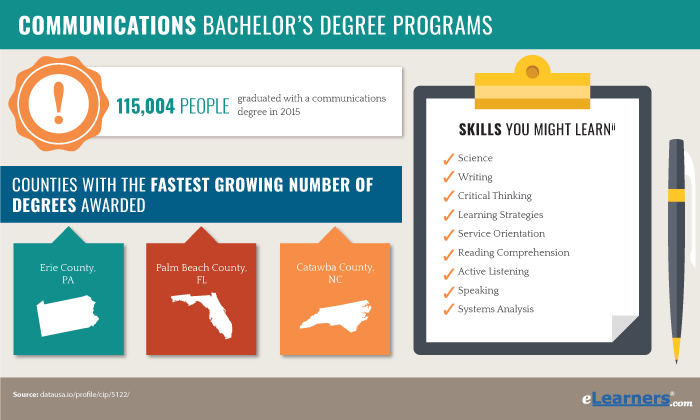 Who Are Online Communications Bachelor Degree Majors?
Still, it turns out those expected routes aren't the only pathways possible. It turns out that a Bachelors in Communications can take you lots of different places. For instance, The University of Minnesota satiated our curiosity on the matter with a Communications alumnae list of where they went in their careers. Here's a select sample:
President, California State University at Northridge
President and CEO, Cherokee State Bank
Sales/Marketing Coordinator, The Caldrea Company
Senior Loan Officer, All Cities Mortgage & Financial Inc.
Unit Development Leader, Target Corporation
Digital Educator, Public Speaker, and Founder @ The Late Majority
Account Manager, ShopNBC
All interesting paths that came out of an online Communications Bachelor Degree, no doubt. But we've got more specifics to share so let's go.
Fun Fact

In 1965, Bob Dylan said that if he ever sold out to a commercial interest, it would be "ladies garments." In 2007, he and his music appeared in a Victoria's Secret commercial.
Types of Online Communications Degrees
All these folks had to start somewhere, just like you. At some point they probably found themselves looking for their Communications Degree Program. And what they, like you, started to find out is that these programs come in many different colors and flavors.
So what kinds of Communications degree programs may you come across in your search? You may see program names such as:
BA in Communications Studies
Bachelor of Science in Professional Studies - Communications Studies
Bachelor of Arts in Communications
BA, Journalism Studies Concentrations
BS, Business Administration, Communications
Bachelor of Science in Media Communications
Bachelor of Arts in Communications - Public Relations
Communications Classes in an Online Communications Bachelor Degree
The types of classes you may see are just as wild and wonderful as the program names. They may include topics similar to some of these:
Public Media
Impact of Social Media on Communications
Communication Ethics
Organizational & Strategic Communication
Small Group Communication
Composition
Editing
Research & Analysis
Journalistic Rights & Responsibilities
Interpersonal Communication
Theories of Communication
Application of Communications in a Dynamic Environment
Communications Technology
Online Communications Bachelor Degree Earners - Where Do They Work?
Not only all this, Advertising and Marketing Directors may get to work in a creative, fun environment. Not only do Ad Agencies (and in-house corporate creative teams) sometimes have things like game rooms to stimulate stunning ideas, cool people wallpaper these places too. You're surrounded! … and luckily it's with relevant visionary types. Best part is the work itself. Advertising and Marketing teams conceive, build, and polish in order to thrust their big ideas out into the world - exciting stuff!i This is where the Communications they studied can potentially reach people across the globe via radio, television, print, online media, and billboards. Sharing their ideas is core to the craft when it comes to Advertising and Marketing. In other words, imagine expressing yourself not just because Madonna said so, but because it's your job.
Did You Know?

Most of the anti-tobacco ads you see (if not all) are paid for by Big Tobacco.
Communications Industry Icons
Cool camaraderie's another advantage to this industry. Iconoclasts of the industry often make headlines along with invigorating brands. Take Bozoma Saint John, the Chief Brand Officer at Uber. At only 40 she cut her teeth on brands like Apple, Pepsi, and Beats before joining Uber in June of 2017- a brand in crisis at that time. When Bozoma swooped in to save the day she was excited by the challenge. Her first objective in doing so? "Humanize Uber" she said in an August 2017 interview with the New York Times. Seems like it's a blast just to meet Bozoma, never mind what an outstanding opportunity it could be to actually work with her.
Or there's Chad Portas, Chief Creative Officer at Bai Brands (that fresh and funky fruity water that's sweeping the nation in 2017. He's so good at his job that this niche little baby brand got noticed by non-other than Justin Timberlake early on. He quickly became an investor in Bai. Next thing you know, little nobody Bai Brands gets bought out by big ol' Snapple Brands for $1.7 Billion. Proof that sometimes good branding really does bring in the big bucks. A celebrity endorsement is classic brand strategy, after all. Chad worked at ad agencies for about twenty years on the creative side as a designer and creative director before joining Bai in 2014 when they were only about five years old as a company.
Other brand gurus inspire us to reach personal heights. There's Sally Hogshead, for instance, author, speaker, CEO of Fascinate Inc. and former ad exec. She's a juicy provocateur with enticing book titles like Your 7 Triggers to Persuasion and Captivation and How the World Sees You: Discover Your Highest Value. The Platonic ideal of a spitfire redhead, she's created all sorts of fun stuff for exploring your very own brand personality. This is all after many years killing it advertising and running several of her own agencies. What Sally does now is a lot like personal Public Relations - the stuff of celebrity brands and spokespeople. She can make you all feel like Beyoncé, even if it's only while embroiled in her book or at Sally Hogshead's Website.

Communications & Public Relations
Speaking of PR, Public Relations is another popular Communications Bachelor Degree pathway. It's a similar world to Advertising and Marketing but with more of a press release/spokesperson slant to the Communications element.i PR works more with the overall public image/message of companies, people, and brands. Whereas Advertising and Marketing focuses on selling the brand, specifically its products and services. The two interact but are also pretty much separate entities when it comes to the workplace. One of the many particularly enticing parallels between these branding entities, though, is financial opportunity.
Fun Fact

Cable TV didn't start airing commercials until about 1980, forty years after its origins.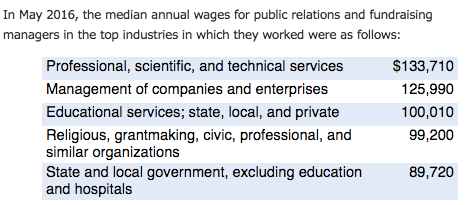 As you can see in this Bureau of Labor Statistics chart,ii even the lowest paying industry segment (Government Public Relations) earned a median annual salary much more than double the average for all occupations in 2016. The Government industry PR median salary for that year was $89,720 while the median for all occupations was $37,040.iii Meanwhile, down in the front row, premium seats of Public Relations, those working in the Professional, Scientific and Technical industries pulled in a median annual salary of $133,710 for 2016.
Did You Know?

In 2017 more than 50 million small businesses using Facebook Pages to connect with their customers. 4 million of those businesses pay for social media advertising on Facebook.
Why an Online Communications Bachelor Degree?
Mainly because when people in Advertising, Marketing, and PR do their job particularly well, brands get boosted. Take the Budweiser Super Bowl ads of 2017. These ads were so successful that not only were they the most watched online ads ever. They also spurned follow-up news stories for months. NPR described the follow-up stories as an "ongoing maelstrom" and when it comes to marketing, just provoking conversations with the brand wins the game and sells product.
The success of the Budweiser commercials were attributed largely to their "higher purpose paradigm" In fact, this concept was such an inspiration that Pepsi (along with many other brands) tried to copy this strategy. Pepsi, unfortunately did it with their notorious Kendall Jenner commercial. Remember that one? Of course you do because her platinum wig wasn't its only mistake. This ad was "so bad it united the Internet" according to Wired Magazine. So, that really only raises one question… Did it sell more soda? Because we know it compelled nationwide conversations about Pepsi. Even though the ad had five times as many downvotes as up on youtube, it also got more than 1.5 million views in only 48 hours.
Fun Fact

Ads aren't always shunned. 77% of Super Bowl viewers see the ads as entertainment.
No matter if your Advertising and Marketing creations or the celebrity spokespeople you tout in Public Relations are embraced with love or ridiculed on Saturday Night Live, they may impact millions of people with your message. This is a workplace where you may work alongside fascinating people to engage invigorating ideas and challenges. Not only that, you know it feels good to have fun while creating something that actually matters to people. In these fields expressing yourself is just part of every workday, a major bonus for those of us with something to say.
Get Started Here
In fact, you might be on a good track if you've got something to say and the prospect of an inventive work environment intrigues you. That's because here at eLearners we have sponsored programs for you to find the perfect online communications degree program for you. It's easy, fast, and free to get matched right here and now. Just visit our listings on the upper right and let elearners.com help you get started. You may find you want to find a higher degree such as a masters in communications and public relations.
---
[i] bls.gov/ooh/management/advertising-promotions-and-marketing-managers.htm#tab-2 [ii] bls.gov/ooh/management/public-relations-managers.htm#tab-2 [iii] bls.gov/ooh/management/public-relations-managers.htm#tab-5