Sponsored Online Programs Available
Bachelor's Degrees in Humanities Online
Humanities Bachelor Degree Online programs cover a vast territory - as a degree program that offers exceptional flexibility. Humanities Classes are Interdisciplinary by nature. That's because it's the study of civilization's collective accomplishments in music, literature, philosophy, art and other areas.
Think man-made. That's where the human part comes in, humans create as a way of sharing their experience. This then helps us understand and record the course of human events.
Let's Define Humanities
Examples of Humanities Courses include: Art, Languages, History, Music, Linguistics, Theater, Philosophy, and English. Earning a Humanities Major can lead to any number of career paths. For instance, English, History, and Philosophy are considered excellent preparation for law school because they focus on critical thinking, and writing skills as reported by U.S. News.
Or perhaps the whole artsy aspect interests you more… and thus there are careers such as Artist Manager or Agent for those of us not destined for the careers of Beyoncé or Stephen King. Might be cool to be their right arm of support though.…
How Cool Are Humanities Careers?
Speaking of what might be cool after completing a Bachelor Degree in Humanities Program, there are opportunities of all kinds. Looking at the two already mentioned, Law and Artist Management, there are some enthralling potentials to explore.
For instance, Managers and Agents made a mean annual salary of $86,560 in 2016. As you can see in the chart below, that mean can rise sometimes based on location, especially in states with the highest concentration of these jobs.

It's not surprising to see that New York and California are these states, given the current location of most entertainment work. These are relatively high paying careers given that the mean annual wage for all occupations in 2016 was $49,630.
Given that Agents and Managers generally only need a Bachelor degree, there's some real potential for these jobs to fit into the "cool" category. Not only that, a Humanities Bachelor Degree is one way to start on that path.
Attorney is a different but equally compelling career path that may follow a Humanities Bachelor Degree. It's just as intriguing a career with similar benefits, lining up with Humanities studies and offering an exceptional salary compared to most.
In fact, coolness might just fit the bill for this one because the median annual wage for lawyers was $118,160 in May 2016. Of course, there are hurdles to getting there as well, such as law school and passing a state bar exam.
But nobody said it was easy being cool. And, hey, if law school isn't for you, check out the other "Legal Occupations" in the chart below to see there are less arduous paths to other potentially cool pursuits.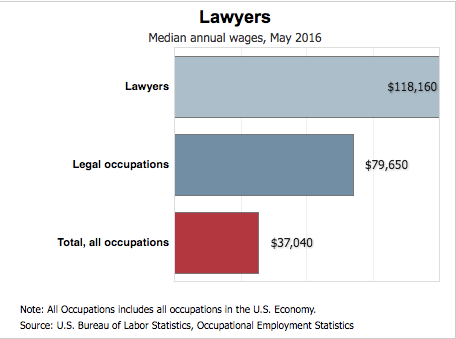 Start Today: Earn a Humanities Bachelor Degree Online
Get on the path to your perfect Humanities Bachelor Degree program right here and now. Just click around here at eLearners.com and get matched to the ideal school for your dream pursuits.
---
[i] bls.gov/oes/current/oes131011.htm#nat [ii] .bls.gov/oes/2016/may/oes_nat.htm#00-0000 [iii] bls.gov/ooh/legal/lawyers.htm