10 Sponsored Online Programs Available
EducationDynamics maintains business relationships with the schools it features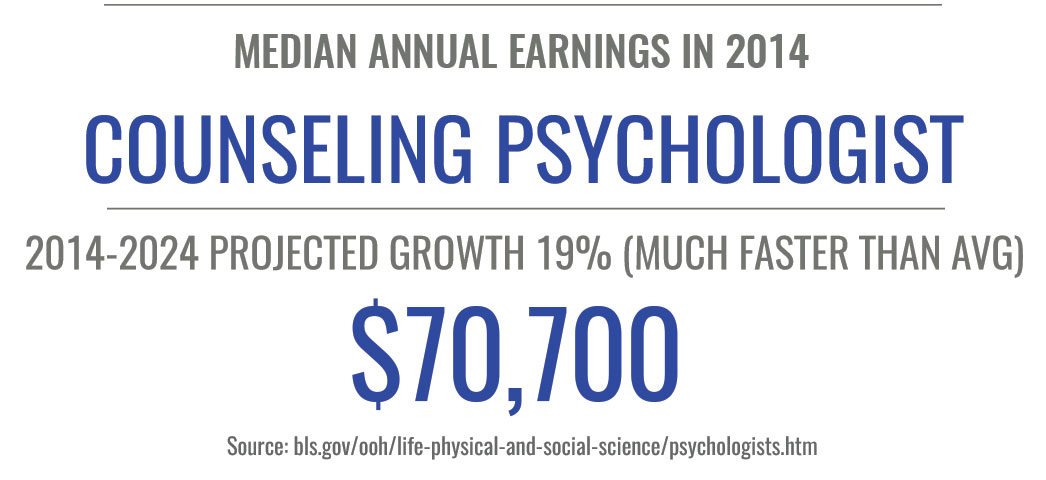 Earning an Online Bachelors Degree in Counseling
Are you fascinated by the workings of the human mind? Do you think you might have natural insight into how people think and feel? Would you want to use that insight to help others overcome barriers in their life, such as rehabilitation, mental health problems, or developmental disabilities?[i] If so, you might want to consider pursuing a career in counseling psychology.[i]If you have skills of social perceptiveness, active listening and critical thinking, and you like to help others, this might be a perfect fit for you. Workers in this role may typically be good communicators that can sense and understand other people's problems. One way to prepare yourself to pursue such a career might be to earn a bachelor degree in counseling online. Read on for more information on how to do this!
Bachelor's Degree Overview
Considered a cornerstone of higher education in the United States, bachelor's degrees may be the most common for students to earn after completing their high school-level education. Considered an undergraduate degree, bachelor's degrees ate generally available at four-year colleges, and, unsurprisingly, may take about four years to earn.[iv]
Bachelor's degrees may offer instruction that is both broadly and deeply focused.[iv] As an undergraduate degree, it may come with general education requirements that ensure a well-rounded graduate.[iv] Students may also, however, choose a major – a specific field in which they can specialize and dive deeply into their studies.[iv]
You may notice when comparing and contrasting you online bachelor's in counseling psychology options that not every bachelor's degree has the same title. In fact, bachelor's degrees may come in a number of different titles.[iv] The two most common may generally be the Bachelor of Arts and the Bachelor of Science, which might be available in a number of different fields.[v]
Counseling Psychology Concentrations
You may find, when researching counseling psychology, that there are a number of different fields within the larger discipline. As a student in an online counseling psychology bachelor's degree program, you may be able to choose one of these disciplines as a concentration, a special area of focus with increased coursework. While the options for concentrations might vary from school to school, a typical example might be addiction or substance abuse counseling. If there's a specific area within counseling psychology you'd like to study, feel free to reach out to the schools you're considering directly to ask them about concentrations.
Coursework in a Bachelor Degree in Counseling Online Degree Program
With different degree types and concentrations potentially available, there may be a range of courses offered in bachelor's degree programs in counseling psychology. Though there's no set list of topics that might get covered in these programs, you may notice that you'll come across similar subjects when evaluating curriculums. Some examples of these subjects might include:
Substance abuse
Psychopharmacology
Ethical and legal issues
Abnormal psychology
Case management
Relapse prevention
Interventions
Family dynamics
Trauma
Process addictions
If there are any specific courses you'd like to cover while earning your bachelor's degree in counseling online, be sure to contact the school with questions about their curriculum!
Getting Started with a Bachelor Degree in Counseling Online
If you're done researching and you're ready to start looking into your options in online counseling psychology bachelor's degree programs, don't delay! You can begin right here on eLearners.com by checking out our sponsored listings. If you find a program you think might be a good fit, feel free to reach out to the school directly for more information!
---
[i] bls.gov/ooh/community-and-social-service/rehabilitation-counselors.htm [ii] onetonline.org/link/summary/19-3031.03#Skills [iii] [ii] onetonline.org/link/summary/19-3031.03#Abilities [iv] ed.gov/about/offices/list/ous/international/usnei/us/bachelor.doc [v] bls.gov/careeroutlook/2008/fall/art01.pdf