Sponsored Online Programs Available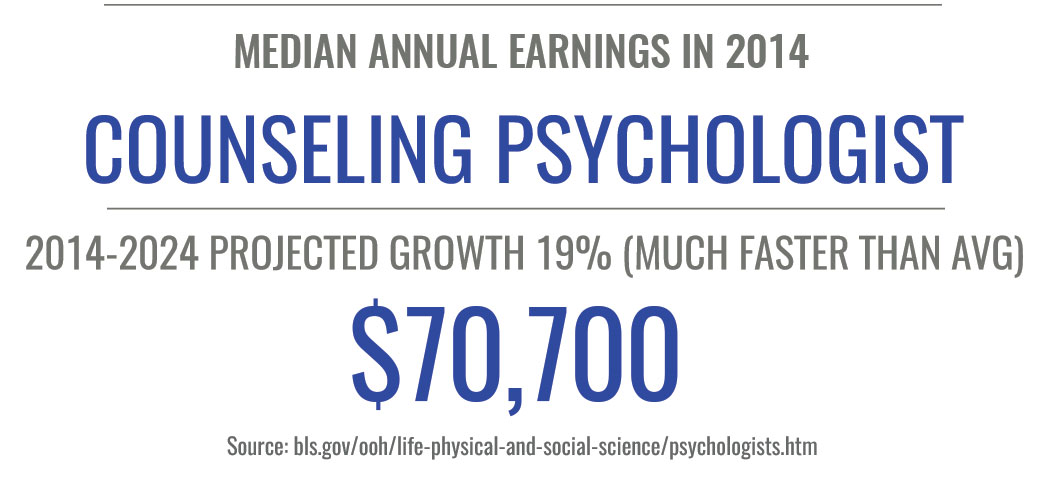 Earn a PhD in Counseling Psychology
If you want to pursue a career that may allow you to help people understand problems, counsel others, or help people identify their strengths, you might be interested in pursuing a career as a counseling psychologist. If you want a flexible way of jumpstarting your career in this field, you could consider earning a doctorate degree in counseling psychology online, a degree that is typically required for such entry-level positions. For more information on how this process might work, keep reading and apply for the PhD in Counseling Psychology Online Programs that may get you where you need to be.
Essentials of PhD in Counseling Psychology Online Programs
If you're considering enrolling in an online counseling psychology doctorate degree program, you'll first want to find out if it's a field that might be suited to your skills. According to O*Net, counseling psychologists might need to have some of the following skills and abilities:
Social Perceptiveness
Active Listening
Critical Thinking
Oral Comprehension
Problem Sensitivity
Speech Clarity
If those sound like skills you might have or could develop, then you may want to start seriously looking into online counseling psychology doctorate programs!
Earning a Doctorate Degree in Counseling Psychology
So now you may be wondering what exactly might go into earning your degree in counseling psychology. First things first, it's important to know what type of doctorate degree program you might enroll in. Generally, psychology doctorate degrees are offered in two formats: the Doctor of Philosophy (PhD) degree in Psychology or the Doctor of Psychology (PsyD) degree. Though both might prepare students to pursue psychology careers, a PsyD might be focused more on clinical settings and practical work, while a PhD might be more statistically and experimentally focused.
As is typical of most doctorate programs, counseling psychology PhD programs and PsyD programs might vary in length, but may typically take 5 to 6 years to complete. Many doctorate degrees may be centered on a dissertation, a large-scale research project that might have to be presented and defended to a committee in order to earn your degree and graduate.
Coursework for PhD in Counseling Psychology Online Programs
Depending on the program and the school, coursework can vary for different online psychology doctorate degrees. Nevertheless, for such a specific field, you may tend to see similar topics covered across curriculums. Here are some examples of class subjects you may come across in online psychology doctorate degree programs:
Interventions
Group therapy
Research methods
Psychopathology
Biopsychology
Consultation and supervision
Quantitative reasoning
A good quantity of credits for an online doctoral program in counseling psychology might be devoted to the process of completing a dissertation, as well. Make sure before you enroll in any program, though, that you check out the curriculum, and see what courses might be offered or required.
Offline Requirements in PhD in Counseling Psychology Online Programs
Though online degree programs in counseling psychology might be mostly completed remotely, there may be some offline requirements, depending on the program. These could vary, from periodic residencies, to internships, to possibly even a year-in-residence. In fact, it may be common for counseling psychology students to complete a year-long internship as part of their doctoral program. [iv] Make sure you know before enrolling in any online counseling psychology degree program what its potential requirements could be in terms of offline coursework.
Life After a PhD in Counseling Psychology
Though doctorate degrees are very advanced courses of study, there may still be more you must do after graduation in order to pursue a career in counseling psychology. [iv] These requirements might include certain types of licensure, certification, or work experience.[iv] According to the Bureau of Labor Statistics, counseling psychologists may need to obtain, in addition to earning a doctorate degree, an internship, a year or more of supervised work experience, and a passing grade in the Examination for Professional Practice in Psychology [iv] .There may also be certain state requirements that could differ [iv]. Make sure before you start to work toward your doctorate in counseling psychology that you know what you'll need in order to pursue the career of your choice.
Counseling Psychology in Practice
Speaking of careers, you may also be interested in what working as a counseling psychologist might be like. According to O*Net, workers in the field generally might have some of the following tasks: [vii]
Gathering information about clients through communication, observation, or other methods
Counseling clients about their problems, and helping them work toward goals
Creating plans of treatment based on each client's needs
Supervising interns, trainees, or others
Of the counseling psychologists polled by O*Net, all responded that they have in-person discussions every day, and 91% said they had a lot of freedom to make decisions. [viii]
Possible Career Outlook
Counseling psychologists, of which there were 155,000 in the United States in 2014, are expected to grow in number at a much faster rate than average by 2024. In fact, over this period, O*Net expects there may be approximately 63,800 openings in the field. In 2015, the median annual wage for counseling psychologists was $70,580.
Getting Started with PhD in Counseling Psychology Online Programs
If you've read all that, and you're still interested in online counseling psychology graduate programs, don't delay! You can start your research right here on eLearners.com, by perusing our sponsored listings. To find out more about a program that interests you, don't forget to request more information from each school. Remember to also look into details like offline requirements, potential coursework, and the possible program length. Good luck!
---
[i]gov/ooh/life-physical-and-social-science/psychologists.htm#tab-2 [ii]onetonline.org/link/summary/19-3031.03#Skills [iii]onetonline.org/link/summary/19-3031.03#Abilities [iv]bls.gov/ooh/life-physical-and-social-science/psychologists.htm#tab-4 [v]bls.gov/careeroutlook/2002/winter/art03.pdf [vi]ed.gov/about/offices/list/ous/international/usnei/us/doctorate.doc [vii]onetonline.org/link/summary/19-3031.03#Tasks [viii]onetonline.org/link/summary/19-3031.03#WorkContext