0 Sponsored Online Programs Available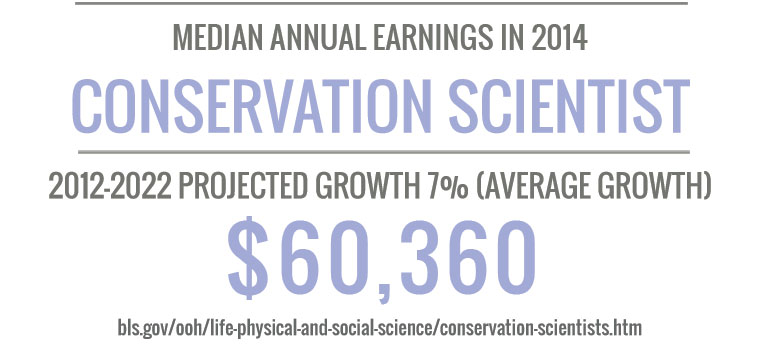 Online Bachelors of Environmental Studies
Do you have a passion for protecting the environment and natural resources? If this sounds like the ideal professional focus for you, earning your online Bachelors of Environmental Management might be just want you need to jumpstart a fulfilling professional career in your area of interest. With flexible educational options, you may be able to find the perfect Bachelor of Arts in Environmental Studies Online program for you with just a touch of research.
Skills You May Need for a Bachelor of Arts in Environmental Studies Online
To pursue a career in the environmental management field, it takes a skill set catered to the demands of the field. While you may have the chance to develop these skills in your Bachelor of Arts in Environmental Studies Online program, it may help to develop a few of the following:
Oral Comprehension — The ability to listen to and understand information and ideas presented through spoken words and sentences.[i]
Active Listening — Giving full attention to what other people are saying, taking time to understand the points being made, asking questions as appropriate, and not interrupting at inappropriate times.[ii]
Deductive Reasoning — The ability to apply general rules to specific problems to produce answers that make sense. [iii]
Critical Thinking — Using logic and reasoning to identify the strengths and weaknesses of alternative solutions, conclusions or approaches to problems.[iv]
Inductive Reasoning — The ability to combine pieces of information to form general rules or conclusions (includes finding a relationship among seemingly unrelated events).[v]
Complex Problem Solving — Identifying complex problems and reviewing related information to develop and evaluate options and implement solutions.[vi]
Oral Expression — The ability to communicate information and ideas in speaking so others will understand.[vii]
Problem Sensitivity — The ability to tell when something is wrong or is likely to go wrong. It does not involve solving the problem, only recognizing there is a problem.[viii]
Monitoring — Monitoring/Assessing performance of yourself, other individuals, or organizations to make improvements or take corrective action.[ix]
Common Coursework for an Online Bachelors of Environmental Management
The exact coursework for your Bachelor of Environmental Management or Bachelor of Arts in Environmental Studies Online may vary from the list below, but here are a few common courses[x] :
General Education Requirements: In many bachelor's degree programs, students must complete a basic round of requirements in the humanities and sciences. Typical requirements might be 2 credits of English, 1 Math course and so on.
Toxicology: Students explore the effects of toxic chemicals on an array of organisms and the applications of the toxicology in professional environments. The course may cover pesticides, drugs and industrial chemicals.
Pollution Prevention: Scholars learn the concepts and methods behind pollution prevention. Instructors may focus on fugitive emissions, improving manufacturing methods and material conservation.
Air Quality: The course centers on modern air pollution control mechanisms as well as the regulatory practices needed to achieve proper air quality control and management.
Interactions of Hazardous Materials: Coursework may teach students the intersectionality of hazardous materials and emergency situations. Additionally, instruction may focus on key compounds and effects of those substances.
Risk Management: Within the context of health and safety, students begin examining the key elements of effective risk management. Students may focus on risk management in the natural environment as well as in the workplace.
Industrial Hygiene: The course may help students gain an understanding of industrial hygiene via the technical aspects. Furthermore, students may develop knowledge of how industrial directly affects employees and others in the work environment.
OSHA Standards: Students learn the basics of federal compliance as more specifically, the standards of the OSHA. Moreover, students may develop the knowledge necessary to evaluate programs for compliance.
What Industries May Employ People Who Earn a B.A. or B.S. in Environmental Management?
After earning your Bachelor of Arts in Environmental Studies Online, you may move on to higher educational programs in compatible subjects or enter into the job market to pursue career paths such as:
Restoration Planner: These professionals collaborate with other scientists and field staff to develop and implement restoration initiatives. Using a wealth of complex scientific data, planners pinpoint and resolve important environmental concerns in a given area.[xi]
Compliance Manager: Using their knowledge of OSHA and other regulatory standards, compliance managers ensure company compliance with important industry guidelines. These managers may participate in coordinating events to improve compliance in the workplace or other arenas.[xii]
Conservation Scientist: In this capacity, graduates protect existing natural resources and may also be involved in management and improvement efforts. To assess the health of the environment, scientist may perform regular testing and surveys as needed.[xiii]
Land Conservation Specialist: These specialists focus their conversation efforts on preventing soil erosion, water conservation and efficient land use. As needed, these professionals may develop and implement improved land conservation techniques. [xiv]
---
[i]onetonline.org/link/summary/19-2041.00 [ii]onetonline.org/link/summary/19-2041.02 [iii]onetonline.org/link/summary/19-1031.01 [iv]onetonline.org/link/summary/11-9199.02 [v]onetonline.org/link/summary/19-2041.02 [vi]onetonline.org/link/summary/19-1031.01 [vii]onetonline.org/link/summary/19-2041.00 [viii]onetonline.org/link/summary/11-9199.02 [ix]onetonline.org/link/summary/11-9199.02 [x]columbiasouthern.edu/online-degree/safety-emer-services/environmental-mgmt/bs-envir-mgmt [xi]onetonline.org/link/summary/19-2041.02 [xii]onetonline.org/link/summary/11-9199.02 [xiii]onetonline.org/link/details/19-1031.00 [ix]onetonline.org/link/summary/19-1031.01