0 Sponsored Online Programs Available
Online Bachelors in Sociology Degree Programs
People who decide to pursue an Online Bachelors in Sociology degree program probably have a natural curiosity about how human behavior influences society. These students may want to learn more about the world and society in general. Or they may be more interested in specific aspects, such as demographics, crime, or family. Many sociology students share other common abilities, which may include critical thinking, complex problem solving, or active listening.i
Students who choose to pursue a bachelor of arts in sociology online may learn how to apply those abilities to testing theories. This may include collecting data, interpreting information, and presenting results.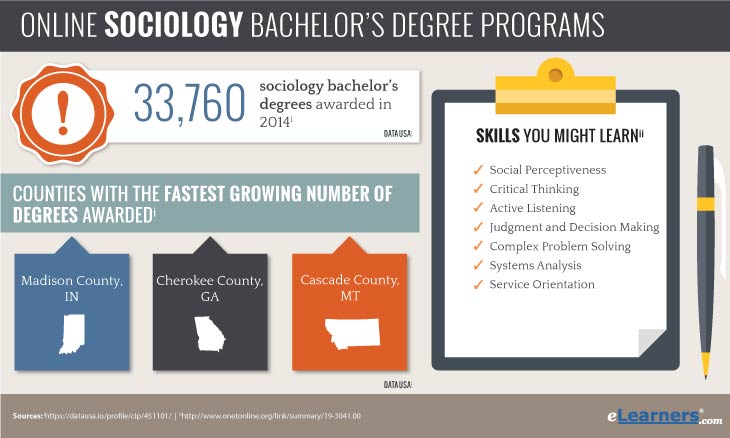 What Is Sociology?
Before describing some of the online sociology degree options, we need to answer some of your questions.
"What exactly is sociology?" "How does it apply to the real world?" "Is this really a degree that anybody can possibly use?"
According to the United States Bureau of Labor Statistics, sociology is the study of society and social behavior by examining groups, cultures, organizations, social institutions, and processes that develop when people interact and work together.ii
In essence, sociology looks at human society and how humans interact with one another. Sociology looks to solve many different problems. Sociology may play a role in analyzing and interpreting data to advise on public policy.
Did you know?

Karl Max is a famous German sociologist who is known for his controversial writing about the economics of capitalism and its effects on society.
Earning Your Online Bachelors in Sociology
A liberal arts degree provides many possible benefits. This includes the fact that you receive a well-rounded liberal arts education and prepares students for wider societal responsibilities.
One of the most important aspects of earning your online bachelors in sociology degree is that you'll learn both qualitative and quantitative methods. These may include observing group activities, conducting research, and analyzing data. You will also develop other skills to perform future work activities. These skills may include data analysis, interpretation of information, making decisions, and solving problems.
Typical Courses for Sociology Degree Programs
Typical classes while pursuing an online sociology degree may include:
Sociology of Social Problems
Sociology of the Family
Sociological Perspectives
Sociology of Crime and Violence
Experiential Learning
Research Methods, Theory, and Statistics
All degree programs are a little different so know what you want going in. Make sure the program you are interested in lines up with your wants and needs.
What's the Dfference Between a BS and BA?
An online bachelors in sociology degree program either means a BA or a BS. A BA is short for a bachelor of arts. Meanwhile BS is the abbreviation for a bachelor of science. Both are undergraduate programs that students usually complete in about four years on average.
Where do the BA and BS degree programs differ? Well, the BA takes a broader approach to the study of the liberal arts. Your academic requirements are spread out over a large swathe of classes within the field of the humanities. You might need to take classes in everything from foreign languages to math or computer science. Students who have a wide background knowledge may be able to think broadly about where they want to go in their future. They may not be as tied down to a specific course in life.
In a BS degree program your studies are more narrowly focused on your sociology coursework. You may study its applications to everyday life. And you have fewer credit requirements in a lot of other fields not directly related to your sociology BS. A bachelor of science is more focused on the applied uses of sociology such as statistics, math, science or research. Your classes will be more centered on these applied subjects.
What Can You Do with a Sociology Degree?
Most sociology jobs require a master's degree or PhD.iii But you have to start somewhere, right? And a bachelors in sociology degree online can be a first step in your education in sociology.
Have no fear! Some students who earn a bachelor's degree can pursue a career as sociology research assistants. Though sociology is a broad field of study with diverse application. Therefore most pursue positions in other fields.. Students who earned a bachelor's degree in sociology often apply their skills and knowledge to a variety of industries, like social services, human resources, and government. Candidates who have earned a bachelor's degree in sociology can pursue careers in related fields. These may include social services, healthcare, education, public policy, law enforcement, and many more.
In fact, the United States Bureau of Labor Statistics projects a +12% change in employment for social scientists and related work for the years 2014-2024. So while you can always decide to pursue a master's degree or PhD., there are many career options for those with a bachelor's degree in sociology to pursue.
Learn More About Online Bachelors in Sociology Degree Programs
You've always wondered how human behavior influences society. And you're a critical thinker with an analytical mind.
So get some attention from college recruiters and learn about what their online sociology major programs have to offer you. Click on any of the sponsored links on this page to learn more about individual schools and their degree options. Hopefully there is one out there that is a perfect match for you and your goals.
---
[i] onetonline.org/link/summary/19-3041.00 [ii] bls.gov/ooh/life-physical-and-social-science/sociologists.htm#tab-2 [iii] bls.gov/ooh/life-physical-and-social-science/sociologists.htm#tab-4