5 Sponsored Online Programs Available
Earning a Cyber Security Bachelor's Degree
Online Bachelors in Cyber Security degrees offer a convenient way to prepare you for entry-level roles in the field of information technology and cybersecurity. With the rise in cyber attacks and the growing threat of hackers, both businesses and governments are relying on skilled professionals to protect, defend and combat security breaches to data that is in transit or stored in a facility. If you are fascinated by computer security, have a passion for analysis and problem-solving, an online bachelors degree in Information Assurance is worth considering.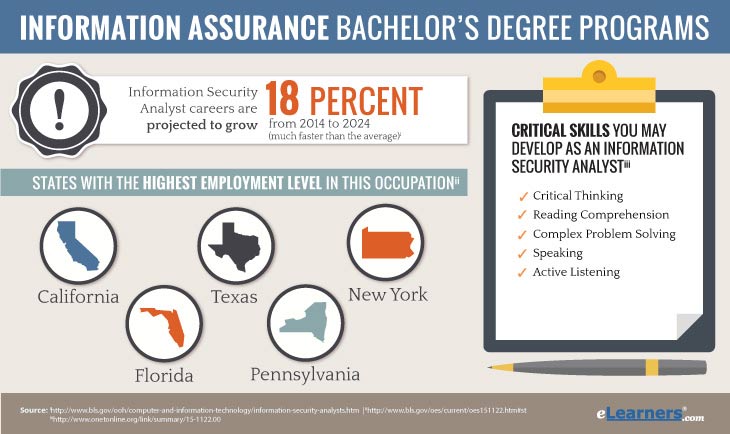 Online Information Assurance Bachelors Degree: Basics
Why enroll in an Online Information Assurance Bachelors program? Typically a 4-year undergraduate degree, prospective applicants should have a High school diploma or equivalent, as well as a transcript of any reported GED. Courses commonly focus on preparing students to work with both technical experts and management, so you may find degrees in this field as a concentration in Information Technology or Systems programs. Classes in an Online Bachelors in Cyber Security often blend technology with critical thinking, forensics and investigative techniques.
Information systems play a vital role in the infrastructure that supports e-commerce and banking, telecommunications, health care, and national security. A bachelor's degree in information assurance program, if accredited and designed as a prep for Security+ or Network+ exams, may give you the competency to manage, maintain, trouble shoot, install or configure basic network infrastructure.
FAST FACT

Computer network architects usually need at least a bachelor's degree in computer science, information systems, engineering, or a related field.[i]
Types of Online Bachelors in Cyber Security to Earn
There are different routes for elearners interested in pursuing a Bachelor's degree in Information Assurance online. This often has to do with the college or university itself and the wording of their Online Bachelors in Cyber Security degree as much as the emphasis placed on a particular aspect of Information Assurance – is it the core or the concentration…
Choices may include:
Online Bachelor's in Cybersecurity with a concentration in information assurance, Online Information Technology bachelor's program
Bachelor of Science in Information Assurance
Let the curriculum that each school actually offers help direct you and read on for a few helpful general guidelines.
Online Bachelors in Cybersecurity
An Online Bachelors in Cyber Security degree usually covers topics that prepare students to track down cyber criminals and battle digital crime. Coursework might include classes such as:
Ethics
Cyber crime law
Information Security
Advanced mathematics
Fundamentals of information technology
Computer forensics
Criminal investigations/evidence
Online Bachelor of Science in Information Assurance
It is likely that an Online Bachelor of Science in Information Assurance (IA) will focus on preparing students to assess and manage risks in information transmission, processing and storage as well as to understand information assurance practices. Students might expect coursework in topics that could include:
Information systems
Data protection
Internet security
E-commerce
Hacker prevention
Ethics
Software and hardware
Security procedures
Risk management
Disaster recovery
Mathematics
Computer Science
Forensics
Students may also find a program that is more computer-engineering oriented. This focus could provide more technical know-how in terms of understanding and designing infrastructure such as intrusion detection, scanning or firewalls.
Online Bachelor of Science in Information Technology - Cyber security
Online Bachelors of Science in IT that have a concentration in cyber security tend to offer more information technology courses while developing a competency in cyber security, cyber crime and digital forensics. Courses might include topics such as:
IT design, development, delivery
Security risk management
Vulnerability assessment
Disaster recovery
Security architecture
Compliance, ethics
Computer forensics
Recognition, Accreditation, Certification for an Online Bachelors in Cyber Security
Regional and state bodies that have determined their quality meets certain standards accredit some colleges. Others offer program accreditation which is usually by ABET in the case of science, engineering, computing and engineering technology.[ii]
You may also see that The National Security Agency and the Department of Homeland Security have recognized a particular institution for Excellence in Information Assurance Education.
A good rule of thumb is to find out ahead of time whether there are any certifications you need to work in the career you have mapped out and whether the school you are choosing meets the standards required to take certification exams.
About Online Degrees
Note that some online bachelor's degree programs in information assurance require students to complete an internship offline, so they can gain work experience in the field. Other Online Bachelors in Cyber Security programs may have onsite computer labs that you have to take or make other arrangements for. This is one of the variables with online degrees – the format may vary as each learning institution might use different educational technology. Nonetheless, if you can't get to your school or the library, the virtual classroom and online resources may make advanced education accessible.
Take the Next Step
According to recent reports by the Bureau of Labor Statistics, the demand for information security analysts is expected to be very high[iii]. What this means is that information security is not a passing trend in the digital age. In fact, the one thing that businesses, governments, and individuals all value is the protection, integrity and confidentiality of their information – their most powerful asset. With this in mind, a Online Bachelors in Cyber Security might be your springboard to a graduate program or help to potentially qualify you to pursue entry-level roles in the field. So go ahead and take that next step – find the program that aligns with your ambitions today!