26 Sponsored Online Programs Available
EducationDynamics maintains business relationships with the schools it features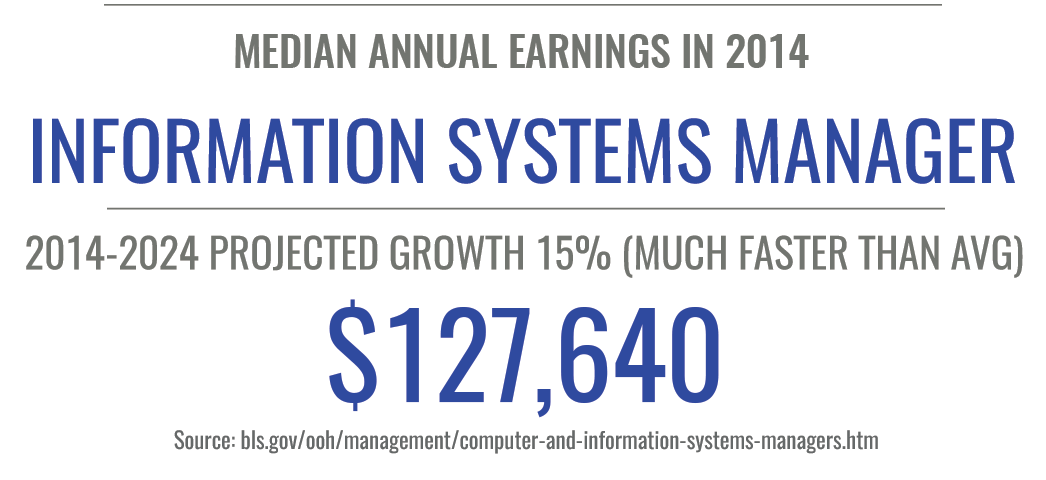 Earn an Online Master of Information Science
Wondering what an Online Master of Science in Information Systems program has to offer? If you are currently managing information technology or working in the
information systems development process, the MSIS degree is functionally equivalent to a Master of Information Systems Management - one of several specialized master's degree programs recognized by the Association to Advance Collegiate Schools of Business (AACSB). Earning your Master's degree in Information Science has the added potential advantage of convenience, study from anywhere you have your computer and reliable Internet. Employers today often prefer candidates with a graduate degree
[i]
, so take a look inside a Masters program in Information systems to find one that aligns with your professional goals, or prepares you for continued education.
Master of Information Science Online Programs ~ Essentials
Thinking about enrolling in an Online Master of nformation Science graduate program? The common prerequisite is a Bachelor's degree, though you should check with the graduate school to ensure you meet all the requirements.
In terms of duration, a Master of Information Science Program usually takes two-years to complete but this may depend on whether you study full-time or part-time. Some graduate programs in computer information science offer either a thesis or non-thesis option. If you plan on pursuing a doctorate degree, it may be wise to determine whether the masters program you are considering will prepare you for that.
How It Works: Earning an Online Master of Science in Information Systems
Distance learning facilitates study for the person who needs flexibility in their schedule. However, there may be more to your program than a virtual classroom. Keep a few things in mind:
All online or on site too?
In some types of information science programs, you may need access to computer labs to facilitate the development of technical skills in networking, programming, and game design. If you see the program described as "partially online" this is what it might refer to.
If your program is 100% online, it often means that all you need is available online – your courses, virtual libraries for research, and submission of assignments.
Synchronous or Asynchronous?
Check whether the seminars are live-streaming or pre-recorded. Mostly "online" refers to when the classes are video or audio taped, and you have 24/7 access, but this may not be the case.
Trouble-shooting
Check out the tech support and other resources for e-learners. Things don't necessarily go wrong, but it is good to know who is there to trouble-shoot or actually talk to if they do.
How to choose an Online Master of Information Science Degree Program
The number one thing to look for is whether the graduate program you are considering specifically matches any professional goals you have. For instance, some programs are oriented to Information and Library Science, others to Computer Information Systems, others to Management Information Systems, others specifically to the Master of Information Science track.
Usually in an MSIS degree program, the goals may include:
Learning how to contribute to the design, development, and maintenance of information systems and networks
Developing new technologies
Designing new applications relating to the delivery of information
Building your theoretical knowledge of information science (think: theory of information storage and retrieval, systems science, and social, political, and ethical implications of information systems)
Different types of Online Master of Information Science Degree Programs
Some grad schools may offer either a Master of Science or Master of Science in Engineering in Computer Information Science programs. Other programs may be more focused on information technology, or management. In fact, many online MBA programs have concentrations in information systems. The core MSIS curriculum usually teaches you the theory and practice of analyzing, organizing, representing and retrieving information; be sure to request information from the school to look into their curriculum, as these vary.
DID YOU KNOW? Employers of network architects sometimes prefer applicants to have a Master's of Business Administration (MBA) in information systems. MBA programs generally require 2 years of study beyond the undergraduate level and include both business and computer-related courses[ii].
Online MSIS: Potential Curriculum
Depending on the nature of your program, an Online Master of Science Degree in Information Systems may offer advanced education in topics such as:
Computer software
Algorithms
Computer intelligence
Computer networks
Computer architecture
Systems analysis
Systems design
Database design
Project Management
Graduate-level Potential Concentrations
You may be able to pursue specialized study in areas such as
Software engineering
Database management
Computer networking
Information security
Keep in mind that some of the courses requiring computer lab work might include:
Network architecture
Relational databases
Concepts in bioinformatics
Advanced algorithms
Artificial intelligence
Software systems
The Workplace and Your Degree
The general rule of thumb is that the larger the organization, the more complex the role, employers are looking for candidates with experience and a master's degree. In some cases, the MBA may be a good option – especially for management roles. Furthermore, it helps to prepare yourself – health informatics for roles in the healthcare industry, cyber security if you aspire to work in information security.[iii]
Take the Next Step
Enrolling in an Online Master of Science in Information Systems program may be the perfect way to prepare yourself for a variety of potential careers as an information professional. Whether you are interested in systems analysis, designing databases, fighting cyber crime or managing an IT department. So, take that next step and review your options for a graduate degree today!
[i] bls.gov/ooh/computer-and-information-technology/computer-network-architects.htm |[ii] bls.gov/ooh/computer-and-information-technology/computer-network-architects.htm |[iii] bls.gov/ooh/management/computer-and-information-systems-managers.htm | bls.gov/ooh/management/top-executives.htm | www.aacsb.edu/