6 Sponsored Online Programs Available
Online Bachelors in Information Technology Programs
Online bachelors in information technology programs help students prepare to work with technology across a variety of industries. Courses may work on database and information management, programming skills, network administration, and more!
Professional Insight into an information technology education
"My bachelors in information technology opened up so many doors for me. The IT degree paved the way for leadership roles, putting me in meetings with decision makers (VPs, Directors etc..). A result I never would have gotten with another degree."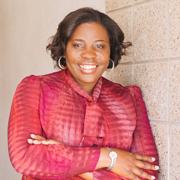 -Cerila Gailliard
Click To Tweet!

Some programs may enable students to focus on developing the skills for specific types of roles like cyber security, for example. Others might allow students to concentrate their efforts on studying the IT needs of certain industries, such as Health Information Technology for the healthcare field.
DID YOU KNOW?

National IT Professionals Day is celebrated annually on the third Tuesday in September set aside to honor the IT guys (and gals!) who help us every day.
What Is Information Technology?
Information technology is a dynamic field that combines technological skills with customer service, communication, and business. IT professionals may play a variety of roles across many industries. Generally, they focus on building and maintaining the technological infrastructure of an organization, and helping people in that organization with the technological challenges they face.
What Do IT Professionals Do?
Your Questions Answered

"So I know I call them when something breaks or my computer won't shut down. But besides telling you to turn it on and off, what does IT actually do?"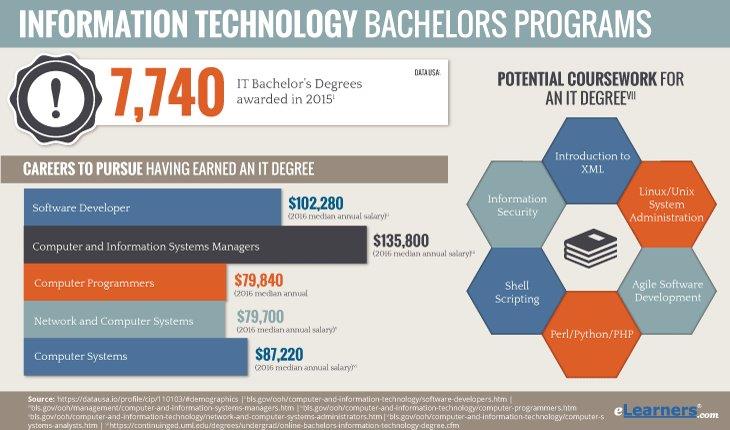 Information technology professionals hold a wide range of responsibilities. Areas of expertise, the type of organization, and other factors could all impact the specifics.
For example, IT professionals may be involved in selecting the technology for an organization to use. They may also oversee or manage software and hardware updates. Or they could assist with:
information security
troubleshooting and remediating problems
training
information security
database management
and more!
Because of the broad scope, IT programs may be equally broad, covering a variety of unique skills. However, some bachelors programs might focus on honing one specific set of skills, in pursuit of a certain type of IT career.
There are 4 basic areas of IT professionals. We call them:
The Guardians of the Internet
The Sleepless Superheroes
The Masters of Our Universe
The Number-Crunching Ninjas
Online Bachelors in Information Technology Focus Areas
Online bachelors in information technology programs may incorporate a broad range of business and technological skills. Programs may aim to help students prepare for a variety of technology-related careers. For example, one program may cover networking, programming or database administration, information security, and even the needs of certain business functions or industries.
In some cases, students may be able to tailor their study to a certain work area or topic. In that case, courses may be designed to encourage more specific skills related to working in a certain type of role. Below are listed a few example paths of study or topics of interest within Information Technology.
Type 1 - Cybersecurity - The Guardians of the Internet
Online bachelors in information technology programs that focus on cyber security are concerned with keeping digital information safe. Some courses focus on building up the technical and analytical skills to design and implement security measures. Others discuss how to evaluate existing information security, or aim to establish a basic understanding of cyber crime and digital forensics.
Protect the Princess

"I don't want expensive gifts; I don't want to be bought. I have everything I want. I just want someone to be there for me, to make me feel safe and secure." - Princess Diana
Concepts covered include programming, information security, advanced mathematics, and the legal and ethical concerns of cyber security. Some programs may even be a little narrower. They might allow students to pursue cyber security concentrations like information assurance, forensic, or criminal digital investigation.
Type 2 - Systems Administration & Networking - Sleepless Superheroes
Information technology bachelors programs focused on systems administration and networking center on productivity. Specifically, these programs build the networking expertise to build and maintain the computer systems that enable your workplace to function.
Fun Fact

Sys admins are on-call day and night to make sure the websites you rely on stay up and running! So you can always buy that pair of jeans you want at noon or 3am....
Systems administration and networking programs may include course topics like database system design and management, operating systems, network infrastructure, project management strategies, systems analysis, mathematics, and programming.
These programs often include a final capstone course or project. This could be a research project, portfolio, or field experience. Some programs may also be designed to help students prepare to earn industry certifications.
Type 3 - Web Application Development - The Masters of Our Universe
As mobile technology becomes more ubiquitous, developing effective web apps becomes an important skill! That's why some bachelors in IT programs offer web and mobile application development tracks. These programs emphasize programming for a variety of platforms and operating systems. Programs emphasize designing effective, usable apps that work across multiple devices for users of all levels.
Quoteworthy IT

"Programmers are in a race with the Universe to create bigger and better idiot-proof programs, while the Universe is trying to create bigger and better idiots. So far the Universe is winning." – Anonymous
Example courses one might take in this type of program are listed below.
Web programming
Mobile Technology
Web and Mobile App Development
Mobile User Interfaces
Developing for Multiple Platforms
As with Systems Administration, Web and Mobile App Development programs may culminate in a final capstone project. This would often be a portfolio piece, such as an application developed solo or in a group.
However, some programs may offer other options like a seminar, field experience, or research project.
Type 4 - Informatics - The Number-Crunching Ninjas
Informatics is a unique concentration area that focuses primarily on the management, storage, and analysis of data.
In the field, informatics comprises everything from collecting data and warehousing it, to pulling relevant data and analyzing it to answer real business questions. As such, informatics is not just specialized but also broadly applicable. From health informatics to market research, a variety of industries and corporations rely on the data handled by informatics professionals to inform business strategies and daily operation.
Quotes About Numbers

"When action grows unprofitable, gather information; when information grows unprofitable, sleep." - Ursula Le Guin
Because informatics is about not just storing data, but also accessing it and analyzing it, informatic-related programs may cover an array of technical skills.
SIX examples include:
computer programing
database management
research methods
information ethics
statistics
data analysis
Informatics bachelors programs might culminate in a capstone project, in which students would put into action the informatics skills they've honed over the course of their program. Some may also require or encourage field experience (such as internships).
For more information on these and other requirements—some of which may not be completed online—contact the school.
The IT Taste Makers Club

Sheryl Sandberg, the COO of Facebook, was ranked 1 of the 30 most influential people in the Tech field, according to Forbes.
Online Bachelors in IT Example Curriculum
Depending on where you choose to earn your degree, the curriculum in your selected online bachelors in information technology program may cover a variety of technical, business and organizational skills and concepts. In many cases, these programs are designed to accommodate the daily reality of life as an IT professional.
Below are listed a few examples of what one might expect to find.
Algorithms in Computer Programming: Algorithms and logic are important components to effective programming, especially in a business setting. As such, many IT curricula include some component dedicated to understanding these processes, and how to design and utilize them effectively.
Discrete Mathematics: This course type would center on the mathematical principles behind the algorithmic and logic concepts covered in programming related courses like the one above. Topics covered may include set theory, logic, graph theory, relations, and algorithm analysis.
Networking Fundamentals: Because networking could be such an important skill working in IT, many bachelors programs make sure to cover the essentials. Topics discussed may include analog, digital and radio technologies, protocols, network-switching, wireless, and network security concerns.
Information Assurance & Security: Whether you pursue a career or concentration in cyber security or not, information security is likely to be a concern for you in IT. Courses like Information Assurance cover the fundamentals, including topics like risk management, disaster recovery planning, remediation, and legal and ethical issues, to help you help your organization prepare for any scenario.
Project Planning & Implementation: This kind of course aims to help students prepare for working on project teams and leading IT-related projects. From the planning and organization stages through execution, topics discussed include scope, budgeting and estimation, scheduling issues, staffing, and more.
Programming: IT bachelors programs may cover a variety of programming languages. Some of these may depend on the type of course you enroll in and your goals. Examples your program may touch on include Java, JavaScript, Python, SQL, and C++. However, that's just the tip of the iceberg! Different programs may offer a wide range of options, not all of which might be listed here.
Business Systems Development: Courses like this are concerned with the unique needs of business environments from an IT perspective. Classes may discuss the logical and design considerations for developing software for use in business, and how to evaluate existing systems for maintenance and improvement.
Web Programming: Of course, managing a company's systems is only one aspect of IT. There's also developing web apps and managing online presence! Web design courses may cover programming skills like CSS, JavaScript, and XHTML, Search Engine Optimization, web server hosting, as well as design and user interface concerns.
Database Design and Management: Effective database management may be applicable in a variety of organizations. Topics covered in an IT bachelors program may include data analysis, data modeling, database design and administration, and more.
Additional Requirements
Different students may have an array of motivations for choosing to earn their bachelors online. From family obligations to a busy work schedule to educational preferences, online course delivery could accommodate a variety of needs in different ways. However, if this applies to you, be aware that some online programs may still have some offline components that you might need to accommodate.
Quote-Worthy IT

"The best way to prepare [to be a programmer] is to write programs, and to study great programs that other people have written. In my case, I went to the garbage cans at the Computer Science Center and fished out listings of their operating system– Bill Gates, Microsoft Co-Founder
Here are a few examples of programs you might come across.
Hybrid or Partially-Online Programs
A few online bachelors in information technology programs may be labeled "partially online" or "hybrid." In that case, the program might offer some courses in a campus setting or require short residencies. In some cases, this could be an advantage, as it could give you an opportunity to get to know your fellow IT bachelors program students and faculty, and take advantage of campus resources and technology. If you're looking at a program that includes campus-based learning as an option or requirement, make sure you're aware of how this works so you can work it into your schedule well in advance.
Field Experience
Some online bachelors in information technology programs may include a field experience component. In some cases this is optional. In other cases, it may be required for graduation. Field experience could take the form of observations, or co-ops or internships. The objective, in this case, would be for students to have the chance to exercise the skills they've honed in the classroom in a real-world setting. It's possible that students may need to complete an accompanying project or similar requirement alongside their field experience component, especially if it's a required curriculum element.
Capstone Projects - Hashtag: You're Not Done Yet!
Many online bachelors in information technology programs have some kind of final project requirement. This could in some cases be a research paper along the lines of a thesis. However, instead, some career-oriented programs use capstone projects. Capstones are a little different from theses in a few different ways. For one, they can often (but not in every case) be completed in groups instead of on your own. They're also often more practical in nature, aiming not to demonstrate research and writing skills but rather the professional skills developed over the course of the program. These more practical projects may double as a portfolio piece, if they demonstrate skills and knowledge relevant to the career you want to pursue. In some cases, these types of projects might need to be presented in person, which would necessitate a trip to campus. However, in other cases, they could be submitted online. For more information about final project requirements (if any), see your selected program.
What Next?
Once you've earned your bachelors degree in information technology online, it doesn't need to be the end of your education. If you decide to continue your studies later, a variety of options may be available online.
You could start by earning a graduate certificate in IT, or enroll in an online masters in information technology program! Some of these may require a bit of work experience to attend, but others may be open to recent grads.
At the graduate level, you may find a number of concentration options available. This could include database administration, networking, information security, and more!
Information Technology Degree Career Info
Earning a bachelors in IT online could be your first step toward a vibrant career! After all, there's no counting the paths a career in technology might take. In fact, many technology careers are projected to grow much faster than the average career growth rate. And it doesn't hurt that technology professionals could be found in many different industries from nursing to advertising.
In most cases, entry-level information technology employment may be pursued with only a bachelors degree. Non-entry level positions may require additional professional experience.
The specifics of what you might do there every day once employed may vary greatly depending on the nature of your employer, your particular position, and your unique skill set. Opportunities for advancement may also vary. In some cases, additional education could support this effort. In others, a more compelling factor is your record of accomplishments on the job. Overall, working in information technology may require a combination of technical and analytical prowess, effective communication, problem solving, and interpersonal skills.
Here are a few examples of the different paths that bachelors in IT grads might take:
Computer and Information Systems Manager: 2016 Median Salary $135,800

i

Computer Network Architect: 2016 Median Salary $101,210

ii

Computer Programmer: 2016 Median Salary $79,840

iii

Computer Support Specialist: 2016 Median Salary $52,160

iv

Computer Systems Analyst: 2016 Median Salary $87,220

v

Information Security Analyst: 2016 Median Salary $92,600

vi

Database Administration: 2016 Median Salary $84,950

vii

Network and Systems Administration: 2016 Median Salary $79,700

viii

Software Development: 2016 Median Salary $102,280

ix
Search for Online Bachelors in IT Programs
Begin searching for online bachelors in information technology programs with eLearners! We've collected information on a number of sponsored program listings. Review them here, and click on the program names to read more!
If you'd like to get in touch, click on Request Info. Then review the information, schedule a meeting to talk to your admissions advisor, and start your application!
---
[i] bls.gov/ooh/management/computer-and-information-systems-managers.htm [ii] bls.gov/ooh/computer-and-information-technology/computer-network-architects.htm [iii] bls.gov/ooh/computer-and-information-technology/computer-programmers.htm [iv] bls.gov/ooh/computer-and-information-technology/computer-support-specialists.htm [v] bls.gov/ooh/computer-and-information-technology/computer-systems-analysts.htm [vi] bls.gov/ooh/computer-and-information-technology/information-security-analysts.htm [vii] bls.gov/ooh/computer-and-information-technology/database-administrators.htm [viii] bls.gov/ooh/computer-and-information-technology/network-and-computer-systems-administrators.htm [ix] bls.gov/ooh/computer-and-information-technology/software-developers.htm