Sponsored Online Programs Available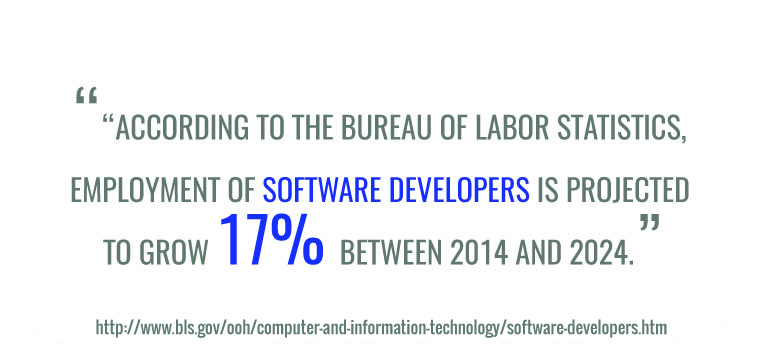 Online Degree Programs in Software & Application Development
A lot of people love their smartphone, especially the apps they use to make their lives easier. The same thing can be said of computers and the software they use. But only a few people really think about the detailed process of making those apps and programs. If you're someone who loves technology, and wants to be involved in the process of creating apps, software, and the systems that let them run, you may be interested in earning a degree in software development online.i Software developers might usually be highly analytical, with good communication skills and a tendency to pick up computer-related concepts quickly.ii They may also have a great attention to detail, and be very goal-oriented and creative.iii If that sounds like you, keep reading to find out more about how to earn a software development degree online.
Software Development Degree Online Essentials
When looking into your options for software development degree programs, you may find that degrees are offered at many levels. Depending on your previous education and your career goals, you may prefer one to prefer a degree at one level or the other. Here's a short overview of your options:
Associate's Degrees in Software Developmentiv
An associate's degree is generally considered a gateway degree, and can help prepare students for anything from a career in their field, to a higher-level degree program. Many associate's degree programs may even be open to anyone with a high school diploma or equivalent education!
Typically taking about 2 years, or 20 classes worth of coursework, to complete, associate's degrees might usually fit into one of two categories. The first are transfer degrees, and these are designed so that students can transition into a bachelor's degree program upon completion of their associate-level program. Transfer degree programs may generally offer broad coursework in order to satisfy general education requirements for bachelor's programs. They may go by the common titles of Associate of Arts or Associate of Science.
The second type of associate's degree is the occupational degree. This degree may be designed to prepare students to pursue a career in their field. As such, the coursework might usually be more narrowly focused than in a transfer degree program, and may typically relate to the responsibilities of that career. Occupational degrees may often have the word "occupational" or "applied" in their title.
Keep in mind, though, that the usual entry-level education for a software engineer may be higher than an associate's degree. According to a poll by O*Net, only 3% of software developers reported that the education needed to pursue their position was an associate's degree; most needed something at a higher level. Be sure to research your career goals and understand what type of degree you'd like to earn to pursue the career you're interested in - you can start by browsing our listings for Software Development Degree Online programs.
Bachelor's Degrees
The typical entry-level education for a software developer is a bachelor's degree.vi Bachelor's degrees are considered an undergraduate,vii or second-cycle degree.viii They might take 4 to 5 years to earn, and may be considered a cornerstone of American higher education, as the most common first degree for students to earn.8 Bachelor's degrees might usually offer instruction that is both broad and deep, with general courses, but also courses in a specific major.viii According to O*Net, 80% of software developers reported an entry-level education of a bachelor's degree.v
Master's Degrees
Typically earned by students after they've completed a bachelor's degree program, master's degrees might be considered a graduate degree, and generally take about 2 years to earn.vii They tend to be very focused on specific subject matter, and can take one of 2 main forms.viii The first is the research master's degree, which might be offered in academic subjects and could feature a lot of writing or research.viii The second may be the professional master's degree, which, like an occupational associate's degree, might relate to the duties of a specific profession,viii such as software engineering. While a bachelor's might be the usual entry-level education, it may not be rare for employers to prefer candidates with master's degrees.ii According to O*Net, 16% of software developers needed a master's degree for their position.v
Coursework to Earn a Software Development Degree Online
While not every program may be similar, you might notice when comparing schools that there are a number of topics that tend to be covered in online software engineering degree programs. Though these vary between schools and programs, come potential examples could include course subjects like:
Database systems
Programming
Computer security
Software design
Java
Operating systems
Mobile applications
Innovation
If there are any specific classes you're looking to take while earning a degree in software development online, be sure to reach out to the school itself to check out their curriculum. There's no guarantee that a program will have all or any of these topics available as classes.
Career Options after Earning a Degree in Software Development
You may not be surprised to learn that a position you might pursue after earning an online degree in software engineering could be as a software developer. Software development positions are increasing at a much faster than average rate in the United States, and can claim a median annual salary of $98,260.ix
Getting Started on a Software Development Degree Online
If you're done reading and ready to start researching, don't hesitate! Start right here on eLearners.com by checking out our sponsored listings, and feel free to reach out to any school that interests you. Be sure to check their course offerings and requirements! Good luck!
---
[i]bls.gov/ooh/computer-and-information-technology/software-developers.htm [ii]bls.gov/ooh/computer-and-information-technology/software-developers.htm#tab-4 [iii]onetonline.org/link/summary/15-1132.00#WorkStyles [iv]bls.gov/careeroutlook/2002/winter/art01.pdf [v]onetonline.org/link/summary/15-1132.00#Education [vi]bls.gov/ooh/computer-and-information-technology/software-developers.htm#tab-1 [vii]bls.gov/careeroutlook/2008/fall/art01.pdf [viii]ed.gov/about/offices/list/ous/international/usnei/us/edlite-structure-us.html [ix]netonline.org/link/summary/15-1132.00#WagesEmployment