0 Sponsored Online Programs Available
Online Office Administration Certificate Programs
Online office administration certificate programs could offer you the professional education you're looking for to support your career. In a certificate program, you might hone your organization strategies, learn more about business, and above all, learn to help your office stay on track. Some programs may even help you to learn more about specific responsibilities or specialty areas! Whether you want to jumpstart a new career, or enhance your current position, earning an office administration certificate online could build your professional tool kit and support your professional goals.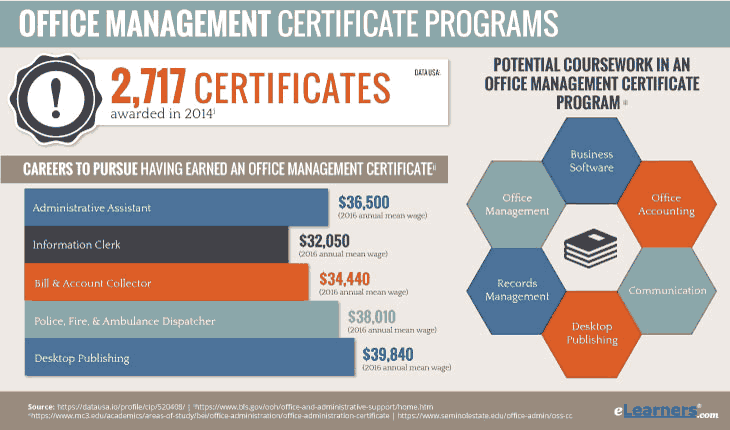 What Is An Online Office Administration Certificate Program?
Online office administration certificate programs may aim to help all different types of students. For example, one certificate program might be designed to support students with little to no prior education in office administration. Meanwhile, another might be aimed toward students who have already earned a degree or professional experience. Additionally, some programs may offer students an opportunity to learn more about certain unique career specializations. That could help you move your career in a new and fascinating direction.
Online office management certificate programs may take around a year to complete. However, this could vary for you. The amount of time it takes you to earn your office administration certificate could change depending on your schedule each semester, course load, and other factors. Some online office management certificate programs may also be compatible with certain associates or bachelors programs. That could help make it a little easier for you to earn a degree later, if you decide you want to do so.
While earning a certificate in office management may not be a requirement to work in some clerical roles, it could still help you showcase your skills and knowledge for employers. On top of helping to support your current position, that could be an advantage if you're looking to find something new.
What Might I Study in Office Administrations Certificate Online Programs?
Office management certificate online programs may be designed to with your potential career in mind. That means the courses you take might teach important skills and strategies pertaining to your responsibilities. While each program may vary, here are some examples of the types of things you might learn:
Speaking and Writing: As an office manager or administrative assistant, you might be responsible for a variety of communication-related projects. That's why in a certificate program, you could learn about how to communicate effectively in a variety of contexts. This may include interpersonal interactions, writing, editing, and publishing documents and presentations.
Computer Skills: You may need to use technology extensively to complete daily tasks. You might even need to assist others in doing so. An office management certificate program could help build your technological expertise. That could include business software, Microsoft Office, database management, and more. You might even be able to work on your keyboarding and data entry skills if you need it.
Leadership and Management Skills: Effective leadership skills could be an asset to your career, whether you're working alongside your peers or leading them. Some office management certificate online programs may help you to learn about the management side of office administration. With those skills, you might position yourself as the leader you want to be.
Records Management: One of the many important responsibilities you might hold in office management could involve records management. This might range routine daily filing to using more complex digital information systems. In an online office management certificate program, you could learn about records management systems, strategies, and even the legal aspects of records management.
One thing to keep in mind is that, due to the shorter nature of many certificate programs, your particular courses may vary. That could be influenced by the focus of your online office administration certificate program, the type of student it's designed for, and the level of customization available. For example, a more generalized program aiming to serve students new to office management might be different from an online certificate program that aims to help current professionals expand their skills in certain areas. For more information about the types of things you might study in a given program, reach out to the school for more information.
What Might I Do After Earning my Certificate in Office Administration Online?
Some graduates of online office administration certificate programs may want to continue studying and earn an associates degree in office management, or even a bachelors degree in office administration. You could opt to do this right away, or wait and get professional experience first. Whenever you choose to earn a degree, you may be able to apply the work done to earn your certificate toward an office management degree program requirements. The transferability of credits may depend the requirements of the programs in question.
Another option if you want to enhance your resume may be to become certified through a professional organization. Professional certifications may be awarded after successfully completing a set of requirements. In many cases, this could be passing a credential exam. One example relevant to office administration may be the Certified Administrative Professional (CAP) certification. This is administered by the International Association of Administrative Professionals. While earning a professional certification may not be a requirement for employment in your area, this kind of credential might still help you market yourself by objectively demonstrating your knowledge and capability.i
FUN FACT: Legal Secretaries have several industry-specific options for professional certification, depending on experience and legal specialty.i
Potential Office Management Careers
Earning your office management certificate online could help you open a pathway to a dynamic career. For example, you might be interested in administrative assistant roles. As an administrative assistant, you could hold a variety of administrative and clerical responsibilities. You might be integral to your office's day to day functioning. You could also assist staff in your office with a variety of projects and tasks.ii
Other potential options might include working as an executive assistant. Executive assistants earned a median salary of $53,370 in 2015. You might work closely with professionals at high levels in your organization. You could be responsible for things like scheduling meetings and travel, executive communications, preparing reports, and more.iii
With additional education, you might also advance to positions like administrative service manager, which in 2015 earned a median salary of $86,110. This could involve managing teams of administrative professionalsiv.The specific qualifications, responsibilities, and salary for these and other administrative and clerical positions may vary by position, employer, and location.
Find Online Office Administration Certificate Programs Today!
Online office administration certificate programs could prepare you to flourish in a fascinating career. With the support of your certificate program and the flexibility of the online format, you could take the first steps toward achieving your career goals. Start your search by reading about our sponsored program listings. Then reach out to the programs you might be interested in by clicking on the Request Info button beside the relevant listing! Don't hesitate—earn your office administration certificate, and set yourself on a path to success.
---
[i] bls.gov/ooh/office-and-administrative-support/secretaries-and-administrative-assistants.htm#tab-4
[ii] bls.gov/ooh/office-and-administrative-support/secretaries-and-administrative-assistants.htm#tab-2
[iii] bls.gov/oes/current/oes436011.htm
[iv] bls.gov/ooh/management/administrative-services-managers.htm#tab-1