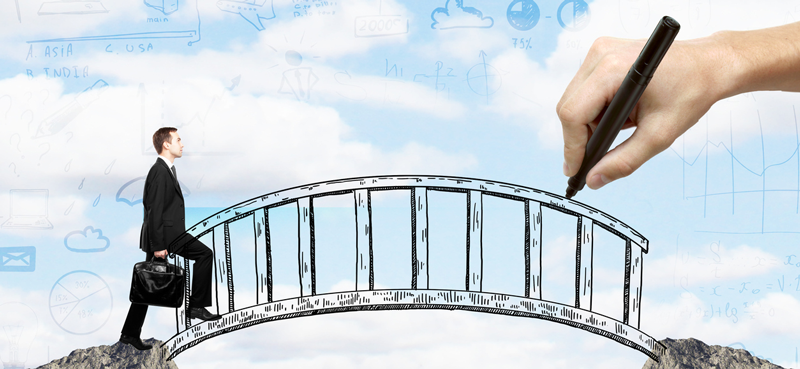 Bridge programs are transitional programs designed to help students move into the next phase of their education. They're offered at the undergraduate level for students new to college life, as well as to current students who want to have the best shot at transitioning onto another level of education once they finish.
While the specific details of each bridging program may vary by school, intended purpose, and goal, they may share a few important qualities.
They're designed to get you from one place to another.
Metaphorically speaking. Whether they're there to help you start college for the first time, or transition from your bachelors to masters, Bridge Programs are there to help you make that change, and conquer some of the obstacles in your path. They do that through a combination of coursework, support, and resources, to be there with you throughout that transition process.
They might be designed for a specific type of student or population.
Bridge Programs, on an individual basis, might not be ubiquitous. Rather, they're often designed with very specific purposes in mind. For example, one Bridge Program might be designed for English Language Learners who need to firm up their communication skills to thrive in college classes. Another might be major-specific, helping students studying a certain subject pursue advanced degrees or certification. Different schools might offer different programs, depending on the needs of the students they serve.
They might have certain prerequisites or a unique application process.
It could be obvious in the application process that many bridge programs are custom-designed for certain purposes or to help specific types of students. In fact, you might have to apply specifically to that bridge program, and meet certain requirements to get in. That might not always be the case, though. It depends on the school and what the bridge program is for.
They might have unique course requirements.
One important element of bridge programs is, of course, the curriculum. In many cases, students in bridging programs might have certain courses they need to take, in place of or in addition to general education or major course requirements. These will vary from program to program, depending on the students they serve, whether it's associated with a particular major, and other factors. Usually, bridge program courses are meant to coincide with the prerequisites or demands of the program students are transitioning into.
They emphasize skills and knowledge you might need at the next level.
Overall, bridge programs are there to help you succeed. That's a big part of why they might have those course requirements. Bridge programs often aim to strengthen or foster skills or knowledge students are likely to need in the future. That could be targeted learning intended to bring students up to par with their mathematics, writing, or study skills. Or it could mean helping students gain the knowledge and experience they'll need in a certain graduate program. Or even helping first-generation college students adapt to the personal responsibilities and self-discipline that being a college student entails. What does that mean for you? It means that you might find a bridge program that supports you in the ways that you need.
Summer Bridge Programs
Summer Bridge Programs are usually offered in conjunction with undergraduate programs. They usually take place over the summer preceding the student's first year at that school through the beginning of the semester, in order to help students get ready for the upcoming year. These types of programs are often aimed at recent high school graduates and first-generation students. As such, they might have one of three major goals.
Helping students adapt to the college lifestyle.
Many students start college with the support of their families, older siblings, and teachers, who have all been there before. All they need is a brief orientation session with a few icebreakers that help them meet other students and they're all ready to go. However, that's not always the case. Some students might not have a mentor's experience to fall back on, or may not be prepared for the lifestyle changes and new responsibilities being a college student may entail. Some universities offer summer bridge programs to help guide students through this transition, so they can become part of their school community and work toward academic success.
Helping English language learners prepare for English-language college courses.
Learning a new language is not easy. You may get as far as knowing how to ask where the bathroom is or order a sandwich. But how about earning a degree in that second language? Some schools may offer bridging programs specifically to help English-language learners sharpen those skills to succeed in the classroom, and to familiarize students with the supportive resources available to them. Some schools may require non-native English speaking students who did not meet minimum English-proficiency requirements to take this type of program before they officially can start their college courses.
Helping students overcome academic challenges.
Need a little bit of extra help? Maybe you need some extra study skills, or you just barely scraped by in math class. Whatever your situation, some summer bridge programs are designed specifically to help you meet these challenges head on. Often, that means an extra mathematics or writing class to prepare you to meet those college expectations head-on.

Discipline-Specific Bridge Programs
Some schools may offer bridging programs within certain subject areas. These might help students earn advanced degrees with limited interruption. Often (though not always) bridge programs are offered in areas in which students might need to earn an advanced degree as a criteria for potential employment.
These could be organized in two different ways. (1) Some are internal. An example of this would be if a student enrolls in a bachelors program and may transfer directly into a related masters program at that same school. (2) Others are external, and might be designed in cooperation with another nearby program offered by a different school.
Here are some examples of subject areas that could include bridge programs.
Nursing Bridge Programs
A variety of nursing bridge programs could be available. These are sometimes designed for people who are already working as nurses, but need to earn additional credentials or continue their study. Examples include LPN to RN bridge programs, BSN to MSN, or BSN to DNP programs, to name a few. LPN bridge programs generally work toward at least a BSN, whereas other nursing bridge programs tend to require applicants already to have earned their BSN.
Pre-Med Bridge Programs
Some schools may offer bridging programs for students who intend to go to medical school. These may include specific course requirements, and be designed to help provide a smooth transition through the doctorate program. Programs like this might have additional requirements—like maintaining a certain GPA—to be guaranteed a continued place in the program.
Social Work Bridge Programs
Because clinical social work positions typically require at least a master's degree,

i

 some schools offer bridge programs to help bring masters education within reach. Some programs might be designed for those who have already graduated with a related bachelors degree, but might need assistance in making graduate school possible. Others might be offered continuously with a bachelors program, so that BSW students could transfer directly into an MSW program.
Psychology Bridge Programs
As with Social Work, to practice psychology or counseling in a clinical setting often necessitates at least a masters degree.

ii

 Some schools might offer psychology or counseling bridge programs that help connect undergraduate study to graduate education. Other schools might have bridge programs that help people with an unrelated educational background get started in a counseling graduate program through additional preparatory coursework.
Bridge to PhD Programs
Bridge programs may also be prevalent in graduate school settings in general. These are sometimes referred to as "continuous" programs. That's because they link together masters and PhD programs so that students can earn both in a single program or curriculum, without having to stop and re-apply to new program between degree levels.
Schools That Have Bridging Programs
Partially and fully online schools and programs may offer a variety of potential bridging programs. Each one may be designed differently to support different goals. This generally depends on the needs of that student community. Below are just a few examples of the different options that might be out there.
Liberty University Summer Bridge Program
Liberty University offers a summer bridge program, aimed to help new students set themselves up for academic success. The Summer Bridge Program is designed to help ease the transition from high school to college life. It acts as an opportunity for students to get to know their peers, get a taste of college life, and start the semester proper several credits ahead.
For more information on the requirements of Liberty University's Summer Bridge Program, contact the school.
Loyola University of New Orleans Online BSN-DNP Program
Loyola University of New Orleans online BSN to DNP program enables students to work continuously through the masters and doctoral degrees, without having to be interrupted between degree levels to re-enroll. In order to apply, candidates must have already earned their BSN. The program aims to help nurses prepare for potential roles as nurse practitioners.
Additionally, students might pursue a Family Nurse Practitioner concentration, if they're interested in primary care roles working with patients and families of all ages. The BSN-DNP program also aims to fulfill the education requirements nurse practitioner certification through the American Nurses Credentialing Center (ANCC) or the American Association of Nurse Practitioners (AANP).
And because the program is offered online, students may accomplish all this while still serving their patients every day on the job! For more information, contact Loyola University of New Orleans.
Maryville University MSW Bridge Program
Maryville University offers a Social Work Bridge Program. Qualified seniors majoring in Sociology (or double majoring in sociology and psychology) are eligible to apply. If they are accepted, they could enroll in the bridge program and earn up to 12 credits in the Saint Louis University MSW program prior to graduating from Maryville.
Students must meet minimum GPA and course requirements both for Maryville's bridge program and for SLU. In order to participate, students must receive a conditional preliminary admission to SLU's MSW program.
George Washington University School of Engineering and Applied Science Bridge Program
The George Washington University School of Engineering and Applied Science (SEAS) offers a bridging program for non-native English speakers who have been accepted into one of their programs. The SEAS Bridge Program is aimed primarily at students whose acceptance is conditional pending passing TEOFL or IELTS scores.
As such, this bridge program primarily serves non-native speakers from non-English speaking countries who are working to earn their degree in the United States. It's offered through an arrangement with Georgetown University's EFL program, and aims to help conditionally accepted students prepare for their TOEFL and IELTS.
This bridge program may have unique application requirements and deadlines since it is designed around the needs of foreign students. These prospective students may have additional student visa requirements and other special considerations.
Learn More About Bridge Programs
Think a bridge program might be a good option for you? Find out more by reaching out to the schools you're considering. Think about your motivations for wanting to attend a bridge program—for continuing to earn another degree, transitioning to college life, language help, or something else—and talk to the schools you think you want to attend to learn about the programs they offer, to support those goals.
---
[i] bls.gov/ooh/community-and-social-service/social-workers.htm#tab-4 [ii] bls.gov/ooh/community-and-social-service/mental-health-counselors-and-marriage-and-family-therapists.htm#tab-4 | bls.gov/ooh/life-physical-and-social-science/psychologists.htm#tab-4