185 Sponsored Online Programs Available
EducationDynamics maintains business relationships with the schools it features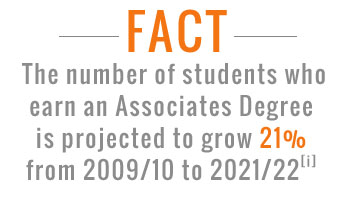 Online Associates Degree, Online AA Degrees
When it comes to college options online associates degrees, also known as AA Degrees, AAS Degrees or AS Degrees, have been growing in popularity. The number of college students who earned associates degrees grew by more than 49%, between 1996/97 and 2009/10. It is also projected to grow another 21% from 2009/10 to 2021/22.[i]
Why are associates degrees making such a strong statement with prospective students? The current job market is one influential factor. According to the BLS, associates degree programs may prepare graduates for some of the country's fastest growing positions in the healthcare and social assistance industry. This industry is expected to account for 846,800 of the 1.0 million new jobs, most of which could require an associates degree. Much of this growth is driven by registered nurses, among other professions. [b]
What is an Associates Degree?
Let's start at the beginning. Associates degrees are typically 2-year programs, and serve one of two main purposes. It can either be earned as a career preparation degree or as the first half a bachelor degree. Depending on the program and how it's structured, an associates degree may require successful completion of between 60 and 120 credits of coursework.
Types of Online Associates Degrees [ii]
It's good to work out in advance what type of education you're seeking from an online associates degree program. As mentioned above, there may be two types of online associates degrees: occupational degrees or transfer degrees. These two types are the difference between an A.S. Degree and an A.A.S. Degree.
T he A.A.S. or Associate of Applied Science Degree is a technical degree. When you are enrolled in an A.A.S. program, you will likely start right away in classes of your area of interest. For instance, you might still need a few liberal arts classes to be a Computer Technician, but you will be taking computer classes as soon as you enroll.
These occupational degrees, rather than focusing on a broad education, might focus on teaching job-related skills so that students may be able to pursue a career immediately after graduation. These degrees are typically as follows:
Associate of Applied Science (also known as an AAS degree)
Associate of Applied Arts (also known as an AA degree)
Associate of Applied Technology (also known as an AAT degree)
Associate of Occupational Studies (also known as an AOS degree)
The A.S. Degree, or Associate of Science Degree, like it's counterpart the A.A. Degree are designed to transfer. This means any course credits that you take from an accredited school offering an A.S. might be designed to transfer over to a four year college to continue your education and pursue a bachelors degree or further.
What is the difference between an A.A. Degree and A.S. Degree you ask? This all really depends on your major. In the same realm of four year degrees, an A.A. Degree (Associates of Arts) falls mainly under the liberal arts such as English, History, Creative Writing, Philosophy etc. An A.S. Degree (Associates of Science) falls under, as its name suggests, anything in the math and science realm such as I.T., Engineering, Life Sciences, Physical Sciences etc. So it's not a matter of choosing and A.A. or A.S. degree, rather it is you choosing your subject of study.

Things to Consider When Choosing Online Associates Degrees
Pursuing one of many online associates degrees could be a great way to enhance your education and help you meet your career goals. When comparing online associates degrees programs, there are many things you may want to consider that could help you find the program that best meets your needs. We know this process can be a bit overwhelming, so to help get you started, here are some factors to might want to keep in mind during your search for Associates degrees at universities.
Online Accredited Associates Degree [iv]
You can think of looking into accreditation as your due diligence to help evaluate whether prospective schools or programs might meet the required standards for quality. You wouldn't buy a car or home without doing some research, the same idea should apply to investing in your education! Two primary types of accreditation you might run across are institutional and specialized. The type of accreditation you should look for may depend on your field of study. For example, the International Assembly for Collegiate Business Education (IACBE) accredits business programs at institutions—including associates degree programs. If you are checking what general accreditation a school might have, you will want to look at the regional accrediting organization. For instance, if you live in New York or New Jersey, it's the Middle States Commission on Higher Education (MSCHE). [vi]
How Much Money Will I Make With an Online Associates Degree?
According to the U.S. Census Bureau, associates degree holders earn $41,496 per year, on average. Your specific associate degree might be worth even more. Meanwhile, high school graduates earn nearly $6,240 less. On average, the difference adds up to about $520 per month.[c] And that figure doesn't even include the potential for raises and promotions that come with a college degree. It also doesn't factor in the job security, benefits, and career satisfaction that result from higher-quality jobs.
Which Growth Careers Might Require an Associates Degree?
According to the BLS[viii] positions such as occupational therapy are projected to grow at 30% or higher in the coming years. Also projected to grow are web developers, dental hygienists, vet technicians, clinical lab technicians, paralegals and legal assistants, radiologic techs, preschool teachers and diagnostic medical sonographers.
Helpful Resources for Choosing Online Associates Degrees
Now it's time to think about the resources you may need as you earn your online associates degree. It may be a good idea to create a check-list to address your different areas of concern. Some things to include depending on your situation may be: career assistance services, IT services, and online tutoring options. Also ask yourself some questions. Will you be able to access your professors outside of regular business hours? Is there an online library to serve as a research resource? You may want to contact prospective schools directly to get a better sense of whether or not they offer what you may need.
Great Student Support [vii]
It's definitely important to take a good hard look at whether the online associates degree programs that you're interested in may be helping students pursue their educational or professional goals. Some statistics you may be interested in include: retention rates, graduation rates, loan default rates, and job placement rates. Check out the U.S. Department of Education's College Navigator website[1] as well as the websites for your prospective colleges to access this information. Other factors to keep in mind could include:
Tuition costs
Types of financial aid that may be available
Student-to-faculty ratios
Transfer credit policies
If you plan on working as you earn your degree, you also want to make sure that you'll have the flexibility you need to fit your studies into your schedule. Online AA degree programs may provide flexibility that is ideal for students with work and/or family responsibilities. You do not need to spend time commuting to a campus and you can often do assignments and even the course itself on your own time.
At the end of the day, all you can do is finish your research—including talking to current students, if possible—to help determine which school offers the online associates degree that may best meet your specific needs and goals.
---
[ii]web.archive.org/web/20031207223626/ bls.gov/opub/ooq/2002/winter/art01.pdf [iii]blog.frontrange.edu/2012/09/26/a-a-vs-a-s-vs-a-a-s-what-associate-degree-should-i-get/ [iv]ed.gov/admins/finaid/accred/accreditation.html#Overview [v]chea.org/Directories/special.asp [vi]chea.org/Directories/regional.asp [vii] studentaid.ed.gov/sa/prepare-for-college/choosing-schools/consider#statistics [a] nces.ed.gov/pubs2013/2013008.pdf [b] bls.gov/opub/mlr/2013/article/pdf/occupational-employment-projections-to-2022.pdf [c] bls.gov/emp/ep_chart_001.htm [d] ed.gov/about/offices/list/ous/international/usnei/us/edlite-structure-us.html [viii] bls.gov/ooh/occupation-finder.htm
[1] Education Dynamics is a private company that is not affiliated with or endorsed by the U.S. Department of Education.