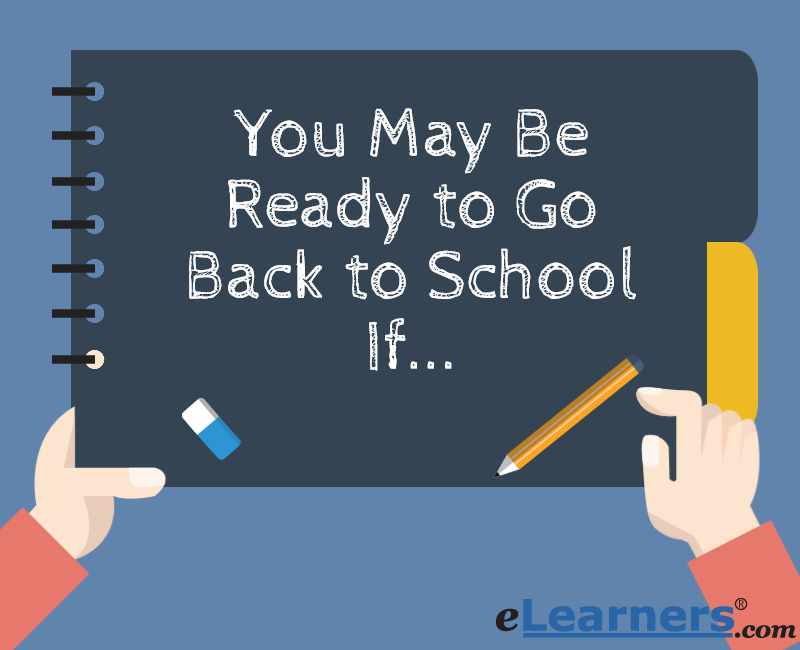 Traditionally, August is the month for "Back to School" preparation. Every year, millions of kids and parents welcome the first day of school by shopping for new clothes, new shoes, and backpacks filled with fresh supplies. As moms and dads wave good-bye from the bus stop, many think about going back to school themselves.
One of the greatest benefits of online education is that, in most cases, the "Back to School" vibe is available all year round. Many online schools run on accelerated semester schedules. So you don't have to wait until next August, if you're ready to start school now. In fact, it's never too late or too early to finish what you started.
The following indications are good signs that you're ready to pursue an online degree:
You have a clear understanding of what it is you want to accomplish, and you know that earning a degree will help you achieve that goal.
If you know that you can't qualify for a pay raise or move into a management role without a bachelor's degree, going back to school is a smart decision. However, if you are looking to strengthen specific professional or technical skills (say, project management skills or learning to program in JavaScript), you may not need a full, 4-year degree. A single course or a certificate program might meet your professional needs.
Remember, if there is any doubt as to why you need this degree, you might start to falter when courses are difficult. Without a clear objective, you'll question your decision and your motivation will suffer.
Your employer offers tuition reimbursement as an employee benefit.
For some reason, some companies don't advertise their tuition assistance programs, so it's up to you to find out if one exists at your workplace. Factors to consider:
How much they will pay. IRS regulations stipulate that employers may provide an employee with up to $5,250 per year, tax-free. Additional compensation will be taxed, so it's safe to assume your employer will not exceed that amount. But you never know!

What they will pay for. Does tuition assistance apply to your application fee or other costs? In addition to tuition and fees, your company might even pay for textbooks and other related course materials.

Type of education. Some companies will pay 100% of the costs towards a degree or certification, but only 50% for personal interest courses. Make sure to ask!

Type of institution. Typically, employers will verify that the institution you attend is accredited by an accreditation agency recognized by the United States Department of Education or the Council for Higher Education Accreditation (CHEA.) These are the only two organizations authorized to recognize accrediting agencies.

Your grades. Find out how grades may affect your level of coverage. Your employer may foot 100% of the bill if you get an A, 90% if you get a B, and so on and so forth. Usually a "C" or better is required to be eligible for tuition reimbursement.

When they will pay. Determine whether your employer will pay up front, at the start of the semester, or if you have to come up with money for tuition first, and then wait to be reimbursed after you receive your grades.

Field of study. If you work at an advertising agency, it's highly doubtful they will pay for a degree in nursing. Most likely, you will have to study something relevant to your current job or future role.

Length of employment. Thinking about earning your degree and then immediately quitting? Think again. Your employer will generally require you to be employed for a given length of time after completion of the degree. If you leave before that time, you may have to pay back any tuition or fees that were provided to you.
You have thought about the short-term and long-term financial impact of going back to school to earn your degree.
A college degree doesn't come cheap. But don't let the price tag of a college education stand in your way. Look at your personal budget and examine how paying for school may affect you and your family over the next few years. The flip side of this is to also think about your potential for increased earnings or job opportunities after you complete your degree. Going back to school is literally an investment in yourself.
You have the support of your loved ones.
Make sure you talk with your family about why you are returning to school, and about how things might be different around the house. Changes may include: increased chores for kids, rotating meal preparation responsibilities, guaranteed quiet time to study in the evenings, etc.
You understand the necessary time commitment that is required.
The general rule of thumb is that a 3-credit college course will require, on average, 10 to 12 hours per week. With this figure in mind, you need to be realistic about your schedule and your motivation. Can you find 12 hours after dinner and on the weekends? Will you actually get up early to complete your assignments? Are you willing to miss your favorite TV show, if you're up against a deadline?
You see yourself as being in control of your future.
Do you make things happen, or do things happen to you? There is a psychological concept that describes decision-making ability. It's called "locus of control." Students with an internal "locus of control" believe that their actions (such as studying on a regular basis) result in receiving A's and B's. Students with an external "locus of control" believe that their C's and D's were determined by forces beyond their control (such as an unfair professor.) If you identify with the former example, and you're willing to take responsibility for your learning, you are ready to go back to school.