Unfortunately, it's easy to overlook your local public library as something that isn't as relevant to your life because of modern technology. However, the library has access to resources, materials, and services that even your smartphone may not be able to offer. These resources can help you learn, study, relax, and become a more well-rounded person.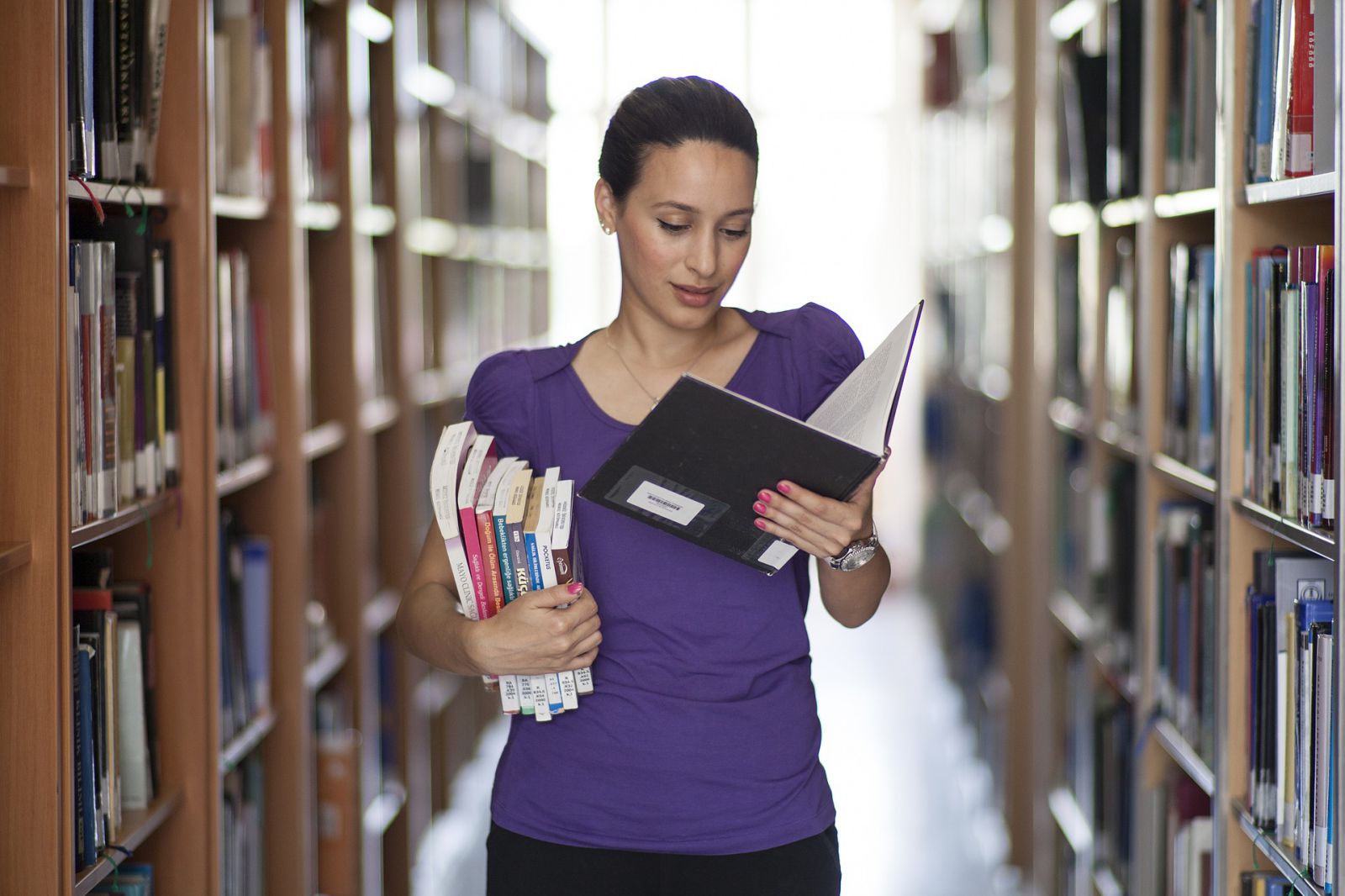 Did You Know?

There are an estimated 119,487 libraries across the United States.
12 Reasons Why You Should Use Your Local Public Library
Though you may think your library isn't attracting many guests, in reality it is busy helping many students, teachers, parents, and every member of your community with a variety of tasks.
One of the most valuable ways your local public library can help you learn or study is by simply providing a safe, quiet place for you to perform your studies—but not completely quiet. As recent research shows that a moderate amount of ambient noise can improve your performance on creative tasks, there are enough distractions at your library that may actually help you study.
Here are just 12 reasons why you shouldn't overlook your local public library as a valuable resource to help you pursue your goals, be they earning a degree or just enriching yourself. 
Reason #1: Access to Computers
Your local public library offers free access to computers and the Internet. This can be especially helpful to those in a pinch in case your tablet has died and you need to send out an assignment or if you need to access some programs, such as word processing, that aren't available on your phone.
Reason #2: Access to Resources
Your local public library has a number of resources, some of which you may not have thought about. For instance, many libraries have subscriptions to services or paywall content (papers and magazines that you need to pay to access).
Some of the most common are academic journals that could be useful while researching papers or projects for your classes. Other libraries may have online subscriptions to Consumer Reports and other materials that can help you outside the classroom.
Reason #3: Access to Events and Groups
Libraries aren't just a hub of knowledge, they're also a hub of activity. All types of groups meet at local libraries because often, the rooms are free to rent as long as they are reserved well enough in advance. In addition, your local public library is easy to get to for many people, with bus stops or other public transportation nearby.
Some of the groups that meet at libraries include:
Networking groups
Book clubs
Writing groups
Reading groups for kids and teens
Afternoon movies in the summer
Activity groups (knitting, bridge, chess, and others)
Check your local library for a list of upcoming events and group meetings.
Reason #4: English as a Second Language Classes
One of the most important types of classes available at the library is English as a Second Language (ESL) classes. Some libraries offer free classes for a number of students to attend. Other libraries have dedicated relationships with ESL tutoring groups. These groups offer one-on-one or small tutoring sessions; you just have to sign up for them and take an initial exam to assess your current skill level.
While there may be differences between the offerings, most libraries have some type of ESL classes or tutoring available. Plus, if you consider yourself a teacher and want to help others, consider earning an English as a Second Language degree.
Reason #5: Computer Classes
According to a Pew Research study in 2015, virtually all of the public libraries across the United States offer free public access to:
Computers and the Internet
Wi-fi
Technology training
Digital content
In fact, according to the same study, roughly 75% of the public says that libraries have been effective at helping learn how to use new technologies. That's because many libraries offer free computer classes, too.
Some libraries offer one-on-one computer training, usually with a librarian. Other libraries may offer small classes with a number of people and work on specific programs such as word processing, Excel, Google Docs, or others. Many of these are broken into beginner and intermediate level courses, but you should check with your local public library for specific offerings.
These classes could be beneficial if you're thinking about earning an online degree and don't feel totally comfortable using some computer programs. Don't forget, many librarians love to help. So if a computer class isn't offered, you may be able to ask a librarian for individual help.
Reason #6: Librarians
Yes, one of the most valuable resources in a library are the librarians themselves. They want to help you, whether it's finding sources for the research paper that's giving you trouble, sorting through the archives on local history, or even finding books, magazines, or DVDs that you need to distract you from your studies.
The librarians at your local public library are a wealth of knowledge and experience. This includes securing books from other libraries, knowing who are the best writers in your field, and connecting you with tutors or other people in your field of study.
Reason #7: Book Sales
Many libraries have regular used book sales open to the public. Often, these are collections of books from the library as books go out of circulation or from the massive amounts of donations that libraries receive.
These book sales could be a great opportunity for you to buy past best sellers that are still in good condition for a fraction of the cost. You could even find cookbooks, kid's books, or sometimes even textbooks to help you in your studies.
In fact, many libraries allow you to fill a plastic shopping bag and pay a flat fee that can range from $1 to $10, though some libraries and books may be more expensive.
Reason #8: Access to the Latest Magazines and Newspapers
While everyone knows about the massive amounts of books that your local public library has, some people overlook the amount of magazines and newspapers. These could be valuable resources for you to stay up-to-date on the latest local, national, and world news.
Also, many magazines are tailored to specific industries. This can include science magazines such as Popular Science or Wired, or financial magazines such as Entrepreneur or Forbes, or a number of magazines on just about any subject. This can keep you informed about the latest trends and best practices in the industry you're studying.
Reason #9: Rent DVDs
Yes, all the resources your local public library has can really help you with your studies. However, you'll need some time to yourself, which is why these DVDs can help distract you from your studies.
Plus, some fields and courses may have documentaries on specific events or subjects. These documentaries may give you a greater understanding of these events or people important to your studies, and can work in conjunction with books and other sources.
Reason #10: Find a Tutor
Need help with your studies? Many tutoring services operate in the library, and some even through the library itself. Most libraries have bulletin boards with flyers for local tutors offering services in specific fields or to specific age groups.
If you can't find a tutor for the specific class or field giving you trouble, you could always ask a librarian who may be able to connect you to someone who could help.
Reason #11: Access to Free Wi-Fi
People search for free wi-fi everywhere. They hang out in crowded coffee shops, use their personal hotspots, and even try to connect to the wi-fi on the train or in subway stations.
Therefore, the free wi-fi available at most public libraries alone makes it a worthwhile destination. Instead of buying a $5 coffee and hanging out in a noisy coffee shop where you might be lucky to get a seat, your local public library has desks, often plenty of seating, and free wi-fi. Plus, many have a number of outlets that you can use to charge all of your devices while you perform your coursework.
Reason #12: Access to Books at Other Public Libraries
More than likely, your local public library is part of a larger network of libraries, which means they have access to materials at each of those branches. All you need is your library card and you can request books, DVDs, academic journals, and hundreds of other learning materials.
Some libraries allow you access to sharing programs through the library's website, while others require you to go to your local library and make a request through a librarian. Check with your specific branch for the rules at your library.
How to Use Your Local Library Website
Many libraries, or library systems (which include a number of libraries in a geographic area, such as a city, county, or even state-wide system), allow you access to many of the library's resources even if the actual library is closed for the night.
Some of these resources include:
Download ebooks and audiobooks
Read and download digital magazines
Print free passes to local museums and venues
Listen to streaming music
Access children's research tools
Learn a language
Of course, not all libraries or library systems have all of these options available, though many have at least some of these services. Check with your librarian for all of the services available through the library's website.
What Are the Different Types of Public Libraries?
There are four main types of libraries:
Academic libraries: serve colleges and universities
Public libraries: serve cities and towns of all sizes
School libraries: serve students from Kindergarten to grade 12
Special libraries: serve specialized areas, such as hospitals, museums, the military, and the government, among others
Use Your Local Library's Resources to Pursue An Educational Degree
Whether you're pursuing an associate's degree, a bachelor's degree, or an online certificate, your local public library has the resources you need to pursue your degree. These resources, both through the physical library and the library's website can help you research for academic papers and projects, prepare for exams, and even distract you from your studies.
If you're undecided about what degree you want to pursue, browse all of the degrees available to you to find the perfect program for you. Or, consider earning your degree in library science to become a librarian yourself to help your community have access to all of these resources.