As a creative person, the last thing you want to do is "sell out" and work for the man. Your art is sacred and no one can out a price on it… until reality sets in and you realize "selling out" actually means "paying the bills." Luckily, there are a wide variety of careers that  may offer job stability and a decent paycheck, while still providing an outlet for creativity. The following creative careers match all of these criteria, stimulating both your creativity and your wallet.
Graphic Designer
Primarily, a graphic designer uses visuals to promote a product, service, or message. To be effective as a designer a good eye is essential but it also helps to have some marketing savvy, as designers often work to meet the specifications of communications or promotions teams. One of the great things about this career is that it is viable in several different settings including ad agencies, websites, print, in-house design departments, and freelance. Usually, a designer starts with a sketch of the layout and makes a mock-up for approval before developing a final product.
The Bureau of Labor Statistics (BLS) predicts that graphic design jobs will grow 7 percent from 2012 through 2022. Entry-level jobs commonly require a bachelor degree, but an associate degree might also be enough for employment. A strong portfolio of sample projects is essential, especially for freelancers, who are hired on the basis of past work. The annual median pay for graphic designers in 2013 was $44,150.[i]
Browse Online Graphic Design Degrees
Copywriter
Wander around the Web for a few minutes or pick up an ad and you'll see the work of a copywriter, who provides words that sell, promote, and convey a message. Like graphic designers, copywriters support a variety of industries, which may expand their employment options. In advertising and marketing, writers are in charge of putting together copy for ads, brochures, direct mail, product literature, and more. In public relations, writers write the copy that companies send out to clients, employees, and the general public. Other opportunities include writing Web copy, ghostwriting, and speech writing.
Today's writers are enjoying more assignments, thanks to the rise of social media and digital marketing.  Companies are developing more online campaigns, corporate blogs, and consumer communities - all of which require in-house or contracted copywriters. The projected job growth rate for writers is 3 percent from 2012 to 2020. The annual median pay for writer om 2013 was $55,940.  With this creative career, A bachelor's degree is generally required for a full-time job. Some copywriters have degrees in areas such as English, writing, journalism or communication. [ii]
Video Game Designer
Game designers create digital games for consoles, computers, and mobile applications. But you'll need more than technical skills to succeed in this field. While most designers do study software architecture and programming, many students also complete coursework in mythology and folklore, which helps them incorporate effective symbolism and historical motifs into their storylines. Designers also learn the fundamentals of animation and 3D content, allowing them to translate their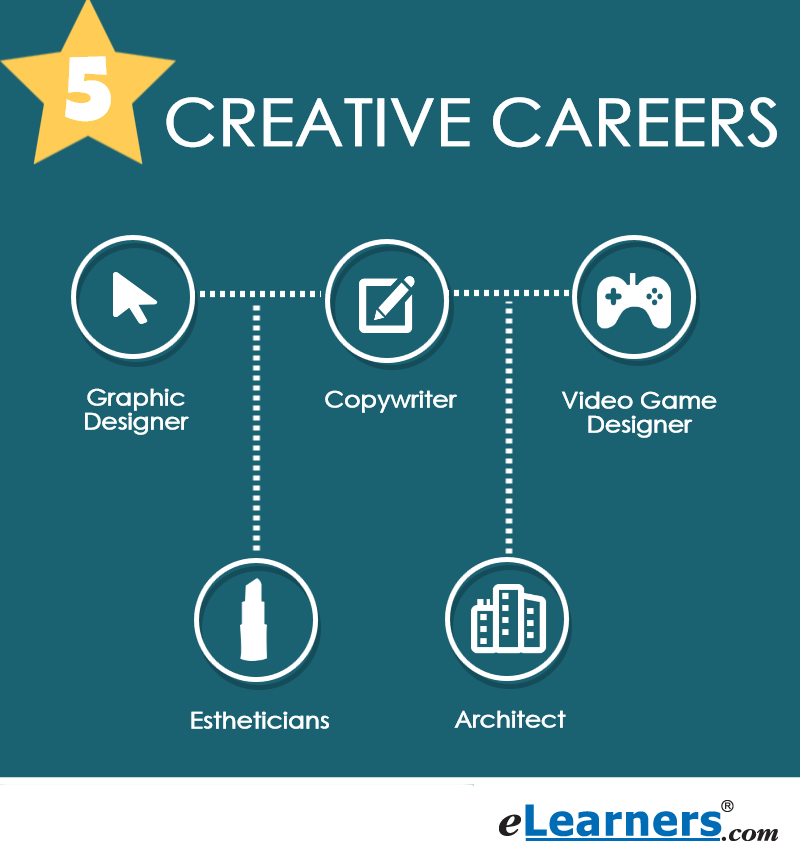 sketches into operational avatars and playing fields. Designers with a head for business might also choose to learn about project management or product promotion. 
Browse Online Video Game Design Degrees
Make-Up Artists & Estheticians
Make-up artists apply cosmetics to clients, and estheticians work to enhance the health and appearance of clients' skin, using facials, peels, hair removal treatments, and tinting procedures. Many cosmetology students are trained in both creative areas. An accredited vocational certificate or cosmetology degree helps these artists perfect their skills and qualify for necessary licensure, which varies by state. 
High-profile artists work in the entertainment world, applying make-up for movie stars, television actors, or stage performers. Artists can accent beauty or manufacture scars, bruises, and other special effects. More commonly, make-up artists and estheticians work for everyday clients, in the context of wellness spas or beauty salons. They may also be hired to help clients prepare for special events, like proms and weddings. Similar to graphic designers and copywriters, make-up artists build success based on reputation, so a good portfolio and a loyal clientele are essential.
Architect
Take a walk around your city or town and you're looking at the artwork of an architect. The job of an architect is to not only design buildings and other structures aesthetically, but to also ensure they're functional, economical, and safe. According to the Bureau of Labor Statistics, in 2012, there were around 107,400 architecture-related jobs in the U.S., mostly in architectural and engineering roles but also for residential and non-residential building firms as well as for government agencies. Many in the field are self-employed. [iii]
Architects tend to complete more formal schooling than some other creative careers. Five-year programs and master degrees in architecture are common credentials in the field. According to the BLS, the projected job growth rate for architects is 17 percent from 2012 to 2022. The annual median pay for architects is $73,090. [iii]
Browse Online Architecture Degrees
---
[i] bls.gov/ooh/arts-and-design/graphic-designers.html
[ii] bls.gov/ooh/media-and-communication/writers-and-authors.htm
[iii] bls.gov/ooh/architecture-and-engineering/architects.htm