The clock is ticking and you're ready to earn a livable wage. No matter what stage you're at right now, here's a list of some of the fastest tracks to a livable wage. But we're giving it to you straight here - fast doesn't always mean easy.
If you haven't earned a college degree, don't worry! There are still plenty of jobs out there where you can earn a livable wage. Check out the list below, broken into different categories, the median annual salary in 2016, and the requirements to pursue that career.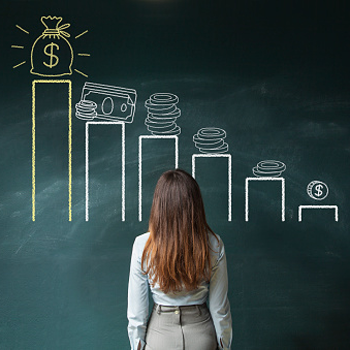 Earn a Livable Wage
Truth is, these tracks aren't always that fast either - especially not if you think fast means immediate. Many of these occupations involve some lead time including a few years of job experience and possibly a certificate or license.
Either way, these tracks don't involve earning a college degree.
Plus, we've only included jobs that come in at $45,000 median annual salary or higher according the United States Bureau of Labor Statistics (BLS), which is higher than the median annual salary for all jobs of $37,400 in 2016.
Budgeting and Expenses for Young Adults
For common expense numbers, we consulted the BLS website for their estimates on budgeting and expenses for those considered "young adults", or who are under twenty-five.
Keep in mind that these figures are based on national averages in 2014. Therefore, depending on where you live, especially in cities, your expenses would be higher.
Also, we can't help but notice that "other" and "entertainment" are barely enough to cover an iPhone, Netflix, and WiFi. So, if you want to go see a concert, go on a vacation, or even just see a few movies a year, your entertainment expenses could be higher.
Expenses
According to the BLS, housing alone accounted for about one-third of total expenses for young adults in 2014. Transportation and food costs were another one-third. Quickly, you'll learn that you can't have everything you want, which is another reason why it's important to earn a livable wage.
Technical Jobs
While, the jobs listed below don't require any college, as technical jobs they do require some related work experience or apprenticeship in order to achieve the median annual salary listed.
Most also involve working with your hands. So, if you don't mind getting them dirty, here are some fast tracks to turning that into a livable wage.
Boilermakers
As of May 2016, the median annual salary for boilermakers was $62,060. This salary gets higher when broken into their top industries, such as building equipment contractors or nonresidential building construction.
After an apprenticeship, of boilermakers usually assemble, install, maintain, and repair boilers, closed vats, and other large vessels or containers that hold liquids and gases:
Assemble
Install
Maintain
Repairi
Funeral Service Managers
Death is a booming business because it's inevitable and expensive to manage. With a median of $88,970 for 2016, Funeral Services Managers have a low barrier to entry and a healthy salary. ii
The Business of Dying

The average funeral runs about $7,000 to $10,000.
These workers plan, direct, and coordinate the services or resources of funeral homes. This means determining prices for services or merchandise and managing the facilities.
Similar to other technical jobs, Funeral Service Managers usually work as an apprentice first to get a feel for the business. However, there aren't many other requirements to enter the field.
Transportation Careers
We've all got somewhere to go and need a way to get there. Some livable wages are the natural consequence of this need as airline pilots to subway conductors fall under jobs with a livable wage.
Airline and Commercial Pilots
In 2016, Airline and Commercial Pilots earned a median annual salary of $105,720.iii Of course, pilots must have a commercial pilot's license and usually need at least a high school diploma or equivalent.
The most common path to becoming a pilot is to complete flight training with independent FAA-certified flight instructors or at a school that offers flight training.iv While this isn't a day-after-high-school-graduation opportunity, it certainly doesn't require a college degree.
Subway and Streetcar Operators
Whether in the city or in the suburbs, another popular way we get around is via subway or streetcar. Nationwide, subway and streetcar operators earned a median annual salary of $62,380 in 2016.v
These jobs involve technical precision required to drive a subway train or streetcar, monitor its speed, and engage with the public. In fact, according to O*NET (an online career database), employees in these positions need only a few months to less than a year of experience to acquire these positions after high school.vi
Transportation, Storage, and Distribution Managers
For those who are more backroom types, Transportation, Storage, and Distribution Managers are the workers behind the scenes who organize and orchestrate the routing process for various modes of transportation within a defined territory.vii
Employees in this career usually have on the job experience and maybe some technical or vocational training.vi Still, if you're into organization and logistics and you want to hit the workforce right out of high school and start earning your way up the ladder, this is a path that may lead in a prosperous direction.
In fact, the median annual salary in 2016 was $89,190.viii
Information Technology Careers
Almost everything we do involves tech in some way, shape or form. Below are some examples of how ceritifcations in IT (Information Technology) can pay off. 
Three of the available IT certifications are listed below with their potential salaries based on Global Knowledge's 2017 IT Skills and Salary Survey.
Citrix Certifications: $102,365
Project Managment Professional (PMP) Certifications: $119,349
Amazon Web Services (AWS) Certified Solutions Architect Associate: $125,091
Here's the catch: The IT certification track isn't particularly fast. In fact, most certification programs, inlcuding the ones cited here, require at least a few years of work experience in the field first along with corporate scholarship.
Though a college degree isn't required, to get these IT jobs and that corporate sponsorship, workers will likely need a degree beyond a high school diploma.
Other Careers with a Livable Wage
These carefully chosen jewels hold potential for moving up fast from entry level, don't involve danger, license or certifications, and require little experience.
Often, these roles are more office-oriented and serve customers during regular business hours. They may be great opportunities if you hate getting your hands dirty or potentially pulling a muscle.
Claims Adjusters, Examiners, and Investigators
Even though they work in the insurance industry, these job titles don't always work directly for an insurance company. For instance, adjusters often inspect property damage or personal injury to get an expert evaluation of a claim's validity and value.
Therefore, they need to be impartial. In fact, they're called adjusters because part of their job pairs them with examiners to negotiate (adjust) the claim between the policyholder and insurance company.ix
In 2016, the median annual salary for Claims Adjusters, Examiners, and Investigators was $63,670. x 
Postsmasters and Mail Superintendents
Postmasters and Mail Superintendents earned a median annual wage of $71,980 in 2016.xi According to O*NET online, they only need a few months (or at most less than a year) of work experience to reach this level of employment. xii
These workers:
Monitor employee work schedules and attendance for payroll purposes
Organize and supervise activities, such as the processing of mail
Resolve customer complaints
Direct and coordinate operational, management, and supportive services
Property, Real Estate, and Community Association Managers
The median annual salary for Property, Real Estate, and Community Association Managers was $57,040 in 2016. In this career, the lowest 10% earned less than $28,260, and the highest 10% earned more than $126,390. So, there's a big difference between compensation for rookies and those who excel in these jobs.xiii
This career path is an exception to our claim about time commitment. Sometimes, long workdays can be common for these jobs because they attend evening meetings with residents, property owners, community association board members, or civic groups.
Some apartment managers are even required to live in the apartment complexes where they work so that they are available to respond to emergencies quickly, though as with all positions, each of these roles have different benefits and requirements.
Real Estate Brokers
Real Estate Brokers had a median annual salary of $79,340 in 2016.xiv Still, the highest 10% in this career category earned more than $162,260. So, there's even more room to grow your salary in these positions. That's because their income is largely based on commissions of brokered sales.
These jobs usually require good communications skills because most of the work involves engaging with clients on both sides of a property sale. That may include drawing up contracts, negotiating the prices and terms, and supervising the process.
These jobs usually involve plenty of emails, phone calls, texts, and face-to-face meetings.xv It can also include showing homes at night, on weekends, and during holidays.
One of the best parts is that real estate brokers can open up their own office.xvi So, freedom to work for yourself, and obtain a broker's license, only requires 1 to 3 years experience and additional courses.
Sales Agents of Advertising, PR, and Related Services
Advertising sales can be a great career for those with high-energy because they have unlimited potential for their salaries if they work for a commission.xvii
In this compensation structure, the sales person gets a percentage of each sale, but the salary largely depends on how many sales they make.
In May 2016, the median annual wages for advertising sales agents in the industry of ads, PR, and related services was $58,060.xxvii However, this could be much higher or lower depending on your ability to make sales and hit sales targets and quotas.
In fact, according to the BLS, an increasing amount of advertising is expected to be concentrated in digital media, including online video ads, search engine ads, and other digital ads intended for cell phones or tablet-style computers. As a result, employment of advertising sales agents is likely to increase in Internet-focused companies.xviii
Detectives
The BLS distinguishes between two types of detectives and their median annual salary in 2016 varied:
Private Detectives and Investigators: $48,190xix
Detectives and Criminal Investigators: $78,120xx
There are several paths to detective work. In fact, in order to become a Private Detective you may only need a high school diploma, several years of experience, and a license. However, the requirements vary from state-to-state.xxi
If you're interested in the traditional route as a Detective for a Police Department, the requirements vary as well. Some states require only a high school diploma, while others require a college degree. Either way, you'll have to go through the police academy and meet rigorous personal and physical qualifications.
Supervisory Careers
In this category you'll find first line supervisor jobs that generally require less than five years on the job experience to reach the median salary level listed. So, before you get excited about supervising others, imagine yourself as one of them for a bit less than five years first.
First-line Supervisors of Correctional Officers
Supervisors of correctional officers had a median annual salary for May 2016 of $60,560. While there's no need for a certificate, typically the position requires a bit less than five years on the job experience as a corrections officer.xxii
Fire Fighting and Prevention First-line Supervisors
According to the Bureau of Labor Statistics, to become a Fire Fighting and Prevention First Line Supervisor only requires a few years of experience and a certificate. Plus, the median annual wage in 2016 was $74,540.xxiii
First-line Supervisors of Mechanics, Installers, and Repairers
Other careers in this supervisory category are sometimes more technical. For instance, First-Line Supervisors of Mechanics, Installers, and Repairers act as managers over others doing mechanical work.
Therefore, they usually have a strong understanding of mechanics. Their median annual salary was $63,540 in 2016 and requires no certification or licensure beyond high school and less than five years of experience.
Considering that most high schools offer some sort of course in mechanics, this career path seems ideal for someone who develops that interest early on and finds their niche in mechanical techniques.
Supervisors of Non-Retail Sales Workers
The most prosperous of the supervisory pack isn't so technical. In fact, if you're into budgeting, accounting and personnel work, becoming a first-line supervisor of non-retail sales workers earned a median annual wage of $85,830 in 2016.xxiv
Just like several others in this category, there's no requirement for certification or license and usually, candidates need less than five years of experience.xxv Beyond enjoying numbers, this line of work is mainly about communication.
One of the main objectives in these positions involve keeping sales goals in mind while also managing and coordinating the salespeople set to achieve these goals. So, much like a coach watching players in the game, these workers have an eye on the prize the entire time they supervise.xxvi
Earn a Livable Wage or Pursue a College Education
While the careers mentioned above don't require a college education, earning an associates degree or a bachelor's degree may provide you the skills and knowledge to pursue other careers, with higher earning potential.
Check out some of the sponsored listings on this page to learn more about specific programs. Or, complete the form at the top of the page to get matched to the perfect program for you.
---
[i] bls.gov/ooh/construction-and-extraction/boilermakers.htm#tab-2 [ii] bls.gov/oes/current/oes119061.htm [iii] bls.gov/ooh/transportation-and-material-moving/airline-and-commercial-pilots.htm [iv] bls.gov/ooh/transportation-and-material-moving/airline-and-commercial-pilots.htm#tab-4 [v] bls.gov/oes/current/oes534041.htm [vi] onetonline.org/link/summary/53-4041.00 [vii] onetonline.org/link/summary/11-3071.01 [viii] bls.gov/oes/current/oes113071.htm [ix] bls.gov/ooh/business-and-financial/claims-adjusters-appraisers-examiners-and-investigators.htm#tab-2 [x] bls.gov/ooh/business-and-financial/claims-adjusters-appraisers-examiners-and-investigators.htm [xi] bls.gov/oes/current/oes119131.htm [xii] onetonline.org/link/summary/11-9131.00#Education [xiii] bls.gov/ooh/management/property-real-estate-and-community-association-managers.htm [xiv] bls.gov/oes/current/oes419021.htm [xv] onetonline.org/link/summary/41-9021.00 [xvi] bls.gov/ooh/sales/real-estate-brokers-and-sales-agents.htm#tab-4 [xvii] bls.gov/ooh/sales/advertising-sales-agents.htm#tab-5 [xviii] bls.gov/ooh/sales/advertising-sales-agents.htm#tab-6 [xix] bls.gov/ooh/protective-service/private-detectives-and-investigators.htm#tab-5 [xx] bls.gov/ooh/protective-service/police-and-detectives.htm#tab-5 [xxi] bls.gov/ooh/protective-service/private-detectives-and-investigators.htm#tab-4 [xxii] bls.gov/ooh/about/data-for-occupations-not-covered-in-detail.htm#331011 [xxiii] bls.gov/ooh/about/data-for-occupations-not-covered-in-detail.htm#331021 [xxiv] bls.gov/oes/current/oes411012.htm [xxv] bls.gov/ooh/about/data-for-occupations-not-covered-in-detail.htm [xxvi] onetonline.org/link/summary/41-1012.00