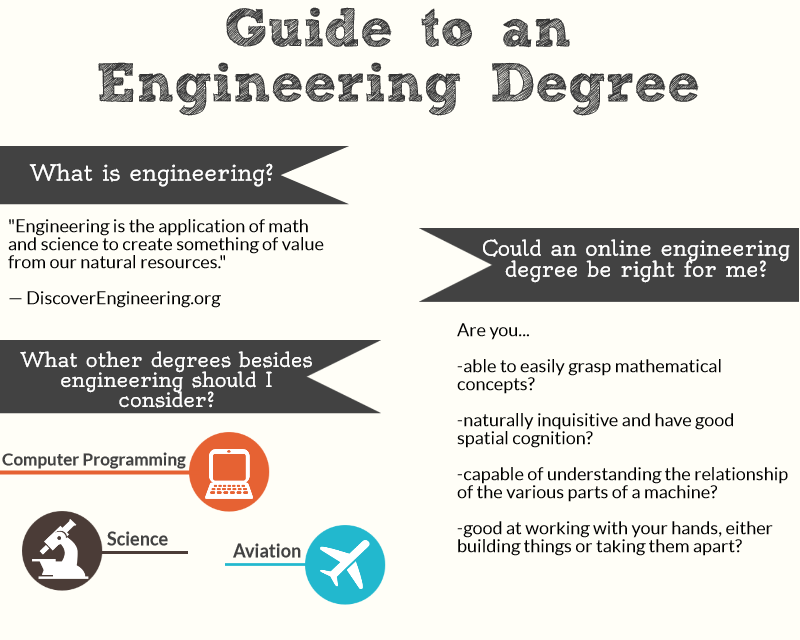 Engineers are important to every industry and their work impacts every part of daily life, from bridges to software and lightbulbs. If you are considering an engineering degree online to jump start job opportunities or even change careers entirely, you are in the right place.
Since we know you have lots of questions about going back to school online, we have written this quick, easy-to-read "Mini-Guide to an Engineering Degree Online" to help give you all the facts that you need to make the right choice for you.
Browse Online Engineering Degrees
1. What is engineering about?
"Engineering is the practical application of science and math to solve problems, and it is everywhere in the world around you. From the start to the end of each day, engineering technologies improve the ways that we communicate, work, travel, stay healthy, and entertain ourselves." [1]
2. Is an online engineering degree right for me?
Think about an online engineering degree if:
You are able to convey your thoughts both verbally and in writing, so that others can readily understand you.
You are able to easily grasp mathematical concepts and apply your knowledge to solve mathematical problems.
You are naturally inquisitive, always figuring things out, thanks to good problem-solving skills.
You are organized and determined, and are successful with long-term projects.
You can usually understand the relationship of the various parts of a machine as it functions with the whole.
You enjoy learning how things work, such as airplanes, suspension bridges, or telephones.
You consider yourself to be innovative, practical, with good foresight.
You enjoy working with your hands, either building things or taking them apart.
You have good spatial cognition, i.e. you can look at three dimensional objects, mentally manipulate them, and be able to accurately put them in perspective.
You like working within a team and collaborating with others and are able to recognize the value of others' work.
3. What other degrees besides engineering should I consider?
If you're not quite certain an online engineering degree is for you, you may want to consider other fields of study that are closely related to engineering.
Aviation

Gain a thorough understanding of the aviation industry; learn about aerospace development and its role in society. Develop applicable leadership and management skills to advance in the field of aviation.

Computer Science

Focus on the scientific and conceptual aspects of computing, through the study of programming languages, algorithms, compilers, and operating systems.

Computer Engineering

Pair the fields of electrical and electronics engineering and computer science, focusing on the integration of hardware and software, and the design and implementation of computer systems for use in other systems.

Science

Learn and apply the scientific process and build a knowledge base to provide solutions to a variety of problems; practice various research methods and develop the understanding of how to best utilize methods to ensure the precision of the results.

Software Engineering

Learn how to design, develop, construct, and test complex software systems in order to provide solutions to meet specific needs.
4. What concentrations exist for an engineering degree?
Most schools of engineering will allow you to choose a specialization — a focused area of study within the engineering degree.
Civil Engineering

Develop advanced knowledge in the fundamentals of mathematics and science in order to apply those skills to plan and design public and private structures and facilities, while understanding the impact of those structures on the greater community and society.

Electronics Engineering

Learn about developing new innovations and improving existing technology to better meet both organizational and societal needs concerning communications, computer hardware, etc.

Energy Utility Technology

Focus on being able to apply scientific knowledge specifically to the energy utility industry, including the planning, construction and maintenance of operations distributing many important resources such as natural gas, electricity, water, and telecommunications.

Electrical Engineering

Understand the core fundamentals of electrical and electronics systems in order to effectively research, design, develop and maintain them.

Engineering Management

Develop expertise in business-related subjects in order to strengthen skills for use in a managerial or executive position within all fields of engineering. Learn how to motivate others and facilitate communication clearly and effectively between engineers and non-engineering personnel.

Environmental Engineering

Focus your studies on sustainability, the environment, and the use of our natural resources. Master the management of the effective use of resources, understand the vulnerability and nature of ecosystems and how engineering is used to negotiate the needs of nature and humankind.

Fire Protection Engineering

Learn the fundamentals of fire and about the technology and research utilized to maintain, control, and protect individuals from the fire and fire-related incidents. From the architecture design of fire escape plans to the development of flame-retardant materials, gain the skills to advance in the field of fire protection engineering.

Mechanical and Aerospace Engineering

Study the concepts related to the research, design, and construction of the vehicles and living spaces used in space or for travel through planetary atmospheres.
5. What are typical courses in an online engineering degree?
While the exact curriculum requirements will vary among schools, here is a partial list of some of the courses you might take in an online engineering degree:
Applied Computational Aerodynamics
Chemical Process Design
Civil Engineering Materials
Dynamics and Vibrations
Electrical Circuits and Signals
Electromagnetic Fields and Waves
Energy Systems
Engineering Management
Environmental Process Engineering
Fluid Mechanics
Instrumentation and Sensor Technology
Introduction to Algorithms and Data Structures
Introduction to Engineering
Mechanics and Science of Materials
Multivariate Calculus
Robotics and Intelligent Systems
Semiconductors and Semiconductor Electronics
Statistical Methods for Data Analysis and Uncertainty Modeling
System Architecture and Design
Thermal Analysis and Heat Transfer
Thermodynamics
Water Supply and Wastewater Treatment
6. What skills will I learn in engineering degree online?
When you have completed your engineering degree, you will likely have gained many of the following skills and competencies:
Ability to balance issues of costs, benefits, safety, and quality using one's professional judgement
Ability to maintain a sound theoretical approach in enabling the introduction of new technologies
Able to be both creative during the design process and analytical in the formulation of solutions to problems
Strong analytical aptitude
Careful attention to detail and willingness to think "outside the box"
Excellent problem solving and pattern intelligence skills
Familiarity with industry-specific technology, used with discerning judgment

Well organized and able to perform well under pressure

Ingenuity and persistence
Skilled in oral speaking and presentation, as well as formulating persuasive arguments, especially when communicating technical information to non-engineers
Understanding of the economic, social, and environmental aspects of or impact upon a problem
Understanding of the impact of engineering solutions upon one's community and society as a whole
Willing to consistently use a systematic, iterative, approach to problem solving
 
 
 
 
 
 
 
7. What kind of employers hire engineering degree holders?
As a career-oriented major focusing upon the application of mathematics and science to develop new and improve existing technologies and services, engineering majors are needed in a variety of industries, such as:
Automotive manufacturers
Colleges and universities
Computer and I.T. vendors
Consulting engineering firms
Defense manufacturers
Electric and gas utility companies
Federal government agencies including:

National Aeronautics and Space Administration (NASA)
Department of Defense, Veteran's Administration
Department of Energy, Environmental Protection Agency (EPA)
Federal Aviation Administration (FAA)
Military branches

Hardware and software manufacturers
High-tech companies
Hospitals and healthcare facilities
Manufacturing plants
Power plants, power stations
Research institutions and laboratories
Software vendors
Telecommunications companies
Transportation service companies, such as airlines and railroads
8. What careers will I qualify for with an engineering degree online?
Here is a sampling of jobs you for which you may be qualified with a degree in engineering. Use this for inspiration, remembering that this may represents some, but certainly not all, of the careers you can consider.
Possible Job Titles for Associate's or Bachelor's Engineering Degree Holders/Entry Level Job Titles
Assembly Engineer
Associate Mechanical Engineer
Biomedical Engineering Intern
Cost Engineer
Design Engineer
Development Engineer
Integration Engineer
Junior Packaging Engineer
Process Engineering Specialist
Product Development Design Engineer
Telecommunications Field Engineer
Test Engineer
Quality Control Engineer
Water Test Process Engineer
Possible Job Titles for Advanced Degree Holders
Additional experience is typically required for the positions in this list.
Chief Engineer
Director of Design Engineering
Electronics Design Engineer
Engineer Division Head
Engineering Project Manager
Full Professor of Engineering
Head Reliability Engineer
Machine Design Engineer
Operations Supervisor
Senior Hardware Systems Engineer
Senior Health and Safety Engineer
Software Design Engineer
Senior Nuclear Technical Training Instructor
Structural Design Engineer
---
[1] ece.gatech.edu/academics/outreach/engineering.html