Many students may not realize the power of a politely, concisely, and strategically written financial-aid appeal letter. If you're serious about attending the school but the money they offered you is less than ideal, now is the time to begin the appeals process. Your first step should be to check with the college's financial aid office for specific appeals requirements, deadlines, and forms.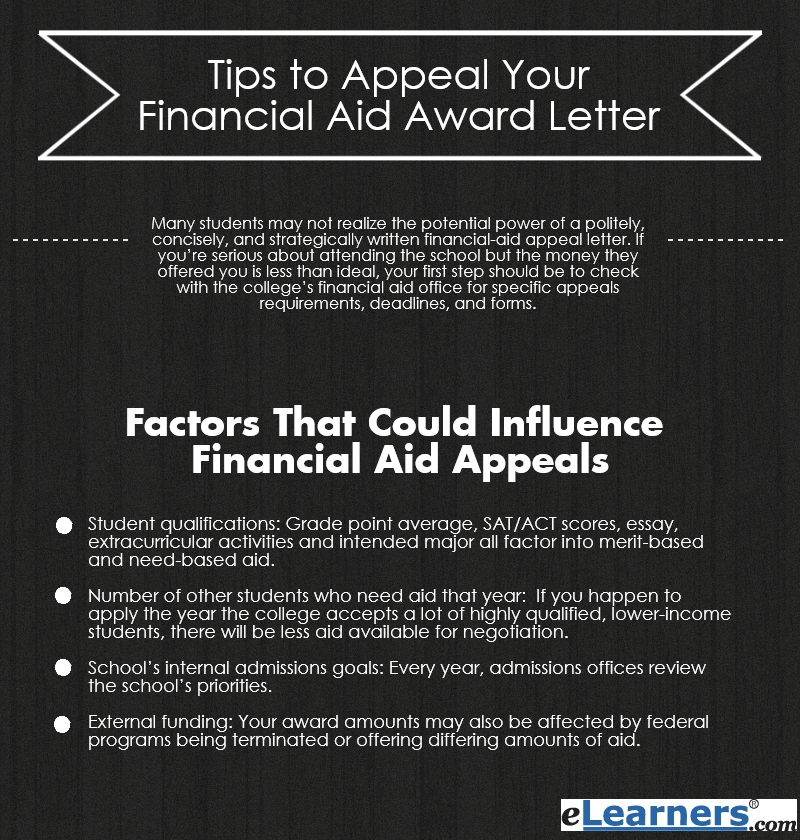 Lower endowments or state budget cuts are some external factors that may cause financial aid committees to decide on a lower amount of aid than you desired or needed. But being proactive with an appeal letter can get the committee to rethink its original offer. Average results vary, but that is how much extra gift aid one of his clients was able to get for her freshman year, after a successful appeals process with Pace University.
"I felt the (initial) award was a slap in the face," says Ramsdell, whose firm has helped thousands of families with their financial aid needs, including writing appeals letters. "It was inappropriate because we had a single-parent low-income scenario … the student's father lost his wife a few months before he contacted us."
Let's hear from the experts. Here are some things you may need to know about this little-known financial aid strategy.
Factors That Influence Financial Aid Appeals
While size and prestige have an effect on sticker price, they are not necessarily dominant factors in whether your appeal goes through or not. "While it is true that you may be competing against students at the top of their class at Harvard, a community college may have less financial aid available or more qualified applicants in a given year," says Rod Bugarin, a financial aid consultant at Aristotle Circle. His example is just one of the many factors that determine your appeals probability:
Student qualifications: Grade point average, SAT/ACT scores, essay, extracurricular activities and intended major all factor into merit-based and need-based aid.  If you have good grades or high standardized test scores, you may be in a better position to appeal your financial aid package.
Number of other students who need aid that year: In a way, financial aid is also awarded on a bell curve. Every year, the undergraduate and graduate student body shifts demographically, as well as their respective Expected Family Contribution (EFCs).  If you happen to apply the year the college accepts a lot of highly qualified, lower-income students, there will be less aid available for negotiation.
School's internal admissions goals: Every year, admissions offices review the school's priorities. For example, are they trying to encourage more minority and low-income students into this year's class? Or are they refocusing their endowments on increasing the number of science, technology, engineering, and math (STEM) majors enrolled?  If you represent a group the school is trying to recruit, your appeal letter may have more weight. Note that schools don't usually advertise their admissions goals.
External funding: Your award amounts may also be affected by federal programs being terminated or offering differing amounts of aid.
How to Properly Word Your Appeal
Financial aid offices don't play popularity games the way that the folks reading your admissions essays might. "Don't bring other offers into the mix," says Bugarin. "Most people assume that if a school sees that you got other offers they'll work to match it."
This only works for certain types of students, such as Division I athletes and development candidates (students from wealthy families who, based on financial means and history of philanthropy, are likely to donate to school). Otherwise, the competition method can be counterproductive.
"In most cases this just shows the school that you are considering other schools and only basing your decision on money." The solution? Remind the financial aid office how much you truly want to attend that school, and add non-financial reasons why it's your dream school.
Write a Letter
While emails and on-campus visits are common in today's admissions process, one thing remains old-fashioned: Write a letter to appeal your award letter, suggests Ramsdell. The credo "get it in writing" applies perfectly to financial aid. It also buys you time to send back a well-crafted reply if a denial email arrives in the mail.
The key here is to supply a proper paper trail (to and from the school). If there was a birth in your family, provide a copy of the birth certificate. If you (or your parents) recently divorced, send a copy of the divorce decree or filing. Be sure to check with the school's financial aid office for its appeals process (which differs from school to school). For example, some schools prefer that you address your letter to an anonymous financial aid committee, versus the name of a financial aid director. Others may be willing to provide the name of the head of the committee overseeing these letters.
How Satisfactory Academic Progress Affects Your Appeal
Satisfactory Academic Progress (SAP) is a new, grades-based policy to maintain eligibility for student financial aid. Federal regulations require all Title IV schools to use SAP standards to monitor student progress toward a certificate or degree program. Students who don't meet these standards are typically placed on financial aid probation or suspension.
It's not just about grades, either – time is a factor as well. If you're a financial aid recipient, you must maintain SAP in three categories:
• Cumulative Grade Point Average – For example, if your scholarship requires you to earn at least a 3.0 GPA per semester and you fall short with a 2.8, you may be put on financial aid probation.
• Hours Earned: For example, a program may require 124 credit hours. For pacing reasons, a school may recommend that undergrads attempt to earn at least 31 hours per academic year. What really counts is how many you actually earn, not how many hours you attempt.
• Maximum Time Limit: You must complete your degree or certificate within a maximum time frame, not to exceed 150 percent of the number of credits required. For example, if you're in a bachelor program that requires 120 credits, you'll get an "excessive hours" probation if you go over 180 credits.
Vanessa Barrios, the assistant director of financial aid at St. Joseph's University, offers this appeals strategy for students who didn't make their SAP: "Explain with as much detail as possible [and] with any supporting documentation, the intervening factors that caused you to do poorly for the semester. Also make note of why you will not have forthcoming issues getting back on track and making SAP for the upcoming semester."
How to Request an Increase in Your Award
Experts differ on this one. A student does not need to be specific, says Barrios, though she points out that "the office might request documentation of a parent's recent unemployment, or increased medical expenses, or any special circumstances that the family has just endured or is enduring."
However, Bugarin recommends writing to let the financial aid officer know how much more you were hoping for. "Typically the financial aid officer knows best which awards or programs a student may be eligible for and whether or not there is support money left over," he says. "If you have gotten an award letter for the full year, then address the amount that you would like for the full year – but be prepared for them to say they can only award you on a semester basis."
This was the case with Ramsdell's client, who was able to double the aid award from $10,125 to $22,050. He points out most of the award increase did not come from federal aid programs, but rather the college's own endowment funds (which largely consist of grant or scholarship aid, as opposed to loans).
Choosing the "Decide Later" Option
Some schools send award letters with the option to "decide later" instead of accepting or declining offers. This may be a good choice for students who are in one of the following scenarios:
You are deferring your attendance at a school
You are waiting to hear about additional financial aid options from other schools
According to Bugarin, it is typically best to accept aid (such as grants and scholarships) that doesn't require you to pay it back. Conversely, if you are offered an unsubsidized loan that requires interest payments, sometimes it is worth delaying your decision if you hope to appeal or get a scholarship from the school.
Choosing the "Partial Accept" Option
Some schools send award letters with the option to "partial accept," meaning only accept a lower amount than originally offered. This may sound counterintuitive, but it's because accepting certain types of aid limits the amount you can receive from other sources based on "unmet financial need" policies.
According to Bugarin, accepting only part of the award may make sense for students who fit either of these categories:
You have outside scholarships of greater value that are only available to students receiving a minimal amount of aid, and must decline some forms of aid in order to remain qualified.
You do not want to participate in some of the unsubsidized loan programs or work study programs that you qualify for.
But there may be a downside to not accepting full awards, Bugarin says. "You often lose the likelihood that you will be offered (these awards) in future semesters."
Appealing Again after Freshman Year
Sometimes, an appeals process does not end after the initial victory. "Sometimes you may have to appeal again in the second, third of fourth year, because some colleges (but not all) like to play a little game called bait and switch," explains Ramsdell.
This is a situation where colleges entice freshmen with generous aid packages, which are reduced in the following years. To lessen the sting of the bait and switch, be thoroughly informed about the aid you are offered as a freshman. At a minimum, be sure to ask these questions:
Is this scholarship(s) renewable for all four years – as well as for an extension if I become a fifth-year senior?
Do I need to declare a specific major?
What is the GPA, service requirement or other conditions I must meet in order to maintain this scholarship?
The more information (especially in writing) you equip yourself with, the fewer surprises you will experience in the long run in pursuing financial aid for your offline or online degree.  Also, don't forget to consider self-paced online colleges - which may fit your schedule better than traditional online programs.