Sponsored Online Programs Available
Masters Degree in Entrepreneurship Programs
Masters in Entrepreneurship Online are not only designed for working professionals seeking a graduate education in business administration with a specific focus on initiating their own business or enterprise. Masters entrepreneurship online programs may also appeal to current business owners as well as to business managers seeking ways to revitalize an enterprise or understand emerging market trends. Others may choose an online Masters degree in business administration entrepreneurship to give their own career a potential boost or prepare for new career opportunities.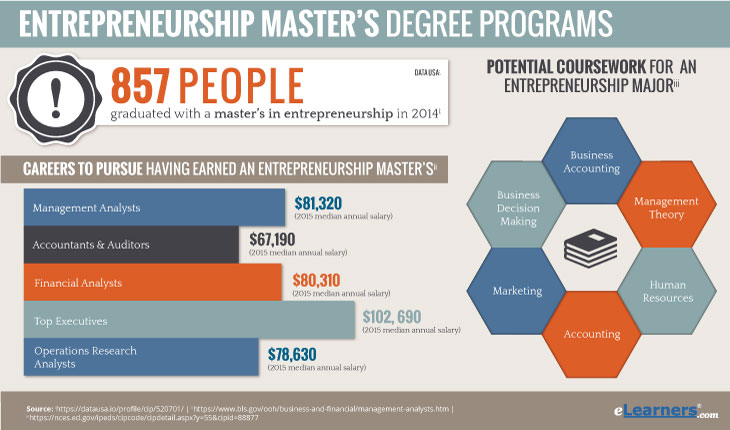 About Masters in Entrepreneurship Online Degree Programs
Students interested in graduate-level entrepreneurial studies might choose between an online entrepreneurship MBA and either a Master of Arts (MA) or Master of Science (MS) degree program, possibly a Masters in Entrepreneurship Online. Entrepreneurs may be pioneers or innovators. They learn to recognize business opportunities and take the risks and potential profits for developing, marketing and managing the functions that come with owning and operating a business. But beyond launching one's own business, masters in entrepreneurship online degree programs may offer graduates the opportunity to cultivate skills that might enhance almost any company's development;
Increase profit
Increase efficiency
Increase productivity
DID YOU KNOW? Per DATA USA, 857 Masters in Entrepreneurial Studies degrees were awarded in 2014.[i]
What Skills Might I Learn in an Online Entrepreneurship MBA?
Aside from course topics, some of the skills that students might cultivate in an online entrepreneurship MBA program might include skills that are required by top executives[ii]:
Judgement and decision-making
Complex problem solving
Critical thinking
Effective speaking
Coordination
Online Entrepreneurship MBA vs. Online Master of Entrepreneurship
Wondering how an online entrepreneurship MBA differs from a Masters in Entrepreneurship? While they are both graduate degrees (Masters degrees), there are some differences that might help you decide which one is more 'right' for your individual ambitions.To choose between the different types of Masters in Entrepreneurship Online degrees, you might refer to a graduate school's course syllabus, or evaluate your goals. Do you seek potential leadership within an already established enterprise, or are you interested in starting your own business? Are you most interested in launching a technology-based venture? Is your passion sustainability or strategic management? Whatever previous degree(s) you have earned might also play a role in your decision in picking your Masters in Entrepreneurship Online.
About Online Entrepreneurship MBA Programs
Some online Entrepreneurship MBA programs are designed for students who want a well-rounded business education but want to focus on either launching their own business, or learning the entrepreneurship model to take into a current work setting. Many online MBA entrepreneurship programs require students to complete a capstone project, where knowledge gained through study and research is applied to a real-time scenario. The MBA is ultimately a Masters degree in business administration, and designated, in most universities, as a liberal arts program. As such, it may draw on both business and non-business topics to help students learn how to administer a business from different approaches. Per the BLS, top executives of large corporations tend to have earned an MBA[iii].
Online MBA Entrepreneurship: Potential Admission Requirements
Prospective online entrepreneurship MBA students need to have earned a Bachelors degree from an accredited college or university. Some programs may admit students whose undergraduate degree business-related (e.g. Bachelor of Business Administration, Bachelor of Entrepreneurship), others may admit non-business students. In the latter case, students might be expected to complete courses in business theory, management, and intro level accounting and finance. Other potential requirements might include specific GPA, resume of work experience, transcripts, test scores, written statement of intent. These items may vary between business schools, and are usually detailed on a school's website or may be obtained through inquiry.
Online MBA Entrepreneurship: Potential Time to Completion
Online Entrepreneurship MBA programs typically require about 2-years of full-time study beyond the undergraduate degree. That said, accelerated online entrepreneurship MBA and part-time MBA programs may be offered giving students the opportunity to achieve their educational goals in a time-frame that aligns with other on-going responsibilities.
Online MBA Entrepreneurship Potential Coursework
Students in an online entrepreneurship MBA program typically receive a comprehensive education in business administration through core courses;
Business accounting
Financial management
Human resources management
Purchasing and logistics
Marketing
Business Decision-Making
Organizational Leadership
Along with core courses, students take electives in their concentration area (entrepreneurship) that might include[iv]:
Analyzing competitive market strategies
Synthesizing current business intelligence
Business Communication
Understanding current market trends
Managing and collecting business intelligence
One of the ways you might choose an online MBA in entrepreneurship is to evaluate the course elective topics, as curriculum varies between schools and programs. You may be interested specifically in understanding how to launch a venture, or you might be interested in corporate entrepreneurship courses that might give you skills to take into a current work situation. Choose a program that aligns with your specific goals.
About Online Master of Entrepreneurship Degree Programs
Online Master of Science in entrepreneurship and innovation (MSEI) degree programs may, like the MBA, be designed for students who seek the skill-set necessary to avoid learning through trial and error when it comes to launching a business venture or developing ideas within a current corporate setting. Usually, the Master of entrepreneurship is an applied science degree. As such, it might emphasize technical and analytical concepts (e.g. math, statistics, computer science) to entrepreneurial models. Since the primary focus is on entrepreneurship, this degree might specifically work on development of the business entrepreneur.
Online Masters in Entrepreneurship: Potential Admission Requirements
Masters in Entrepreneurship Online programs may admit students from undergraduate backgrounds such as the liberal arts, business and engineering. Students may have to demonstrate a foundational knowledge in financial accounting, finance, statistics and economics.
Online Masters in Entrepreneurship: Potential Time to Completion
Students may be able to complete their Masters in Entrepreneurship Online in anywhere from one to two years (about 30 credits), though time to completion and course credits may vary. As with other online Masters programs, one might find both full-time and part-time program options along with accelerated program choices.
Online Master of Entrepreneurship: Potential Curriculum
While course topics vary, students in an online Master of entrepreneurship degree program might take business courses in topics such as:
Marketing
Managerial Accounting
Operations Management
Management
Finance for Entrepreneurs
Strategy
Are All Online Masters in Entrepreneurship Structured the Same?
Each university may have a different format and structure for their online Masters degree in entrepreneurship programs. Some programs may be completely online and asynchronous, which allows for the most flexibility and self-pacing. Others may entail visits to campus or synchronous learning which tends to be more interactive. Or you may find some of each.
Potential Next Steps after Graduation
Graduates of online entrepreneurship MBA or Masters in entrepreneurship programs might continue their studies with Doctor of Business Administration or PhD in entrepreneurship. Others might pursue potential career paths such as[v]:
Competitive Intelligence Analysts
Director of Enterprise Strategy
Director of Market Intelligence
Director of Global Intelligence
Find Accredited Online Masters in Entrepreneurship Degree Programs
Whether you choose an online MBA entrepreneurship or an online Masters of Entrepreneurship degree program, familiarize yourself with accreditation standards. Accreditation is a quality assurance process in which an institution of higher education and/or specific programs have undergone an outside appraisal of standards and compliance. At the institutional level, choosing a nationally and regionally accredited graduate school may enable you to seek financial assistance. At the programmatic level, choosing an accredited program means that it adheres to the best practices of the profession. The Accreditation Council for Business Schools and Programs (ACBSP), the International Assembly for Collegiate Business Education (IACBE) and the Association to Advance Collegiate Schools of Business (AACSB International) all accredit business programs.
Take the Next Step
New business establishments make an important contribution to the economy through job creation and innovation. Whether your choice is to pursue an Online MBA entrepreneurship or you find what you need in a Master of Entrepreneurship program, distance learning may enable you to reach your academic goals. Start looking through our sponsored listings. Use our on-page navigation to request info from prospective online business schools. Take the next step today!