Sponsored Online Programs Available
Online Business Information Systems Degree Programs
Business Information Systems Degree Online Programs typically include business and computer systems topics. If you are someone who is drawn to databases and computer technology but also have top leadership qualities, a business information systems degree is worth considering. Read on to explore the best degree options in management information systems (MIS), and the potential benefits to distance-learning.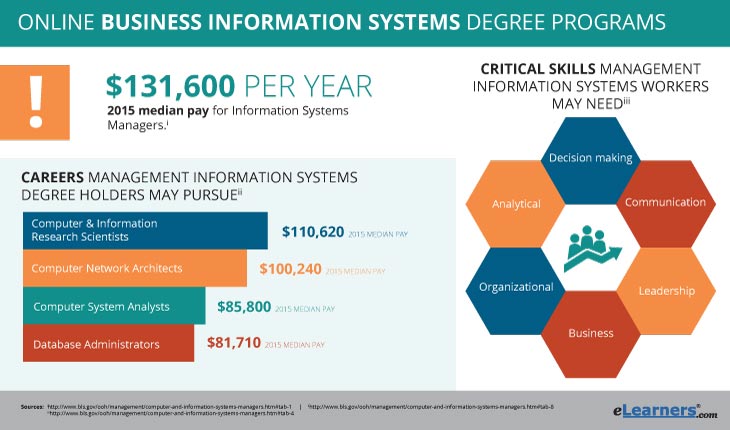 Business Information Systems Degree Online Programs: The Basics
Online Business Information Systems degree programs are offered at the associates, bachelors, masters and doctorate degree levels. Often found in business schools, they are sometimes referred to as Management Information Systems (MIS) degrees. Learning outcomes commonly include both business theory and technology instruction.
About Business Information Systems
What is an MIS? A management information system focuses on the management of business information systems to make managerial decision-making easier and more efficient. When you think of a report being generated to help a company with payroll, this is a type of business system in action. The majority of organizations rely on the design, implementation and management of information technology.
At the management end students are prepared with the ability to problem-solve, commercial and administrative capacities are developed and negotiation skills cultivated. At the technical level, learning outcomes from a business information systems degree online might include databases, data mining, hardware, software and programming and applications as well as different computer languages.
Why Consider an MIS Degree?
First off, if you are looking for a career-focused program that has potential for advancement, a business information systems degree may be a great fit. Some Information Systems Managers move onto Chief Technology Officer (CTO), Chief Information Officer (CIO) or IT Security Manager positions.i
Certificate in Information Systems: Business IT certificate programs are typically shorter-term, non-degree programs. Unlike degree programs, you may take just a few key courses to earn your certificate.
Associates Degrees in MIS: Just starting out? An associate's degree might open up the possibility of working as a web developer.ii or computer support specialist.iii
Business Information Bachelors Degrees: If you are hoping to work as a computer and information systems manager, a computer systems analyst or database administrator, a bachelor's degree is considered entry-level qualification.
Masters in MIS: For those who aspire to more senior management and research roles, the trend, according to the BLS is for employers to look for candidates with a graduate degree. In other words, this academic track holds possibility.iv
PhD in MIS: Are you drawn to a career in research? Computer and Information Research Scientists are the innovators of new technology; if this is your ambition, most jobs require a PhD in computer science or a related field.v
Potential Curriculums in a Business Information Systems Degree Online
As an academic discipline, management information systems take into account technology, organizations, people and the interconnection between them. As a result, it is not uncommon for an MIS program to include coursework in some if not all of the following areas:
Information technology
Informatics
E-commerce
Computer science
Management and problem-solving
Website and Database development
Programming
Project Management
Entrepreneurial Planning
Potential Careers After Earning a Business Information Systems Degree Online
Wondering "what can I do with an MIS degree?" First off, a degree does not guarantee a job. However, according to the Bureau of Labor Statistics, computer and information technology occupations are expected to grow by 12% from 2014 to 2024 – that's about 488,500 new jobs!vi
Graduates of MIS programs are commonly prepared for a variety of potential careers that utilize computer systems to solve business problems especially with a bachelors or masters degree. Take a look at a few options and the academic path to entry-level positions:
Computer and Information Systems Managers: Normally these managers must have a bachelor's degree in a computer- or information science–related field. It is becoming more common for employers to seek candidates with a graduate degree like an MBA.vii
Computer and Information Research Scientists: For work in government a bachelor's degree may be enough, but otherwise a Ph.D. in computer science or a related field is needed.viii
Computer Network Architect:Usually Computer Network Architects need at least a bachelor's degree in computer science, information systems, engineering, or a related field. However the MBA in information systems is becoming more valued by employers.ix
Computer Programmers: Some employers hire candidates with an associate's degree. But most professionals in the field hold a bachelor's degree – especially since technology keeps changing. Continued education is valued here.x
Database Administrators: Most database administrators have a bachelor's degree in management information systems (MIS) or a computer-related field. Although there is a growing trend for employers to seek candidates with a master's in computer science, information systems, or information technology and a focus on database management.xi
About Online
Changing technology is at the heart of business systems. So many professionals who are working in the field choose to earn an online business information systems degree while keeping their jobs. If this speaks to you, distance-learning might be the flexible and convenient alternative to attending class on campus that you need. Usually courses are delivered via web portal as pre-recorded lectures. So you have 24/7 access from anywhere you have Internet service. For self-motivated students, this can be a fantastic way to study. Keep in mind though, some programs do have onsite requirements from computer labs to team-building sessions. In other words, read the fine print, contact the prospective schools, and stay informed.
Business Information Systems Degree Online: Take the Next Step
Employment looks favorable. Check. Fascinating academics. Check. Room for continued education. Check. The only thing to do is to take the next step and review accredited Online Business Information Systems Programson eLearners today!
---
[i] bls.gov/ooh/management/computer-and-information-systems-managers.htm |[ii] bls.gov/ooh/computer-and-information-technology/web-developers.htm |[iii] bls.gov/ooh/computer-and-information-technology/computer-support-specialists.htm |[iv] bls.gov/ooh/computer-and-information-technology/home.htm |[v] bls.gov/ooh/computer-and-information-technology/computer-and-information-research-scientists.htm |[vi] bls.gov/ooh/computer-and-information-technology/home.htm |[vii] bls.gov/ooh/management/computer-and-information-systems-managers.htm |[viii]bls.gov/ooh/computer-and-information-technology/computer-and-information-research-scientists.htm |[ix] bls.gov/ooh/computer-and-information-technology/computer-network-architects.htm |[x] bls.gov/ooh/computer-and-information-technology/computer-programmers.htm |[xi] bls.gov/ooh/computer-and-information-technology/database-administrators.htm