4 Sponsored Online Programs Available
Earning an Online International Business Degree
Earning your Online Degree in International Business may provide you with the skills and knowledge necessary for successful business operations in the global economy. This includes understanding how political, cultural, legal, and economic issues in foreign countries can impact business operations for international companies. Specific topics covered while pursuing your online degree in international business typically include subjects like importing and exporting, franchising, licensing, and outsourcing.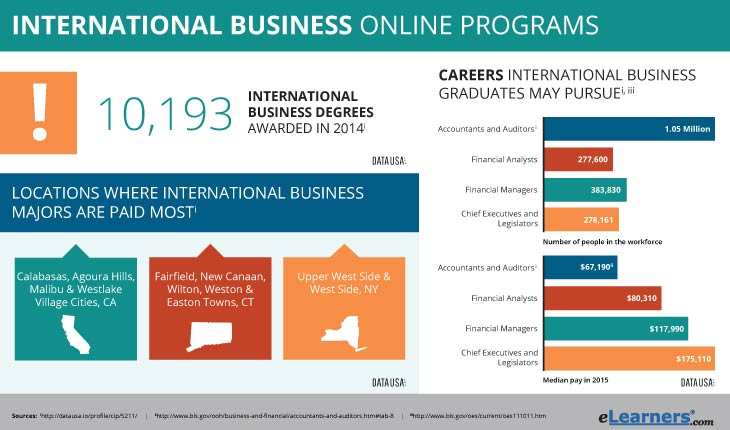 What Is an Online Degree in International Business?
When you decide to pursue your online international business degree, you may learn how multinational enterprises produce, distribute, and market products throughout the world. This may include courses that teach you how different cultures and socio-economic factors may influence buying decisions.
What Is International Business?
International business consists of all transactions between two or more different countries or businesses located in two or more different countries. These transactions can include all business activities such as the transfer of capital, resources, people, goods, services, and many more. Typically, companies that are considered international businesses are called multinational enterprise (MNE).
Did You Know?

In Middle Eastern countries, including the United Arab Emirates, it is important to eat, shake hands, and pass documents with your right hand. Using your left hand for any of these activities is considered a serious insult.
Different Online International Business Programs
When choosing to earn your online degree in international business, typically you may have four different degree options. The perfect program for you depends on what level of education you've already achieved and what your long-term goals are after earning your degree. Typically, these international business programs include a bachelors, graduate certificate, a masters, and a doctorates.
Each of these degree types have different admissions requirements and may prepare you for different levels of employment opportunities. Be sure to research individual schools to find the perfect match for you!
Bachelors in International Business
Earning your bachelors in international business degree online typically comes in three different degree types:
Bachelor of Science (BS)
Bachelor of Arts (BA)
Bachelor of Business Administration (BBA)
While all of these bachelors in international business programs types have similarities, they may also have some important differences. For instance, a BA degree in international business may provide more electives in literature, social sciences, and philosophy. On the other hand, a BBA degree in international business may focus on business courses such as finance, management, and economics, with less electives in liberal arts.
Graduate Certificates in International Business Degrees
Most post-baccalaureate certificate programs are offered to those who have graduated with their bachelors degree and want to continue their education and hope to enhance their career. Typically, these certificate programs require students to take three or four courses. These normally include one or two required courses, and then allow students the freedom to choose their final class or two from a list of approved courses. This type of graduate certificate may allow students the ability to focus their program on the skills and knowledge important to them.
Masters in International Business Degrees
Typically, there are three different types of masters degrees in international business:
Masters of Business Administration (MBA)
Masters of International Business (MIB)
Masters of Science (MS)
There are many similarities between each of the different degree types, such as providing students with a thorough understanding of international business and how successful businesses operate in foreign markets. The main difference between these programs is that to earn an MBA, typically students need to have acquired some actual work experience. Therefore, you may not be able to pursue an MBA immediately after earning your bachelors.
However, when deciding to pursue your online degree in international business, it's important to check with individual schools and their admission requirements, as this may vary from program to program.
Doctorates in International Business Degrees
There are three different doctorates degree types that you may be able to earn in international business. These are:
Doctor of Philosophy (PhD)
Doctor of Business Administration (DBA)
Doctor of Management (DM or DMgt)
These are the terminal degree options available as the highest level of education you may receive in an online degree in international business in the United States. The main difference between the degrees are their emphasis on research and writing, and the practical application of your education to the field.
For instance, a PhD and DBA are research-based doctorate degrees that require students perform a dissertation defense for graduation, while some, but not all, DM programs require a dissertation. Also, typically those who graduate with a PhD are more prepared to enter into academia as a professor, whereas those who have earned a DBA or DM are more prepared to apply their education in the private or public sector to help organizations achieve success.
Benefits of Earning Your International Business Degree Online
As technology has made the world much more connected, international business is more common than it was in the past. That's why it may be beneficial to earn your online degree in international business as opposed to simply a business degree. While pursuing your international business degree, you may learn a thorough knowledge of international business environments and how to operate businesses in foreign markets.
Choosing to earn your degree online may be an added benefit because you will more than likely be interacting with coworkers and clients in other parts of the world. Technology, such as live video meetings, email, and instant messaging, make it easier to connect with your team no matter where they are located.
These may be the same or similar kinds of technology that you may use while earning your online degree in international business. Plus, gaining experience in communicating clearly and concisely online while earning your degree may make the transition from school to the professional world easier.
Common Courses While Earning Your Online Degree in International Business
No matter the level of degree you decide to pursue in international business, courses will focus on preparing you for the specific challenges facing businesses that operate globally. That means risk management, quantitative and qualitative research methods, and the interaction between culture, politics, and economic issues.
Most of the courses you're likely to take while pursuing your international business degree online are typical business courses, such as accounting and finance, but with an international focus. That means topics may include international regulations and differences between business operations in the United States and abroad.i
Depending on the level of the online degree in international business you're qualified to apply for and be accepted to, courses may vary. Therefore, masters and doctorate level courses will go more in depth in subject matter than bachelors degree courses. Some of the common courses you may take include:
Statistics
Research Methodsii
International Strategic Management
Global Financial System
Multinational Marketing
Management
International Business Law
International Economics
Possible Careers in International Business
There are many careers in international business that you may be able to pursue after earning an online international business degree. That's because international business degrees cover many of the same courses and topics that typical business courses cover, simply with an international focus. Therefore, depending on the level of online international business degree you earn, you may be qualified for different positions. With a bachelors degree, you're more likely be qualified for an entry-level position or slightly higher.iii However, if you've earned your masters or doctorate degree, you may be qualified for upper-level management depending on your work experience.iv
What Can You Do With an International Business Degree?
Most of the positions that are available to those who have earned their online degree in international business have strong outlooks and salaries. That's because of the increasing amount of data available and because of the amount of businesses in the global economy.v Some of these careers in international business and their median annual salary in 2015 include, but aren't limited to:
Management Analyst: $81,320vi
Financial Analyst: $80,310vii
Market Research Analyst: $62,150viii
Logisticians: $74,260ix
Purchasing Managers: $108,120x
Take the Next Step!
As technology continues to make communication and business among international businesses easier, this may be a great opportunity to earn your online international business degree. Click on any of the sponsored listings on this page to learn more about individual programs. This includes admission requirements, common courses, and graduation requirements. You can even contact the school directly to request more information!
---
[i];bls.gov/ooh/business-and-financial/financial-analysts.htm#tab-4 [ii] bls.gov/ooh/business-and-financial/market-research-analysts.htm#tab-4 [iii] bls.gov/ooh/business-and-financial/market-research-analysts.htm#tab-4 [iv] bls.gov/ooh/management/purchasing-managers.htm#tab-4 [v] bls.gov/ooh/business-and-financial/market-research-analysts.htm#tab-6 [vi] bls.gov/ooh/business-and-financial/management-analysts.htm#tab-5 [vii] bls.gov/ooh/business-and-financial/financial-analysts.htm#tab-5 [viii] bls.gov/ooh/business-and-financial/market-research-analysts.htm#tab-5 [ix] bls.gov/ooh/business-and-financial/logisticians.htm#tab-5 [x] bls.gov/ooh/management/purchasing-managers.htm#tab-5