0 Sponsored Online Programs Available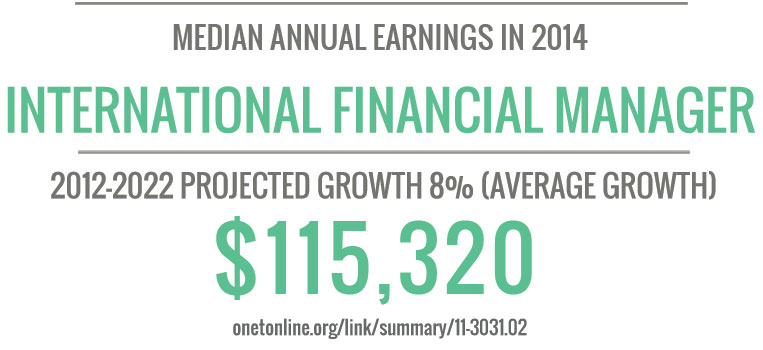 Bachelors Degree in International Business Online
If you're interested in business principles, such as marketing, finance, operations, or human resources, you may be considering ways to jumpstart a career in one of these fields. If you're also interested in the global economy and how businesses operate outside of the United States, you might want to look into enrolling in an Online Bachelors Degree in International Business program. Earning a bachelors in international business online might be a flexible way to prepare yourself to pursue globally focused careers in the business field. Keep reading for more on how to do just that!
Essentials of an Online Bachelors Degree in International Business
Available in academic and professional fields, a bachelor's degree is the most common degree for students to earn as their first degree in American higher education. Typically requiring between four and five years of full-time study, bachelor's degree programs might usually have coursework that focuses both broadly, on general education, and deeply, on a particular subject called a major.i
If you're planning to major in international business, you may come across a variety of degree types when researching your options. While Bachelor of Arts (BA) and Bachelor of Science (BS) degrees may be the most common across all academic fields, programs in business may commonly refer to a Bachelor of Business Administration (BBA) or Bachelor of Science in Business Administration (BSBA) degrees. Find more information on bba degrees and bsba degrees.
Possible Bachelors in International Business Coursework
Business is a fairly broad field, with disciplines that might include accounting, auditing, finance, marketing, human resources, trading, and more.ii Knowing this, it's important to recognize that the classes offered or required in different Online Bachelors Degree in International Business programs might vary greatly. Depending on your focus and career goals, you might want to direct your studies toward one discipline, or you might be looking for a broader knowledge base. While it's impossible to say exactly what subjects might be covered in an online international business program, some examples could include:
Research methods
Global economics
International business law
Global management
Global supply chain
International finance
Comparative politics
Ethics
Since these class topics might vary greatly between programs, make sure you reach out to any school you're considering to ask about their curriculum, especially if you have an area of international business you're specifically interested in.
Offline Requirements
One aspect of Online Bachelors Degree in International Business programs you may want to investigate is how much can actually be completed over the internet. While online classes may—not surprisingly—focus on elearning and coursework that can be completed virtually, some schools nevertheless require students to meet some requirements in person. If offline requirements could make a difference in your ability to complete a certain program, make sure you inquire about residencies, internships, or other potential in-person demands when comparing and contrasting your options.
What Can You Do with an Online Bachelors Degree in International Business?
Once you've earned an online bachelors degree in international business, you may be able to choose from a wealth of career pursuits. Depending on your interests and the coursework you completed during your program, you could possibly consider pursuing a career as a market research analyst. While some positions may require a master's degree, the typical entry-level education is a bachelor's degree,iii an educational level that 71% of market research analysts polled by O*Net reported as necessary for their position.iv In 2015, the median annual income for this position was $62.150.v
A bachelors degree in international business online may also qualify you to pursue a career as a human resources specialist.vi A detail-oriented profession that might demand strong interpersonal skills,vi human resource specialists earned a median salary of $58,350 in 2015.vii
A management analyst career is another for which a master's degree may sometimes be required, but a bachelor's degree might be the typical entry-level education.viii Management analysts might observe, evaluate, and attempt to improve upon business systems.ix The median annual wages in 2015 were $81,320.x
Start Your Search
If you're ready to start looking into which Online Bachelors Degree in International Business programs might be perfect for you, you can get your search started right here on eLearners.com, by looking at our sponsored listings. Compare and contrast the programs to see which ones you might be interested in. Then, to see if any program could be perfect for you, make sure to reach out to the school itself for more information. Good luck!
---
[i] www2.ed.gov/about/offices/list/ous/international/usnei/us/bachelor.doc | [ii] bls.gov/ooh/business-and-financial/home.htm | [iii] bls.gov/ooh/business-and-financial/market-research-analysts.htm#tab-4 | [iv] onetonline.org/link/summary/13-1161.00#Education | [v] onetonline.org/link/summary/13-1161.00#WagesEmployment | [vi] bls.gov/ooh/business-and-financial/human-resources-specialists.htm#tab-4 | [vii] onetonline.org/link/summary/13-1071.00#WagesEmployment | [viii] bls.gov/ooh/business-and-financial/management-analysts.htm#tab-4 | [ix] onetonline.org/link/summary/13-1111.00 | [x] onetonline.org/link/summary/13-1111.00#WagesEmployment