If you're a goal-driven professional, with a knack for leadership and a passion for collaboration and organization, becoming a project manager might just be the path for you. Project management is an interdisciplinary skill set that could apply in nearly any type of organization, in all different industries and communities around the world.
And best of all, there are a few different ways to get involved, no matter what your prior education and professional experience. Learn more about what project management entails, and how to become a project manager below.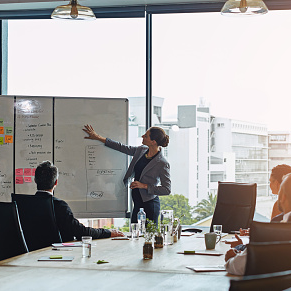 Project Management Training & Credentials
Prerequisites to become a project manager depend heavily on the type of company you're working for and your professional background. Often, candidates need to demonstrate a combination of professional experience other credentials, varying depending on the industry.
Many current or aspiring project managers choose to obtain a professional certification to demonstrate their skills, experience, and knowledge of project lifecycles and methodologies. Some employers may even express a preference for applicants with certain certifications.
Specific Areas of Project Management Certification
Different professional certifications in project management may align with several roles or skill areas. These include:
Project team members
Project managers
Program managers
IT/Agile project managers
Portfolio managers
Project risk management
Prerequisites of Project Management Certificate Programs
While the prerequisites for individual credentials may vary, often, applicants need to demonstrate management experience, project team experience, and satisfy minimum education requirements. They're usually earned via a certification test, and typically require maintenance through relevant continuing education.
Depending upon the certifying body, there may be some restrictions as to what qualifies as continuing education for these purposes, so make sure you follow up for details.
Online Project Management Degree Programs
Whether you're currently a professional interested in getting involved with project management, are beginning your career, or are an experienced project manager, there's still plenty to learn. After all, project management is by nature a dynamic field, constantly evolving to better meet industry needs and accomplish goals.
Even if degree in project management isn't always required, project management training could still help you to expand your skill set and market yourself as a strong contender for the PM positions you want.
Below are several online project management masters programs you may be interested in.
St. Mary's University of Minnesota: Master of Science in Project Management
What Will You Learn? The Online Master of Science in Project Management Program at St. Mary's University of Minnesota is designed to help students prepare to earn their PMP certification, by aligning their content with those standards. Topics covered include managing complex projects from proposal through completion, project life cycles, best practices, and leadership skills like effective communication and managing a diverse team.
How Will You Learn It? Because this program is offered online, it could enable students to continue pursuing their careers alongside their education if they choose. That means getting real-world project team experience, contextualizing what you learn in the classroom, and putting your new skills into practice.
When Will You Finish? The project management masters program at St. Mary's University of Minnesota is designed to be completed in two years, though individual students may choose to work at a difference pace. To learn more about the curriculum, prerequisites, and technical requirements, request more information or get in touch.
Penn State University Online Master of Project Management
Who Is It For? Penn State World Campus offers an online Master of Project Management degree for career-focused students. It may be appropriate for students from all different industries or applications of project management. Students may even personalize their experience by choosing one of four different career tracks. Options include:
Enterprise Architecture
Enterprise Resource Planning (ERP)
Supply Chain Management
Independent Study or Creative Research Project
Is It Credentialed? Penn State's program aligns with several sets of standards established by professional project management organizations. This includes both PMBOK (which is associated with credentials including the PMP and PgMP), and the European model APM. They're also a registered education provider with PMI, the organization that issues the PMP, meaning the courses you take meet the organization's standards and may satisfy continuing education requirements.
To learn more about earning a project management masters degree online from Penn State, request more information here! Then you can schedule a meeting or even start your application.
Southern New Hampshire University MBA in Project Management
At Southern New Hampshire University, students could earn their MBA in Project Management fully online! This program could be completed in just over a year. SNHU is also a registered education provider with PMI. As such, the program may support students in preparing for or maintaining the project management credentials they issue.
Areas of Study: Because this is an MBA program, students may hone general business and leadership skills alongside the more specialized project management content. Overall, the program is designed to help students hone skills including:
Quantitative and Qualitative Data Analysis
Leading cross-functional and diverse teams
Integrating broad areas of knowledge to solve complex business problems
Behaving and leading a project team in an ethical way
Applying business, leadership, and project management expertise to create new opportunities
Others Who Might Pursue a PM Certificate: This program may also be open to students with no background in business, professional or otherwise, though you may be asked to take additional courses. Reach out to SNHU for more information about applying to their Online Project Management MBA Program.
Grand Canyon University MBA in Project Management
Grand Canyon University's MBA program with an emphasis in Project Management aligns with the Project Management Body of Knowledge. It's designed to foster essential business and project leadership skills, while helping students prepare to earn their professional credentials.
Areas of Study in Project Management: Topics covered may include:
Operations management
Personnel management
Traditional and Agile Project Management
Services marketing
Economics
Accounting and finance
Quantitative analysis
Choose a Class Format: Because many potential students have already begun their careers, GCU offers scheduling options, including fully online study and evening programs that take place on campus.
Specific course offerings may vary between program formats or locations, and are subject to change. To find out more, reach out to GCU for additional information.
American University Master of Science in Agile Project Management
American University offers a unique Master of Science program focused on Agile Project Management.
What Is Agile? Agile is a flexible project management methodology designed with IT and software development in mind, though it could be applicable across industries.
A hallmark of Agile is the use of multiple "sprints," which are short project iterations. Sprints enable a team to continue updating, improving, and maintaining their project or service.
AU's Agile Project Management Masters Program helps students hone the flexibility, strategic thinking, and leadership they'd need to guide a team to success in this type of environment.
Program Length: The Online Master of Science in Agile Project Management at AU could be completed in approximately twenty months. Its design and content was influenced by professionals in the field. And because it's offered online, the inherent flexibility could work with your life and career.
Get in touch with American University to find out more about their online Agile Project Management program.
What Is A Project?
Nearly every industry or type of organization works on projects at some point, whether you call them that or not. In a professional context, the term "project" refers to a specific goal with a clear end-point, which is completed by a team of diverse professionals who accomplish unique tasks.
That "team of diverse professionals" is typically referred to as a project team. It's usually interdepartmental—meaning that each member brings a unique skill to the table and is responsible for tasks related to that skill. Say, for example, you work in finance.
You might be responsible for building models to project potential costs of completion, and figuring out how to mitigate financial risk and allocate funds effectively. This would enable other team members with different skill sets to complete the tasks in their purview.
Project Management Phases
Projects typically align with a formal project life cycle. This is a sequence of phases that align with different types of work done over time. There are a few different versions of this, each one designed for certain types of projects or organizations.
However, at a basic level, the life cycle is made up of the following 5 project management phases.
Initiation
Planning
Execution
Monitoring and Controlling
Closing
Depending on your organization and what you need, this process might be more rigid or more flexible. Sometimes, several distinct projects might work together to achieve a larger-scale goal. When that happens, it's called a program. The person responsible for overseeing this whole process, ensuring it happens on-budget, effectively, and on time, is called a project manager.
What Is Project Management?
Project management is a process and methodology by which project managers oversee the completion of a project. That includes using a wide range of skills. These include things like personnel management, conflict resolution, strategy, budgeting, and working with clients.
Generally speaking, the responsibilities of a project manager center on facilitation of the project, enabling other skilled professionals to do their jobs effectively and helping them work together. However, the specific areas of expertise required could depend on the organization and client, the makeup of the project team, and the type of project it is.
Types of Project Management
While project managers might work in any industry, some of the more common types of project managers include:
Construction Project Managersi
Engineering Project Managersii
IT Project Managers/Software Project Managersiii
Architecture Project Managersii
What Are Some Project Management Skills?
Some skills current and aspiring project managers may wish to cultivate include:
People Skills
Communication
Organization
Adaptability
Collaboration
Learn How to Become a Project Manager (Yes, You!)
The examples described above aren't the only online project management programs you could choose. If none of these quite fit the bill, browse other options right here on eLearners.com!
Click on the name of a program you're interested in to request more information, learn more about how to become a project manager, and start your application!
---
Source: [i] bls.gov/ooh/management/construction-managers.htm | [ii] bls.gov/ooh/management/architectural-and-engineering-managers.htm | [iii] bls.gov/ooh/management/computer-and-information-systems-managers.htm