Sponsored Online Programs Available
Online Degree Programs in General Education
If you're interested in pursuing a career in education, you might have a wide range of paths to follow. In today's world, people constantly need to be learning, from a very young agei through to adulthood.ii Positions in education might be available in public schools, private institutions,iii or even businesses.iv If you know what kind of education career you want to pursue, you might be able to find a program in one of these specialties. On the other hand, if you're looking to jumpstart a career in education while keeping your options open as far as the types of positions you might pursue, earning an online degree in general education degree online might be for you.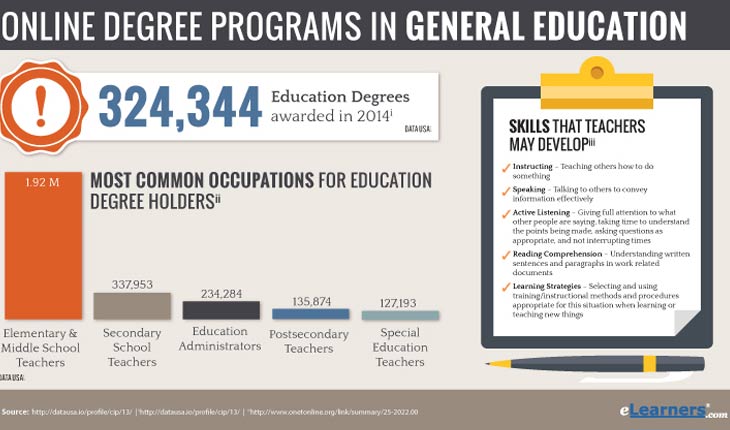 EDUCATION INDUSTRY INSIGHT
We asked teachers: What inspired you to become a teacher?
"I became a teacher to empower, inspire and provide hope for many who are considered hopeless."

Click To Tweet!


- Rebecca Briscoe, MPA, CHLS
Essentials of an Online Degree in General Education
You may be wondering: What is an Online Degree in General Education ? Essentially, it might be a degree that focuses broadly on education rather than possibly taking a specific focus within the industry, such as early childhood education, educational technology, or any other niche subject. That being said, some general education degree programs may still allow for students to have specialties, which they might be able to pursue through electives or concentrations.
An online degree in general education program may also be available at many different levels of study. Depending on your career goals and previous studies, you may be interested in specifically one or the other. Read on for short summaries on the various levels of degrees you might be able to earn in general education.
Associate's of General Education
If you've earned a high school diploma or its equivalent, you might be able to start your career in higher education by enrolling in an associate's degree program.[v] Associates degrees may typically take around two years to earn, often translating to about 60 credits or 20 courses.[v] Generally, associate's degrees may be available in two main varieties: the transfer degree and the occupational degree.[v]
Transfer degrees might usually be aimed at preparing students to switch into a bachelor's degree program after graduation.[v] Coursework might be fairly broad, instructing students in topics such as writing, mathematics, or science, but also narrowly focused on a major,[v] such as general education.
Occupational degrees may instead prepare students to pursue entry-level occupations in a specific field, and might generally have more coursework directed toward that subject.[v] While many positions in education may have higher entry-level education requirements,[vi] there are also careers you can pursue with an associate's in general education. [vii]
If you're not sure whether an associate's degree program has an occupational or transfer focus, you might want to look at the degree title; degrees with "applied" or "occupational" in the name might tend to be occupational associate's degrees.[v] To be certain, though, you may want to contact the school directly for exact details and information.
Bachelor's Degree Programs in General Education
A bachelor's degree is the most common first degree for students to earn after completing high school.viii They typically are more demanding than associate's degree programs, requiring around four to five years of study to earn.[viii] Like a transfer associate's degree program, bachelor's degree programs might allow students to both take broadly focused courses, and to specialize in a certain area.[viii]
Degree titles may vary between bachelor's programs, but you will commonly see the Bachelor of Arts or the Bachelor of Science .[viii] Another title you might see is the Bachelor of Education.[viii] Though these programs might be similar, you should contact the school to determine if the degree title might provide any indication of the focus of the program.
General Education Master's Degree Programs
Master's degrees are considered graduate degrees, and students are eligible to pursue one after having earned a bachelor's degree. Generally speaking, earning a master's degree may take one to two years of study beyond a bachelor's degree.[ix] Commonly, different degree titles include a Master of Arts, Master of Science, or Master of Education.[ix] Similar to associate's degrees, master's degrees may typically have one of two purposes: preparing students to pursue a career or to continue their studies.x
Education may be one of the more common fields for master's-level studies.x In fact, from 2012 to 2013, more than 20% of master's degrees earned were in this field.xi Master's degree holders also earn relatively high wage premiums in their industry, meaning they earn more than bachelor's degree holders in similar occupations.[xi]
Doctoral Programs in General Education
The highest level degree you can earn in a particular subject in American education,xii the doctorate degree might take four to six years of study beyond a bachelor's degree.xiii Research doctorates, which might include common titles like the Doctor of Philosophy (PhD) and the Doctor of Education (EdD),xiv often center on a large-scale research project called a dissertation. [xii] Depending on the school, doctoral programs may or may not require a master's degree for admission.[x]
Concentrations in General Education
As mentioned earlier, general education degrees may typically take a broad focus on the field of education, but also might allow students to specialize in some manner. Though it's not a given that a school will offer concentrations, they may be available in some programs. Examples of focus areas you might come across could include:
Educational policy
Instruction al design
Higher education
Teaching
Online teaching
This is just a sampling, and schools may offer different options; so make sure to reach out for details when comparing different programs.
Potential Coursework in General Education
Now that you know what types of degrees may be earned, you might be wondering about general education degree requirements, or perhaps just what courses may be offered in a program. With so many degree levels and concentrations available, it's difficult to predict exactly what might be included in any given program, but some examples of course subjects could include:
History of education
Psychology of education
Child development
Curriculum
Adult learning
Educational administration
e-learning
Pedagogy
Remember that course offerings and requirements can vary greatly between programs, so be sure to check with particular schools for details on their curriculums. One important aspect to investigate is whether or not there are any offline requirements. Even for online degree in general education, it may be possible that a school could require students to complete certain work, such as a residency workshop , by being physically present on campus.
Licensure Concerns
One thing to note when looking into potentially earning an online degree in general education is that many positions within the education industry may require more than a degree to pursue.xv Certain roles, particularly teaching roles, may demand special licensure or certification, the requirements for which might vary from state to state.[xv] While the coursework offered in some degree programs may be part of this, it's not always the case, and there might be other requirements.[xv] When looking into how a program might help you pursue licensure for certain education positions, be sure to contact both the school and your state's educational authorities for details.
Possible Positions to Pursue
Depending on the type of general education degree program you complete, you may be able to pursue a wide variety of careers. While most of these careers require a bachelor's degree or higher as entry-level education, you might be able to pursue a preschool teaching position with an associate's degree.xvi Preschool teachers earned a median annual salary of $28,570 in 2015,[xvii] and, according to an O*Net poll, 22% reported that they needed an associate's degree to pursue their position.[xviii]
With a bachelor's degree, you may be able to pursue a career as a middle school teacher.xix While some schools might require candidates to have a specific education degree, either in middle school education or in a particular subject, this is not always the case.[xix] In 2015, middle school teachers earned a median annual salary of $55,860.[xx] Of those polled by O*Net, 73% had earned a bachelor's degree as their required education.xxi While a bachelor's degree might be the typical entry-level education for teachers, many schools may ask their teachers to earn master's degrees as well.xxii
Getting Started
If you're ready to start looking into which online degree in general education program might be perfect for you, get going here on eLearners.com by checking out our sponsored listings. You can compare and contrast programs, and even reach out to particular schools to request additional information.
---
[i] bls.gov/ooh/education-training-and-library/preschool-teachers.htm#tab-2 | [ii] bls.gov/ooh/education-training-and-library/adult-literacy-and-ged-teachers.htm#tab-2 | [iii] bls.gov/ooh/education-training-and-library/adult-literacy-and-ged-teachers.htm#tab-3 | [iv] bls.gov/ooh/business-and-financial/training-and-development-specialists.htm#tab-4 | [v] bls.gov/careeroutlook/2002/winter/art01.pdf | [vi] bls.gov/ooh/education-training-and-library/kindergarten-and-elementary-school-teachers.htm#tab-1 | [vii] bls.gov/ooh/education-training-and-library/preschool-teachers.htm#tab-1 | [viii] www2.ed.gov/about/offices/list/ous/international/usnei/us/bachelor.doc | [ix] bls.gov/careeroutlook/2008/fall/art01.pdf | [x] www2.ed.gov/about/offices/list/ous/international/usnei/us/master.doc | [xi] bls.gov/careeroutlook/2015/article/should-i-get-a-masters-degree.htm#Education | [xii] www2.ed.gov/about/offices/list/ous/international/usnei/us/doctorate.doc | [xiii] bls.gov/careeroutlook/2008/fall/art01.pdf | [xiv] bls.gov/careeroutlook/2002/winter/art01.pdf | [xv] bls.gov/ooh/education-training-and-library/kindergarten-and-elementary-school-teachers.htm#tab-4 | [xvi] bls.gov/ooh/education-training-and-library/preschool-teachers.htm#tab-1 | [xvii] onetonline.org/link/summary/25-2011.00#WagesEmployment | [xviii] onetonline.org/link/summary/25-2011.00#Education | [xix] bls.gov/ooh/education-training-and-library/middle-school-teachers.htm#tab-4 | [xx] onetonline.org/link/summary/25-2022.00#WagesEmployment | [xxi] onetonline.org/link/summary/25-2022.00#Education | [xxii] bls.gov/ooh/education-training-and-library/middle-school-teachers.htm#tab-4