49 Sponsored Online Programs Available
EducationDynamics maintains business relationships with the schools it features
Online Degree Programs in Teacher Education
If you're interested in pursuing a career as a teacher, you may not be surprised that, to give students an education, you'll need to get an education yourself. Though
educational requirements may vary for different types of teaching careers, generally you could find that entry-level demands might typically include a bachelor's degree and a state-issued teaching license or certification. Completing a teacher education program of some sort might also be a general requirement you could come across when pursuing a teaching career, and earning a teaching degree online might be one way to meet this qualification. If you're interested in pursuing a career as a teacher, you may want to look into online degree programs in teacher education.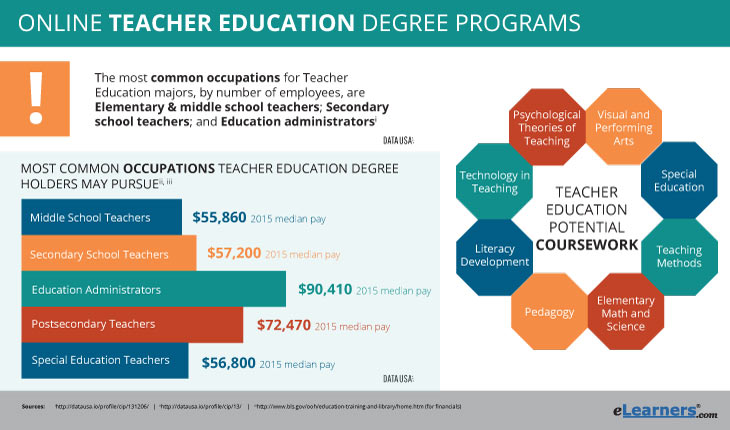 TEACHING INSIGHT
We asked teachers: What inspired you to become a teacher?
"I say the inspiration to become a teacher stems from the belief that education is one of the most important forms of public service."


Click To Tweet!


- Edward Steinhauser, AP Teacher, Linked Learning Pathway and EdTech Coordinator
Essentials of Online Degree Programs in Teacher Education
There might be a few ways to complete online degree programs in teacher educationas part of your pursuit of a career in teaching. One of these might be to earn an undergraduate degree in education, essentially killing two birds with one stone[iii]. Not everyone, though, knows they want to pursue a teaching career before they earn their bachelor's degree, so some may want to obtain this qualification by earning an online master's degree in teaching.[iii]
You may want to be wary, though, when looking at potential teacher education master's degree programs online, as not all master's degrees in the education field are aimed at providing the teacher education necessary for licensure. Some online master's degree programs in teaching may instead be geared toward working teachers looking to improve certain skills.
One thing you may want to look for if you're interested in earning a teacher education degree online is the title of the degree. A Master of Arts in Teaching (MAT) may be more focused on educating teachers specifically, while a Master's in Education may be more for those looking to pursue a career in educational administration.
Earning a Teacher Education Degree Online
Teacher education degree programs might typically focus on the theory and practice of teaching, and students could take courses focused on the following subjects:
Psychological theories of teaching
Technology in teaching
Literacy development
Pedagogy
Elementary math and science
Visual and performing arts
Special Education
Teaching methods
Students may also take courses that could involve learning by being in an actual classroom, whether that might mean observing, assisting, or teaching classes. Remember that coursework may vary greatly between online teaching degree programs, so make sure to check what the curriculum is at any school you're interested in.
What Concentrations May Be Available?
When you search for online degree programs in teacher education, you might see several concentrations from which to choose. If you wish to pursue a career in teaching elementary school, then it may be important that you choose a program in elementary education. Most elementary teachers teach several subjects, so the program typically covers a wide range of subject. Those who wish to pursue a career in teaching secondary school subjects may enroll in a special program for their preferred subject, such as English, Mathematics, Science or Social Studies.
What Skills Might I Need?
Beyond simply earning a degree and completing the requirements for licensure, pursuing a career as a teacher may demand certain skills in order to potentially find success. These skills could include:
Instructing
Learning Strategies
Speaking
Active Listening
Coordination[iv]
If you're interested in enrolling in an online teacher education degree program, you might want to make sure these are skills you think you have or could develop.
Earning a Teaching Certificate
After completing a master's degree program in teacher education, students may be recommended by their school for the teaching credential they might need to pursue a career as a teacher. Schools may sometimes provide services to assist students with this process, as may not be as easy as simply graduating from the program.
One thing to know before enrolling is what kind of teaching credential the program might help prepare you to earn. Schools may prepare their students to qualify for a license or certification from a certain state. If this is the case, to pursue a career as a teacher in a different state, the student might need to find out how to transfer that certificate. Make sure, if this is the case, you check with both the school and your state's guidelines on how to do this.
What Career Paths Might People Who Earn a Degree in Teaching Pursue
If you're wondering what careers people with a teaching degree might pursue, you probably won't be surprised to learn one: teaching! Of course, there are many different types of teaching, so here's a brief overview of what those options for career pursuits might be.
Pursuing a career as an elementary school teacher may be one option for those who've earned an online teaching degree[v]. In 2015, this role had a median salary of $54,890 [vi].
Middle school teaching might be another option. This occupation had a median annual income of $55,860 in 2015. [viii]
There's also secondary, or high school teaching. This type of teacher had median wages of $57,200 in 2015.
Depending on your interest, you may want to take classes in a certain area, so be sure to check with each school before enrolling to see what careers they might help prepare you to pursue. Different schools could have different specialties!
Getting Started
If you feel like you've read enough, and you're ready to start researching what might be the perfect way for you to earn an online degree in teacher education, don't delay! You can get going right here on eLearners.com, by checking out our sponsored listings. If any schools capture your interest, be sure to reach out and request more info. Good luck!
---
[i]bls.gov/ooh/education-training-and-library/high-school-teachers.htm#tab-1 [ii]bls.gov/careeroutlook/2004/summer/art02.pdf [iii]teach.org/content [iv]onetonline.org/link/summary/25-2031.00 [v]bls.gov/ooh/education-training-and-library/kindergarten-and-elementary-school-teachers.htm#tab-4 [vi]onetonline.org/link/summary/25-2021.00#WagesEmployment [vii]bls.gov/ooh/education-training-and-library//middle-school-teachers.htm#tab-4 [viii]onetonline.org/link/summary/25-2022.00#WagesEmployment