Sponsored Online Programs Available
Pursue an Online Teacher Education Program
An online teacher education program discusses what makes an effective teaching program. Classes focus on explaining what goes into designing lessons that could reach a wide array of students. To do this, programs may offer classes in student psychology, testing evaluation, and curriculum creation.
While this is theoretical, students could also have the chance to practically apply their knowledge. Many schools require students to take part in apprenticeship semesters. During an online teacher education program, you could step inside a real classroom to test your educational hypotheses.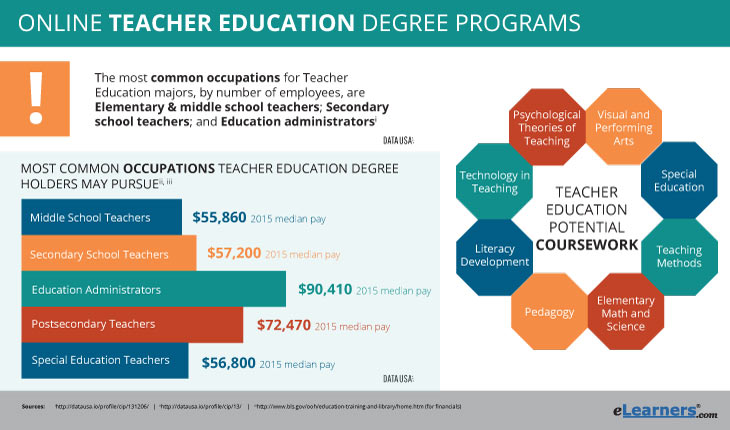 TEACHING INSIGHT
We asked teachers: What inspired you to become a teacher?
"I say the inspiration to become a teacher stems from the belief that education is one of the most important forms of public service."


Click To Tweet!


- Edward Steinhauser, AP Teacher, Linked Learning Pathway and EdTech Coordinator
What's the Difference Between a Teacher Education and an Education Program?
Many students tend to confuse education and online teacher education programs because they sound similar. While their names might make it sound like they cover identical material, these programs differ in key areas.
Education degree programs at universities or colleges are heavily focused on teaching inside the classroom. In these programs, you may study how to educate students on a certain subject like history, math, or science.
Online teacher education programs differ in that they focus on more overarching goals. Instead of focusing solely on the classroom, this program emphasizes enriching teachers techniques. Courses in these programs could help teachers' enhance performance in the classroom by providing additional training. In short, courses teach pedagogical strategies to help address students' needs. This is better known as teaching strategies.
General Teacher Education Curriculum
Each online teacher education program deals with similar subject matter. Where they differ is how in depth they investigate the material. The following are a few general courses that might be offered as part of your program. Be aware that class offerings differ by school, so don't get your heart set on anything before you check it out.
Diverse teaching and instruction courses teaches different methods to address the learning patterns of different students. This could include assisting students with behavioral issues, attention deficit disorders, gifted needs, or students with physical disabilities to name a few.
Environment Management classes deal with designing welcoming and engaging classrooms. By doing this, you could potentially reduce distractions and help students concentrate on their work. In addition, classroom management also deals with minimizing student conflicts like bullying.
Application of assessment tests courses help teachers design better testing procedures. By doing this, exams may more accurately gauge students' comprehension of the materials.
Instructional design classes instruct how to create a course of study that naturally flows into the next topic. For instance, the beginning of a school year could cover foundational materials and build to more advanced topics as it continues.
These are only a few examples of potential curriculum you could study in your online teacher education program. Courses offered may differ between schools. For a complete list of available classes, contact each of the schools.
Online Teacher Education Degree Concentrations
It's common for an online teacher education program to offer concentrations for students to focus their education. In these instances, students could learn specific pedagogical techniques that address unique classroom challenges. Below are a few ways that you could concentrate your studies.
Elementary Education
Secondary Education
Specific Subject (History, Math, etc.)
Special Education
Keep in mind the available concentrations vary by school. Check with department faculty for a complete list of their teacher education concentrations.
Online Teacher Education Program Apprenticeships
Many online teacher education programs require students to complete an apprenticeship to graduate. These programs are usually a semester long and take the place of typical courses. During this time, students are placed in a local school to shadow teachers or other education professionals. This is commonly compared to an education concentration's student teaching.
During your apprenticeship, you could act as a teaching assistant for educators and different education levels. For some, this might mean shadowing undergraduate professors or stepping into a middle school. While there, you could examine the different teaching strategies that teacher uses. And, you could also see how effective those methods are at addressing their students' needs.
As the semester progresses, you might transition into teaching these classes. At this time, you could implement your own curriculum to support students' learning.
Some graduate online teacher education programs might also offer research apprenticeships. In these, you could work with faculty members on their current education. These apprenticeships could test how students respond to new education techniques in mock or real classrooms.
Online students should be aware that these programs may require you to visit a physical classroom. Programs may be able to place you at a local school in order to eliminate lengthy commutes. In some cases, students may be required to visit a school's campus to access technology labs or other resources.
Apprenticeships differ by school and degree level. Be sure to speak with faculty for more information.
Online Teacher Education Bachelors Programs
Online teacher education bachelor programs cover the fundamentals of teaching effectively. While these programs do engage with the above-mentioned curriculum, they tend to focus primarily on the following subjects.
Student Psychology
Classroom Environment
School Curriculum
Current Assessment Strategies
By studying these subjects, students could potentially be able to craft more supportive learning environments for students in their classrooms.
It's important to note that teacher education bachelors degree programs might be offered as a specialization of an education degree. This is because many teacher education classes also build off of education concepts. For more information about the degree program itself, speak with potential school departments.
Online Teacher Education Certificates
Online teacher education certificates could act as a way to concentrate your studies further. For example, if you did not choose a concentration for your bachelors degree, you could do so through these programs. Or, you could choose another concentration to further expand your teacher education knowledge.
In addition to the concentrations displayed above, you might also be able to pursue a graduate certificate program in the following fields.
Reading & Literacy
English as a Second Language
Physical Education
Available online graduate certificate programs vary by school.
While they are offered by themselves, online teacher education graduate certificates are often offered as part of a masters program. This way, students could work towards a certificate and masters degree at the same time. Check and see if potential schools offer any of these programs. Availability may differ.
Online Teacher Education Masters Degree
Online masters in teacher education programs are offered in two different ways. First, programs are offered for students who have previously earned a bachelors in education. In these instances, students focus more heavily on the fundamentals of pedagogy. Students may not have necessarily encountered these concepts during their undergrad career unless they concentrated their studies in teacher education.
These programs are more common and are usually sought after by working teachers. They could use these programs to flesh out their current teaching abilities in the classroom.
The second type of program is designed to help students influence teaching systems from an administrative role. In these cases, students may study concepts like curriculum creation and school management. This way, you may confidently make suggestions to adjust students' learning environment from a school-wide level. This may be a great option for current teachers who are looking to make the jump to a leadership role in their school district.
Online Doctorate Teacher Education Degree: PhD & EdD
Online teacher education doctorate programs are either offered as a doctor of education (EdD) or a doctor of philosophy (PhD). Both of these degree programs cover advanced versions of the general curriculum above.
However, the EdD programs primarily cover ways to enhance entire school systems. Instead of focusing only the classroom, students could study ways to enhance how a school functions. This could include professionally developing teachers, creating curriculum, or new student guidelines.
The PhD program is more dedicated to researching the effectiveness of new education initiatives. Classes teach how to monitor academic trends and establish systems to see how they affect student learning patterns. This data could then be used to possibly improve or adjust current academic programs.
As part of the online PhD in teacher education program, you may be required to take some of the following prerequisite research courses.
Qualitative Research Methods
Quantitative Research Methods
Research in Teacher Education
By taking these courses, you may be able to confidently collect student data to measure things like attendance, exam scores, and more. This might not only be an asset for your research courses, but your dissertation project as well.
Online Teacher Education Dissertation
An online doctorate of teacher education usually concludes with a dissertation project. Students typically devote one or two semesters to writing their dissertation paper. This time period could vary from student to student. This paper investigates the effectiveness of things like teaching methods, classroom environments, or student learning patterns.
As part of this project, you could design and test experiments in school settings to see their effects on student outcomes. Then, you could present your findings to the department faculty for consideration.
Online students may need to make trips to a local school or campus to complete this requirement. Dissertation requirements may vary. Be sure to speak with department faculty for more details.
Online Teacher Education Program Applications
Typically, online teacher education programs require students to submit a 2.75 or higher GPA. And, depending on the degree level, you may also be required to submit a SAT or GRE/GMAT score.
Supplemental materials may vary depending on the school and degree type. The following are some common requirements you might be asked to complete.
Letter of Intent
Personal Interview
Letters of Recommendation
Application requirements vary by school. Speak with an admissions counselor prior to applying for more details.
Please be aware that some graduate degree programs may require applicants to have completed several years of professional teaching work. This requirement may differ from program to program.
What Could I Do with an Online Teacher Education Degree?
After completing an online teacher education program, many students choose to pursue a teaching career. As part of your degree program, you could also have studied core grade-school teaching subjects or learned pedagogical methods to help you in the classroom.
Students could choose to pursue some of the following careers after earning their degree. Also provided are the positions' median 2016 salaries.
Kindergarten & Elementary School Teacher, $55,490i
Middle School Teacher, $56,720ii
High School Teacher, $58,030iii
Special Education Teacher, $57,910iv
These entry-level roles may require students to earn a bachelors in teacher education or a related field. Also, you may have to earn your teaching license prior to working in the classroom. License requirement vary by state. Typically, students may have to shadow current educators or take an exam in order to earn their license. Check with your state's Department of Education or school's career center for more information.
To maintain your license, some states require that teachers pursue graduate coursework. If you have already earned your masters or doctorate in teacher education, you may have already completed this requirement.
Other students may choose to pursue educational leadership careers after earning the online teacher education degree. In these positions, you could focus on managing and enhancing faculty teaching methods. Students could consider pursuing the following leadership roles. Also listed are the positions' 2016 median salaries.
Elementary, Middle, and High School Principal, $92,510v
Postsecondary Education Administrator, $90,760vi
Instructional Coordinator, $62,460vii
Unlike the teaching positions, these roles usually require students to have earned a masters or higher graduate degree.
How to Find a Perfect Online Teacher Education Program
With this information, you could be ready to start your search for a perfect online teacher education program. For your first step, browse the list of programs provided on this page. These provide a few general program options in the field. Or, you could refine your list by selecting your preferred degree level using the menus on this page.
When you find a program, click its link to read a brief description about it. While you're there, you could also request more information from the school. Not only could you receive important details about the program, it could also be a great way to get in touch with an admissions advisor. Good luck finding a perfect online teacher education program!
---
[i] bls.gov/ooh/education-training-and-library/kindergarten-and-elementary-school-teachers.htm | [ii] bls.gov/ooh/education-training-and-library/middle-school-teachers.htm | [iii] bls.gov/ooh/education-training-and-library/high-school-teachers.htm | [iv] bls.gov/ooh/education-training-and-library/special-education-teachers.htm | [v] bls.gov/ooh/management/elementary-middle-and-high-school-principals.htm | [vi] bls.gov/ooh/education-training-and-library/postsecondary-teachers.htm | [vii] bls.gov/ooh/education-training-and-library/instructional-coordinators.htm