Transferring Credits and Experience into Online Education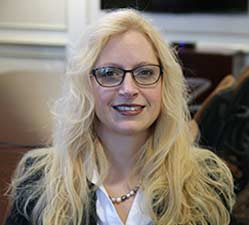 Not many believe one can complete an online bachelor's degree program in just 7 months—but that's how long it took Dina Krohne to earn her bachelor's degree by way of hard work, transferring credits, and persevering through the ups and downs of life. After transferring credits from her earned Associate's degree, Krohne was able to work on her degree while juggling the responsibilities of a family and a full-time job. Traditional, on-campus degree study wasn't an option for Krohne, and so an online bachelor's degree became a way to achieve what she needed in order to advance her career.
Balancing life, family, work, and school is a challenge that Krohne knows takes sacrifice and giving up some wishes in life. Instead of cooking healthy meals and spending as much time with her family as she would like, she spends time studying and completing coursework. When her father's health suffered, she sometimes had to study on her phone between office and hospital visits. If she had been completing an on-campus degree program, the school would have required Krohne to attend classes, and she would have been forced to choose between her family and her education.
Dina Krohne began her higher education by earning her associate degree in Applied Science in dietary technology from Middlesex County College. Then, several years later, she returned to the higher education space to earn her Bachelor's of Science in Business Administration online from Thomas Edison State University. Currently, Krohne is completing her Master of Business Administration online at Western Governors University in a competency-based program, meaning she uses experience she's gained in the professional world to test out of some credits. She also holds certifications as a Registered Dietetic Technician, a Certified Dietary Manager, Certified Food Protection Professional, and is ServSafe certified in food safety.
Enjoy our interview with Dina Krohne and find out how she was able to make earning her Bachelor's and Master's degree online fit into the complicated puzzle of her life!
eLearners: What caused the gap between completing your associate's degree and enrolling in a program to earn your online bachelor's degree?
DK: Short answer: Life. Long answer: I went through a divorce while finishing my Associate's and had obtained a managerial position in a healthcare kitchen prior to graduation. Then remarried, bought a house, went through infertility treatments and had my daughter. While all that was happening, I received several promotions and was an operations manager level 2 for a very busy healthcare campus. When I was ready for my next promotion, it did not happen—the business world had changed. Even with a successful career and extensive experience, I could not get an interview without a Bachelor's degree.
eLearners: What made you decide to enroll in an online college as opposed to applying to a campus school? 
DK: A career, family, aging parents. I couldn't be away from home for so many hours a day. But online, I could complete the work on a schedule I set for myself.
eLearners: What are some of the features of online bachelor's degree programs that were beneficial to your circumstances?
DK: Without having to leave work and go straight to school at night, I had dinner with my family every night. Studying and completing assignments were scheduled around family commitments. Using ebooks, I studied on my phone when and where I could.
eLearners: How did enrolling in a school offering a competency-based program allow you to accelerate your online bachelor's degree?
DK: The program for my MBA is competency based and the first semester started on March 1st. It is June 21 and I am working on the last assignment for my capstone. If I complete it within the next 2 months, that means I completed my full MBA in 6 months. The experience I gained as a manager with what I learned obtaining my Bachelor's made it possible to complete all courses but the capstone in 4 months.
"When I was ready for my next promotion, it did not happen—the business world had changed. Even with a successful career and extensive experience, I could not get an interview without a Bachelor's degree".
eLearners: What were the important elements you looked for in a school?
DK: Transferring credits was very important as well as being able to use challenge exams to test out of courses. Regional accreditation was very important as well, so I'd know my degree would be viewed favorably by hiring managers.
eLearners: Do you still feel a communal sense with your fellow classmates?
DK:  Yes, for my bachelors, online discussions were part of our grade. As a matter of fact, I was not planning on going for my masters. The professor of my TQM class at TESU had a sidebar discussion where he asked me if I planned on it. That started me thinking about it and then he was nice enough to answer my questions and I decided to earn the MBA.
eLearners: Are there any downsides to completing an online bachelor's degree program?
DK: Not specifically about the degree being online, but completing coursework while managing a career and family is challenging. If something unexpected happens, trying to fit everything in gets difficult.
eLearners: Did you have any memorable experiences that you have from studying online?
DK: While studying for a World Religions challenge exam for gen ed credits, I found myself talking about the elements of the different religions to my husband and daughter. My then 8-year-old asked why we didn't have a religion like her friends at school. I explained that the religion Daddy and I were raised in did not allow women to be priests and did not welcome LGBT people. She asked if any of the religions in my ebook were nice to everyone and would let women be leaders. I replied that no, none of the religions in my book fit both of those criteria but it lead me to look online for a faith that did. Too late to make a long story short but my family—who never set foot in a church together except for weddings—are now Unitarian Universalists!
eLearners: Were there a lot of steps that went into transferring credits from your earlier education? 
DK: Not a lot of steps – I used my previous schools' online sites to order transcripts sent directly to TESU. Each CLEP and DSST test allowed me to enter TESU's code and they received confirmations I passed the exams automatically. The only thing that was a few steps was when I took Sophia, Penn Foster and ALEKs courses; I sent those to ACE and then had the ACE transcript sent to TESU.
eLearners: What advice do you have for a student who delayed or paused their education and is considering enrolling in an online bachelor's degree program?
Don't put it off! Transfer previous credits, take challenge exams, and compete competency-based courses to accelerate completing the degree.
---
The expert interviewed for this article may be compensated to provide opinions on products, services, websites and various other topics. Even though the expert may receive compensation for this interview, the views, opinions, and positions expressed by the expert are his or hers alone, are not endorsed by, and do not necessarily reflect the views, opinions, and positions of [eLearners.com] or EducationDynamics, LLC. [eLearners.com] and EducationDynamics, LLC make no representations as to the accuracy, completeness, timeliness, suitability, or validity of any information in this article and will not be liable for any errors, omissions, or delays in or resulting from this information or any losses or damages arising from its display or use.