5 Sponsored Online Programs Available
Online Medical Billing and Coding Degrees
From anatomy, to law, to grammar and computer science, the subjects that people pursuing Online Medical Billing and Coding Degrees will have access to are diverse and detailed.i Accredited medical billing, coding, and transcription schools online offer a variety of education options to help prepare students to pursue a career as a medical technician or transcriptionist.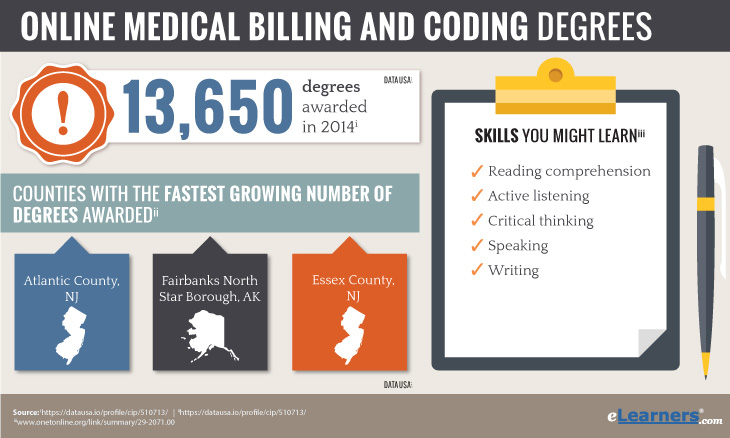 Essentials of Online Medical Billing and Coding Degrees
Academic options typically vary by subject and/or level. We've broken down the options for Online Medical Billing and Coding Degrees below.
Levels of Online Medical Degrees in Coding, Billing and Transcription
The most common level of degree you might see in this field would be the associate's level degree. Many positions in the discipline only require some training after the high school level, and an associate's degree fits this bill.i Associate's degrees may typically take about two years of full-time study to complete, which might work out to about 20 courses, or 60 credits.ii
To enroll in an associate's degree program in medical coding and billing, you generally need a high school diploma. Many online medical billing and coding degrees programs are open to students who have met this requirement.
Medical billing and coding online schools typically offer occupational associate's degrees, one of the two major types of degrees at this level. While transfer degrees offer general education, occupational degrees are specific to a career and provide education on the roles and responsibilities of that career. These degrees generally have words like "occupational" or "applied" in the title.
Training to pursue a career in this field may also be provided by online medical billing and coding schools through a certificate program. Online certificate programs are typically less rigid and are shorter than degree programs. Certificates are designed to be earned in 2 years or less.iii They are also more specific to a certain career, such as medical transcription. In fact, certificates related to healthcare accounted for nearly half of all certificates earned in 2010 to 2011. Be sure to look into what type of education the career you're interested in requires. You need to plan your search accordingly!
Different Subjects within Medical Billing, Coding and Transcription
It may not surprise you, given the complexity of healthcare and medicine, that there are many different focus areas within the fields of medical billing, coding and transcription. Even just in that name, three disciplines are listed!
Medical transcription ay typically involve converting voice recordings from doctors into written reports.iv They also edit and interpret healthcare documents.
Medical coding and billing, meanwhile, involves reviewing patient records and applying codes for various purposes, such as health statistics, patient care and billing.v They also act as a go-between for health clinics and billing offices.
You may also be able to pick a specialty in a more targeted area in online medical billing and coding degrees. Training to be a cancer registrar often involves learning how to read patient pathology reports, assign correct classification codes, and conduct follow-ups to assess treatment, survival and recovery. This work complements other roles involving the maintenance of cancer patient databases.
Potential Coursework for Online Medical Billing and Coding Degrees
Diifferent subjects and degree levels are available within the field. So you may be able to take a wide range of courses when enrolled in online medical billing and coding degrees. Depending on the school, the program, or even the specific student, different offerings or requirements must be considered. Some potential examples of courses on a medical billing and coding curriculum could include:
Anatomy and physiology
Customer service
Business
Procedural terminology in medical coding
Outpatient coding
Medical reimbursement
Billing by computer
Medical law
Medical ethics
Pathophysiology
Processes of applying for medical insurance
Medical records systems
Be sure to contact the schools you're considering to see what their curriculum covers. Make sure that, if there are any classes you'd specifically like to take, that you'll get the chance to through your online medical degree program in billing and coding.
You may also want to look out for specific program requirements unrelated to course topics. While medical billing and coding online schools may boast mostly virtual coursework, there is the potential that some requirements may need to be met in person. Some schools may ask that students complete residencies on campus, while others may feature internships or externships so that students can get the experience they need to graduate.
Career Pursuits after Earning an Online Medical Billing and Coding Degree
Once you've finished your program at a medical billing and coding school online, you'll be able to pursue careers in certain fields. One of these careers is a medical transcriptionist. To become one, job candidates typically need to have completed some type of higher education program, whether it be a certificate or associate's degree program.vi The annual median salary for medical transcriptionists was $34,890 in 2015 according to the U.S. Bureau of Labor Statistics.vi
You may also be able to pursue a career as a medical records and health information technician.vii These professionals require a similar entry-level education to medical transcriptionists. And they earned median yearly wages of $37,110 in 2015.viii Also according to the Bureau of Labor Statistics, this position is supposed to grow much faster than average between 2014 and 2024. There is a projected 15% increase in the number of jobs.
Fun Fact

There were 188,600 people employed as medical records and health information technicians in 2014. By 2024, labor experts at the Bureau of Labor Statistics expect that number to increase by 29,000!
Start Your Search
Now you know what your future might look like when you enroll in an online medical billing and coding degree program. So it's time to pick out which course of study might be perfect for you! You can start by looking right here on eLearners.com at the sponsored listings of medical billing and coding online schools. Then, when you've found a program that sounds interesting, you can fill out the form and request additional information from the school itself. Be sure to look closely at curriculums and course requirements. We hope you find continued success as you chart your academic journey!
---
This is an offer for education opportunities that may lead to employment and not an offer or guarantee of employment and that may help prepare students to meet the certification requirements of the field they choose to study. Students should check with the appropriate certifying body to make sure the program they apply to will help meet any certification requirements. Students should also consult with a representative from the school they select to learn more about career opportunities in that field. Program outcomes vary according to each institution's specific program curriculum.
[i] http://www.bls.gov/ooh/healthcare/medical-transcriptionists.htm#tab-4 [ii] http://www.bls.gov/careeroutlook/2002/winter/art01.pdf [iii] http://www.bls.gov/careeroutlook/2012/winter/art01.pdf [iv] http://www.bls.gov/ooh/healthcare/medical-transcriptionists.htm#tab-2 [v] http://www.bls.gov/ooh/Healthcare/Medical-records-and-health-information-technicians.htm#tab-2 [vi] http://www.bls.gov/ooh/healthcare/medical-transcriptionists.htm [vii]http://www.bls.gov/ooh/Healthcare/Medical-records-and-health-information-technicians.htm [viii] http://www.bls.gov/ooh/Healthcare/Medical-records-and-health-information-technicians.htm#tab-1