0 Sponsored Online Programs Available
Earning an Online Degree in Communication Science and Disorders
Besides people earning an Online Degree in Communication Science and Disorders, everyone can relate to the importance of having a voice. But speech, language, and swallowing disorders are varied and affect many people, taking away their ability to communicate effectively with others.i By studying communication sciences and disorders, you could help prepare yourself to pursue a career in working with this community, helping people deal with these disorders and find their voice. To do so, you may need to possess a number of qualities typically found in communication science and disorders professionals. These might include compassion, listening skills, analytical skills, critical thinking and an attention to detail.ii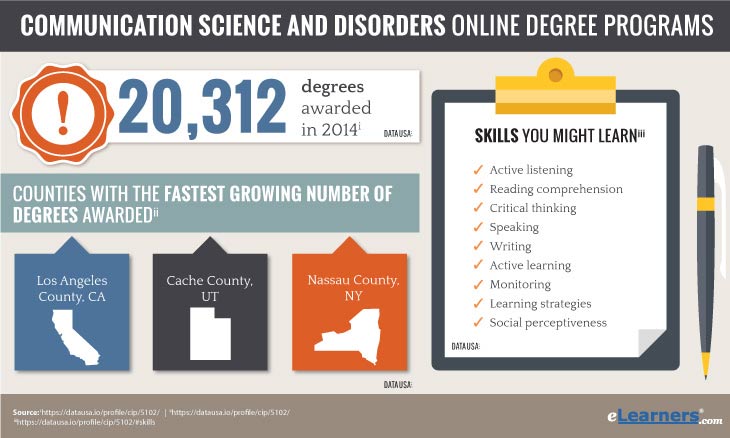 Essentials of an Online Degree in Communication Science and Disorders
Communicative sciences and disorders degrees are offered at several different levels. Depending on your prior education and your career goals, you may want to pursue a degree at any level from associate's to doctoral.
Associate's Degree in Communication Science and Disordersiii
Typically considered the lowest level full degree that a student can earn in higher education, the associate's degree is a good choice for a student who's not looking to commit to a four-year program. Associate's degrees may take about two years – around 20 courses – to complete, and may not have many admissions requirements beyond a high school diploma or equivalent education.
Earning a communication sciences and disorders online degree may not prepare you to pursue the highest-level careers in the field, but they could have many outcomes. Transfer associate's degrees are typically intended to be applied toward a bachelor program after graduation, where you can continue studies in the field. You may also be able to seek employment in a discipline that makes use of knowledge in communication sciences and disorders indirectly, although in these cases you may need additional training.iv
Bachelor's Degree in Communication Science and Disordersv
Also considered an entry-level degree, a bachelor's in communicative sciences and disorders will be rigorous to earn than an associate's degree. Earning a bachelor's degree may take about four years of full-time study, and typically will offer instruction in broad subjects beyond communication sciences and disorders.
Again, certain professions in this field might require a higher-level degree than a bachelor's degree, but earning one may nonetheless prepare you to pursue some careers. One profession for which education in communication sciences and disorders might be useful is in education, specifically special education.vi Keep in mind, though, that pursuing a career in this field may require additional training or certification.
Master's Communicative Science and Disorders Degreevii
A master's degree is one of the more common entry-level education requirements for careers in communication science and disorders. Master's degree programs may typically require students to have already earned a bachelor's degree. Requiring about two years of study, they may typically be highly specialized, advanced programs.
For an online communication sciences and disorders degree program at the master's level, some schools may require students to have completed a bachelor's degree in a specific program. Others may simply require students to have taken certain courses before enrolling. When looking into programs at this level, be sure to find out as much as possible about admissions requirements before applying.
Doctoral Degrees in Communication Science and Disordersviii
The highest level degree in American higher education, the doctorate degree might take four to six years of study beyond a bachelor's degree. Earning this degree may help you pursue the highest level positions in communicative sciences and disorders. Keep in mind, though, that many positions in this field may only require a master's degree, so be sure to evaluate whether or not the time and effort needed to pursue a doctoral degree would be worth it for your goals.
Potential Coursework in Online Communicative Sciences and Disorders Degrees
Depending on the level of Online Degree in Communication Science and Disorders degree program you enroll in, as well as the school and your specific goals as a student, you may be able to take numerous paths to earning a degree in communication sciences and disorders online. Different programs may have different course offerings and requirements, so be sure to look at the curriculums of the schools you're considering before enrolling! Some potential course subjects that might be covered in an online communication science and disorders degree might include:
Anatomy and physiology
Speech and swallowing disorders
Fluency
Motor speech
Neurological communicative disorders
Dysphagia
Articulation disorders
Keep in mind that all programs will differ in their courses. If there are any specific subjects you'd like to cover while earning your degree, be sure to reach out and see whether or not the programs you're interested in offer that course.
Certification in Communication Science and Disorders
Some positions in the field of communication sciences and disorders might require candidates to have earned a special type of certification.ii One example is speech-language pathology, for which some positions may require a Certificate of Clinical Competence in Speech-Language Pathology, which is awarded by the American Speech-Language-Hearing Association.ii
Be sure that, for the career you'd like to pursue, you understand what certificates might be required and how to earn them. Certain types of certification may require that students have graduated from a master's degree program that is accredited, possibly by an agency such as Council on Academic Accreditation of the American Speech-Language-Hearing Association.ii
Teaching positions may also require a different type of certification, which could vary by state, so be sure to research these requirements!ii
Communication Science Career Pursuits
As mentioned earlier, one potential career pursuit for students who have earned a master's degree online in communicative science and disorders could be as a speech-language pathologist.i In this field, which is growing at a rate much faster than average, the median yearly salary in 2015 was $73,410.i Job responsibilities may include the assessment and diagnosis of communication disorders.ix Also known as speech therapy, this discipline may include prescribing certain treatments for these disorders, and working with patients to carry out these treatments.ix
A position in the field for which an associate's degree may be the entry-level education is as an occupational therapy assistant.iv Responsibilities may include helping patients complete their therapy treatments, and assisting them in completing tasks with which they struggle.x This position's median annual wages were $54,520 in 2015.xi
Fun Fact
Between 2014 and 2024, the ranks of occupational therapy assistants and aides are expected by the Bureau of Labor Statistics to grow at an astounding 40% rate, much faster than the average job growth!xi
Start the Search!
Now that you have a better idea of what it might take to earn an online degree in communication science and disorders, you can get started on your search with confidence. Feel free to begin right here on eLearners.com by taking a look at our sponsored listings, and filling out the form to request information from any program that catches your eye. We wish you continued success on your educational journey!
---
[i]http://www.bls.gov/ooh/healthcare/speech-language-pathologists.htm#tab-2 [ii]http://www.bls.gov/ooh/healthcare/speech-language-pathologists.htm#tab-4 [iii]http://www.bls.gov/careeroutlook/2002/winter/art01.pdf [iv]http://www.bls.gov/ooh/healthcare/occupational-therapy-assistants-and-aides.htm#tab-4 [v]http://www2.ed.gov/about/offices/list/ous/international/usnei/us/bachelor.doc [vi]http://www.bls.gov/ooh/education-training-and-library/special-education-teachers.htm#tab-4 [vii]http://www2.ed.gov/about/offices/list/ous/international/usnei/us/master.doc [viii]http://www2.ed.gov/about/offices/list/ous/international/usnei/us/doctorate.doc [ix]http://www.bls.gov/ooh/healthcare/speech-language-pathologists.htm#tab-2 [x]http://www.bls.gov/ooh/healthcare/occupational-therapy-assistants-and-aides.htm#tab-2 [xi]http://www.bls.gov/ooh/healthcare/occupational-therapy-assistants-and-aides.htm#tab-1